Boys' Soccer Preview: La Cañada's success defined by commitment to high standards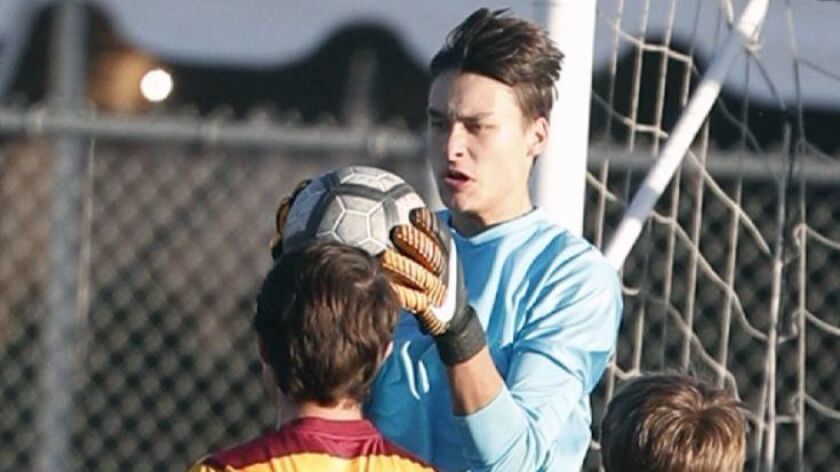 Not much has changed with the La Cañada boys' soccer team.
The squad might have lost a few veterans to graduation, but the overall spectrum of the team remains the same. Tactics, expectations, standards, commitment, dedication — all remain a constant.
St. Francis qualified for the playoffs last season, and the Golden Knights look to move up the league standings. Flintridge Prep split the Prep League title in 2018, yet didn't qualify for the playoffs.
Here is a closer look at the teams.
LA CAÑADA
For coach Bruno Costa, he has a simple mantra for his team.
"It's a constant reminder that we have to work hard; a constant reminder that our opponents work very hard and have the same desires as we do, and we have to overcome all our difficulties and play the very best we can," Costa said.
The Spartans saw their Rio Hondo League title defense slip away against Monrovia last year in a deciding league match that the Wildcats won, 3-2, on a late goal. The team finished 11-4-5, 7-1-2 in league.
To regain the league championship, Costa says La Cañada has to keep in line with his routines.
"We have a busy preseason," Costa said. "I'm expecting to keep everybody in check."
The Rio Hondo League Co-Most Valuable Player, Brandon Grandalski, returns for his senior season,leading the Spartans' midfield, and Costa expects him and the rest of the seniors to take charge.
"My expectation for Brandon is to keep a high level of commitment," Costa said. "Being involved, being an example with work ethic and everything else that comes with it so he can inspire the other players."
Costa takes pride in having added a blend of underclassmen to the team on a consistent basis since he took over the program in 2016, and the approach has paid off.
Along with Grandalski, the Spartans will have junior goalkeeper and all-league first team selection Max Landa back to spearhead the defense
Trevor Bambanian, also an all-league first team player, will play ahead of Landa at the heart of the La Cañada defense. All-league second-team defender Daniel Landesman joins Bambanian in the backline, as the two enter their senior seasons.
"The 2019 class has been on varsity since their sophomore years, so it doesn't take long for them to catch on and they know what I expect," Costa said. "They're pretty much going to keep the pace. They'll keep the players on the proper page and mentality [in the game]. I believe they will be role models for the younger players."
ST. FRANCIS
St. Francis grabbed fourth place in the Mission League last season and returned to the Division II playoffs. The Golden Knights (12-10-2, 6-5-1) fell to Sunny Hills in the first round.
St. Francis coach Glen Appels will look for the Golden Knights, who will remain in Division II, to make a climb in league while having talent at every grade level.
"With our roster, I think we'll be evenly distributed among the seniors, juniors and sophomores," said Appels, who has led the Golden Knights to three CIF championships and one Southern California Regional title. "I really like the blend because usually you have a lineup with mostly juniors and seniors.
"We'll be starting league play in December instead of January. The league will again be very tough, so the key will be to get out of the gate fast."
St. Francis will turn to experienced players such as senior centerback Scott Cross-Hernandez, who picked up all-league honors last season, and senior forward Ian Odermatt. They will be joined by senior midfielder Alex Jordan and junior goalkeeper Luis Granados.
FLINTRIDGE PREP
It turned out to be quite an unusual campaign for the Rebels last season. Flintridge Prep shared the Prep League championship with Chadwick and Firebaugh, yet Flintridge Prep (9-7-1) was left out of the playoffs.
With a three-way tie for first in the four-team league, which bestowed just two automatic playoff spots, Chadwick, Firebaugh and Flintridge Prep went 3-2-1, however, Chadwick won a tiebreaker via coin flip. Flintridge Prep suffered a 1-0 defeat against Firebaugh in a play-in match.
Flintridge Prep coach Esteban Chavez, who also serves as the school's girls' coach which he led to the Division III championship last season, said the Rebels learned a lesson after coming up short last season.
"We saw how every minute of every league game is crucial," Chavez said. "We had a lot of chances, but it just didn't work out for us.
"We've since lost 13 players to graduation, but this current group is hungry to learn. I just want to see them taste some success."
Flintridge Prep will be led by senior defender Evan White, senior defender/midfielder Spencer Harris, sophomore defender Andrew Odom and sophomore forward/midfielder Silas Chavez.
The Rebels will stay in Division VI.
Twitter: @ReporterVince
---