Historic victory eludes La Cañada High boys' tennis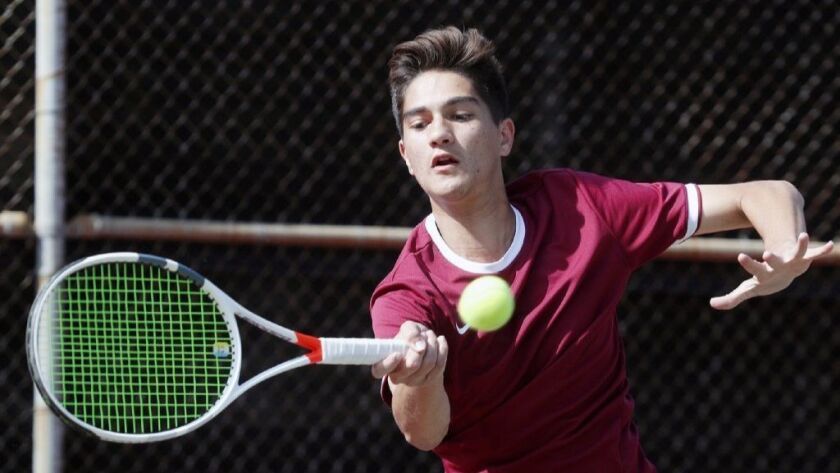 LA CAÑADA – A La Cañada High boys' tennis resume already highlighted by a few big victories this season nearly added a crown jewel on Wednesday afternoon.
The CIF Southern Section Division I No. 10-ranked Spartans put together a strong push, but ultimately fell to reigning Rio Hondo League champion San Marino, 10-8, in Wednesday afternoon's first league meeting between the two schools.
With the loss, La Cañada (6-2, 2-1 in league) saw its five-match winning streak snapped, while San Marino improved to 3-4, 2-0.
The Spartans were the only ranked team heading into Wednesday and entered with victories over Division II No. 4-ranked Crescenta Valley (13-5 score), formerly-ranked Division I squad Claremont (13-5 score) and Division III No. 8-ranked South Pasadena (15-3).
La Cañada will have to wait until April 19 at San Marino to pick up the program's first victory against the Titans since 2010.
"This is a really young team and there's a lot to learn from this match," La Cañada coach Will Moravec said. "The big question for us is, 'Will we learn from today for the next time?' That's what matters now."
San Marino was ahead in games, 55-49, and by a score of 9-8 heading into the final set of the afternoon pitting Titans' No. 1 player Alex Ko and La Cañada's Reid Schreck.
All Ko needed to do was win a point and the Titans' player did more, defeating Schreck, 6-4, to secure San Marino's victory and an edge in the league title chase.
Prior to the defeat, the Spartans did their best to rally from a 7-5 deficit.
A 6-4 singles victory from Ryan Morgan joined with a 6-3 doubles win from the Spartans duo of Alec Robertson and Gerard Llanes and a dramatic 7-6 (8-6) doubles triumph from Jack Mannion and Gabriel Llanes, sealed on an ace from Gabriel Llanes, brought the Spartans within 9-8.
Overall, singles play led the way for La Cañada as the Spartans finished 6-3. Spartans No. 1 singles player JP McKenzie and No. 2 Morgan both went 2-1, while Schreck finished 1-2.
If there was a sour note for singles, it's that the trio finished 1-2 in the final round.
On the flip side, doubles finished 2-1 in the final round with a 3-6 overall effort.
Mannion and Gabriel Llanes, Robertson and Gerard Llanes and Ian and Nick Lee all finished 1-2.
San Marino's Leo Wang led the Titans by going 3-0 in singles play.
"When we look back at this match, we're going to see that there were at least three sets that we could have won," Moravec said. "While I'm proud of the effort and satisfied with what the guys did, we know we could have done better."
Twitter: @campadresports
---