La Cañada Valley Sun Top 10 Boys' Athletes of the Year: Syrkin swims to greatness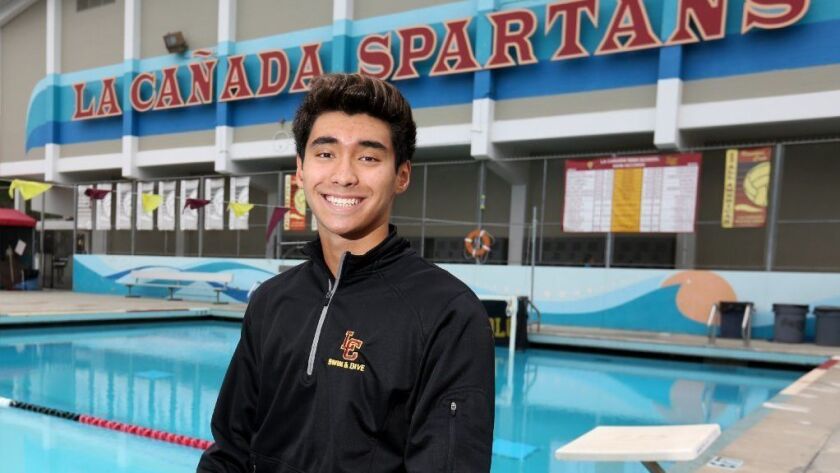 1 Danny Syrkin, La Cañada swimming — Setting new records, team triumphs, Rio Hondo League titles and CIF Southern Section championships were all in abundance and all colored a hugely successful sophomore campaign for La Cañada High standout Danny Syrkin.
The All-Area Boys' Swimmer of the Year was simply scintillating in the spring, being recognized as the La Cañada Valley Sun Boys' Athlete of the Year.
"He's a really special athlete and has his own goals and his means of achieving them," La Cañada boys' swimming coach David Hill said after the season. "Pretty much whatever he sets his mind to, he's been able to do."
What Syrkin was able to do and accomplish in 2018 was staggering.
Glory for Syrkin added up to four total Rio Hondo League championships and three CIF Southern Section Division III triumphs.
Heading into next season, he already holds school records in the 50-yard freestyle (20.76 seconds), 100 butterfly (47.48) and as part of the 200 medley relay (1:32.98). His 50 free and 100 fly were All-Area swims as was his best 100 backstroke (48.87).
On May 4, Syrkin led the Spartans to a Rio Hondo League team title as he was part of four Rio Hondo League title swims, with wins in the 50 free (20.76) and 100 fly (47.91), which were meet records, the 200 medley relay (1:33.53), also a meet record, and the 400 free relay (3:11.03).
"This was a very important meet for us and we knew it was going to take a team effort if we wanted to come out in front," Syrkin said that day.
Exception as Syrkin's season was to that point, the coup de grace came at the CIF Southern Section Division II finals in Riverside on May 12.
The day began with redemption as Syrkin, Eddie Cosic, Thomas Hoffman and Matt Bilaver won the 200 medley relay in a Division II record 1:32.98. It was a victory a year in the making as the Spartans' medley relay squad a year prior had taken first at the meet, but was disqualified and its title was taken away.
But this year, it was just the first of three titles for Syrkin.
He returned with another title-winning, record-setting swim when he won the 100 butterfly in 48.47.
For good measure, he tallied a bit of an upset when he won the 100 backstroke in 48.47.
"I'm super happy for Danny. Winning three titles, breaking two records; that's fantastic," Hill said. "I'm blown away by his performance."
The final swim of the day for Syrkin and the Spartans came with a sixth-place finish in the 400 free relay, which set up the Spartans for a third-place overall finish.
It culminated a day and a season of phenomenal glory.
2 Darius Perrantes, St. Francis football — Having transferred from Crespi High, Perrantes stepped on to center stage at St. Francis and did it all in helping the Golden Knights turn in their most successful season in more than 50 years.
The junior completed the season with 2,917 yards passing in 12-plus games. He completed 155 of 260 attempts (59%) for 28 touchdowns to just seven interceptions.
On the ground, Perrantes proved to be a threat. He rushed for 324 yards and 11 touchdowns in 75 carries.
In four postseason games, Perrantes had 15 total touchdowns to just one turnover, having thrown 10 touchdown passes with one interception and added five touchdowns on the ground with no fumbles.
Perrantes helped St. Francis reach the CIF Southern Section Division III title game for its first championship appearance since 1964. St. Francis suffered a heart-breaking 44-42 defeat to fourth-seeded Rancho Verde on a field goal with no time remaining. Perrantes was named the All-Area Football Player of the Year.
3 Ray Wipfli, La Cañada diving — It what a truly amazing year in and out of the pool for the freshman, who in September was a recipient of the prestigious Gloria Barron Prize for Young Heroes, given to 25 "inspiring, public-spirited young people from across North America."
The $5,000 scholarship was given to the youngster for his philanthropic efforts at fundraising for soccer equipment, nutritious meals and medical services to the Ugandan village of Mpigi.
Onto the diving season, the freshman tallied 464.40 points to win the Rio Hondo League diving championship over teammate Tatsuya Machida (413.95) at the Rose Bowl Aquatics Center on May 2.
From there, Wipfli further carved his name into school lore and history when he won the CIF Southern Section Division II championships on May 8 at Riverside City College.
Wipfli posted a total of 529.70 points, which just edged Esperanza junior Noah Kanan (528.30) for the title.
Wipfli became his school first diving champion since John Geyer in 2009.
4 Matthew Molina, St. Francis track and field and basketball — A stellar track and field season included plenty of highs for the two-sport athlete.
Molina set a personal and school record in the high jump with a leap of 6 feet, 8 1/4 inches at a Mission League meet on March 1.
At the league finals on May 3 at Occidental College, Molina won a pair of championships as he captured the high jump in 6-7 and 110-meter hurdles in 14.96 seconds.
Molina enjoyed a banner afternoon at the Division III finals at Torrance El Camino College on May 19.
There he won two division championships, claiming both the high jump in 6-6 and the 110 hurdles in 14.73.
At the following week's Masters Meet back at El Camino on May 26, Molina finished fifth in the high jump in 6-6 to advance to state, while his season ended in the 110 hurdles with an eighth-place finish of 14.95.
At the CIF championships on June 2 in Clovis, Molina concluded his season with a mark of 6-6 to place sixth.
As for the basketball season, Molina averaged 5.5 points, 4.9 rebounds and 1.5 steals per game for the Golden Knights, who finished 14-14, but did not qualify to the postseason.
5 Andrew Ricci, La Cañada golf — Ricci clicked throughout the season for the Spartans. Not only did the junior succeed in the regular season, but he more than held his own in the CIF postseason.
Ricci was tabbed the All-Area Boys' Golfer of the Year for the second season in a row after winning his first Rio Hondo League individual championship and helping Spartans capture a 14th straight league crown.
Ricci became the first Spartan to capture an individual league title since Collin Morikawa in 2015. He led the Spartans to a sixth-place finish at the CIF Southern Section Northern Team Divisional and took seventh in CIF Southern Section Northern Individual Qualifier after advancing in a playoff.
Ricci advanced to CIF/Southern California Golf Assn. Boys' Championship, just missing out on qualifying for state after he was eliminated in a playoff. He finished the campaign with an average of 72.6.
6 Blake Howard, St. Francis football and track and field — As the St. Francis High football team advanced to the CIF Southern Section Division III championship game, Howard did everything possible and was so recognized as the team most valuable player, an All-Mission League, All-CIF and All-Area first-team selection.
He played linebacker, receiver, punter and kicker. As an outside linebacker, he had 70 tackles, 14 for a loss, four sacks and two interceptions. On offense as a receiver, he tallied 37 catches for 581 yards and seven touchdowns. On top of that, he rushed for a pair of first downs on botched punts and threw for a pair of first downs on fake punts. He averaged 37.4 yards per punt and handled kickoff duties.
"He did so much for us as a kickoff guy, as a punter, outside linebacker, safety, tight end, receiver," St. Francis coach Jim Bonds said after the football season. "Just an all-around great athlete, great football player."
Howard was also an All-Area track and field honoree as his pole vault was tops in the area at 13 feet, 6 inches, which earned him an at-large berth into the CIF postseason and a fifth-place finish in the Mission League. His ascent ended in the CIF Southern Section Division III finals.
7 Evan Pattinelli, Flintridge Prep cross-country and track and field — Flintridge Prep added another great runner to its pantheon in the senior distance athlete.
Pattinelli was a three-time All-Area selection in cross-country, including this season when he picked up five victories and posted eight top-three finishes. While the senior did not defend his Prep League individual championship when he finished second at Pierce College on Oct. 28, his team still captured a league championship.
Pattinelli recovered from that setback by winning his second consecutive CIF Southern Section Division V championship at Riverside on Nov. 18 in 14:51.9.
Pattinelli capped a historic cross-country career by winning the CIF State Division V championship in Clovis on Nov. 25 with a time of 14:51.9. The title was the second in school history for the Rebels.
In track and field, Pattinelli finished second in the 1,600-meter and 3,200-meter runs at the Prep League finals and ended his career at the CIF Southern Section Division IV preliminaries.
8 Ryan Morgan, La Cañada tennis — It turned out to be a historic season for Morgan in just his freshman season.
Morgan became the first La Cañada singles player to win a Rio Hondo League singles championship this century. The second-seeded Morgan came back to earn a 5-7, 6-1, 10-7 victory against top-seeded Leo Wang of San Marino in the championship match at Live Oak Park in Temple City on May 3.
Morgan finished 29-6, 19-3 in league and helped the Spartans finish second in league and advance to the second round of the CIF Southern Section Division I playoffs.
Morgan, who went 6-0 in the playoffs against Beverly Hills and No. 3 Mira Costa, participated in the CIF Individual Tournament. Morgan reached the round of 32 and subsequently was named the All-Area Boys' Singles Player of the Year.
9 Nick Davis, Flintridge Prep football, basketball and baseball — A throwback in that he not only took part but excelled in the three most high-profile high school sports.
The senior was an All-Area selection in all three and an All-Prep League pick in basketball and baseball (football has no all-league team as Prep is an at-large school in that sport). On top of that, he helped his teams to the playoffs in every sport.
In football, the All-CIF Eight-Man Football Division I selection had 12.5 sacks on defense and 52 receptions for 797 yards and nine touchdowns on offense.
On the basketball court in the winter, he average 11.3 points and 7.1 rebounds.
He wrapped up his Prep and prep career on the diamond, further showcasing his versatility with stellar numbers pitching — was 2-2 with a 2.65 earned-run average with 44 strikeouts over 37 innings — and hitting — batted .314 with 20 runs and 13 RBI.
10 AJ Nicassio, Flintridge Prep football, basketball, volleyball — Nicassio, a junior, got plenty accomplished throughout the season for the Rebels' volleyball team.
Nicassio, an outside hitter, registered a team-leading 326 kills and 202 digs. He was tabbed the Prep League Most Valuable Player for the second season in a row. Nicassio added 64 aces to help the Rebels win their sixth consecutive league championship.
Nicassio was bestowed with All-Area first-team recognition.
Honorable Mention: Greg Dulcich, St. Francis baseball; Ryan Graves, La Cañada basketball and baseball; Aidan Schraeder, Flintridge Prep water polo, soccer and baseball; Tim Treinen, Flintridge Prep water polo, soccer and volleyball.
---