This is how La Cañadans voted
Voters in La Cañada Flintridge, for decades known as a Republican enclave that heavily supported GOP presidential candidates, this year gave more votes to Democrat Hillary Clinton than they did to the man who ultimately claimed victory in the national election, Republican Donald Trump.
With 53.23% of La Cañada's registered voters participating in the general election, Clinton received the nod from 4,259 locals, according the preliminary figures provided by the Los Angeles County Registrar-Recorder's office, while Trump garnered 2,855 votes.
Join the conversation on Facebook >>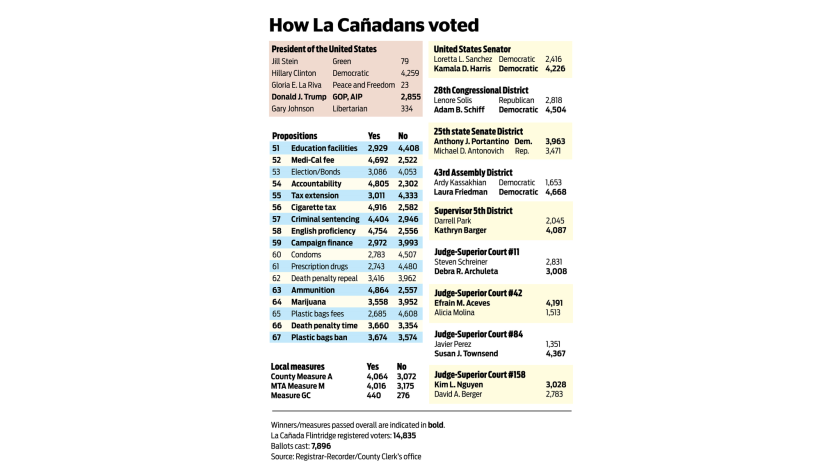 As the Valley Sun reported prior to the Nov. 8 election, the number of La Cañadans registered as Republicans has declined from 6,936 in 2008 to 6,182 over the past eight years, while the number of Democrats has climbed during the same period, from 4,231 to 4,822.
In the 2012 election, La Cañada Republicans were still supporting their own, giving 4,523 votes to Mitt Romney, while President Barack Obama received 3,629 of the local vote in his reelection bid. In that year, 59% of the city's registered voters turned out.
The finalized election results are expected next month.
--
Carol Cormaci, carol.cormaci@latimes.com
Twitter: @CarolCormaci
---