Constellation, a new specialty coffee shop, opens in La Cañada
La Cañada's Jet Propulsion Laboratory may be involved in many space-related programs, including telescopes fixed on vast portions of the night skies, but there's a new constellation a little bit closer to home they might have overlooked.
Constellation Coffee, a specialty coffee shop owned by Kevin Kim, opened for business on Feb. 10 in a nondescript retail space at 468 Foothill Blvd. and has been brewing beans at a fast clip ever since.
To Kim, running a business is nothing new — he and his family operated a Sbarro Pizza restaurant in Glendale Galleria for seven years before a mall renovation forced the shop to close in 2012 — but the 39-year-old admits he's excited to share the art form of coffee cultivation, roasting and brewing with a community where corporate coffee purveyors mainly dominate.
"There are so many different flavor profiles," the Glendale resident said. "And there's so much to learn; there are different notes and different flavors, and so many great roasters popping up all the time."
Join the conversation on Facebook >>
While there were aspects of the pizza franchise business Kim wasn't fond of, including working 362 days a year and seeing enormous amounts of food wasted, it was at Sbarro that he developed a strong work ethic and fell in love with customer service and making connections with customers.
As the years went on, Kim crafted a vision for the business he would someday open. He wanted something small and manageable, without a lot of overhead and waste, something that provided a real service.
A specialty coffee shop seemed the perfect fit. But there was a hitch — Kim was hardly a coffee connoisseur.
"Three years ago, that's when I started really appreciating black coffee," he said. "Before that, I have to admit, I was a sugary cappuccino drinker."
To learn the humble bean from the inside out, he took a job at Found Coffee in Eagle Rock. Under the tutelage of owner Annie Choi, a former general manager at Demitasse Coffee Roasters in Santa Monica, Kim eventually became conversant in the language of specialty coffee.
Former co-worker and Found Coffee General Manager Jay Eusantos, who worked alongside Kim, said the entrepreneur's determination to learn the industry from the ground up was a good one.
"There are a lot of cases where coffee shop owners don't have any coffee background. I think Kevin made a really good decision getting experience first," Eusantos said, adding there's likely to be a bit of a learning curve in La Cañada. "Now, he's going to have to help foster that coffee shop culture there."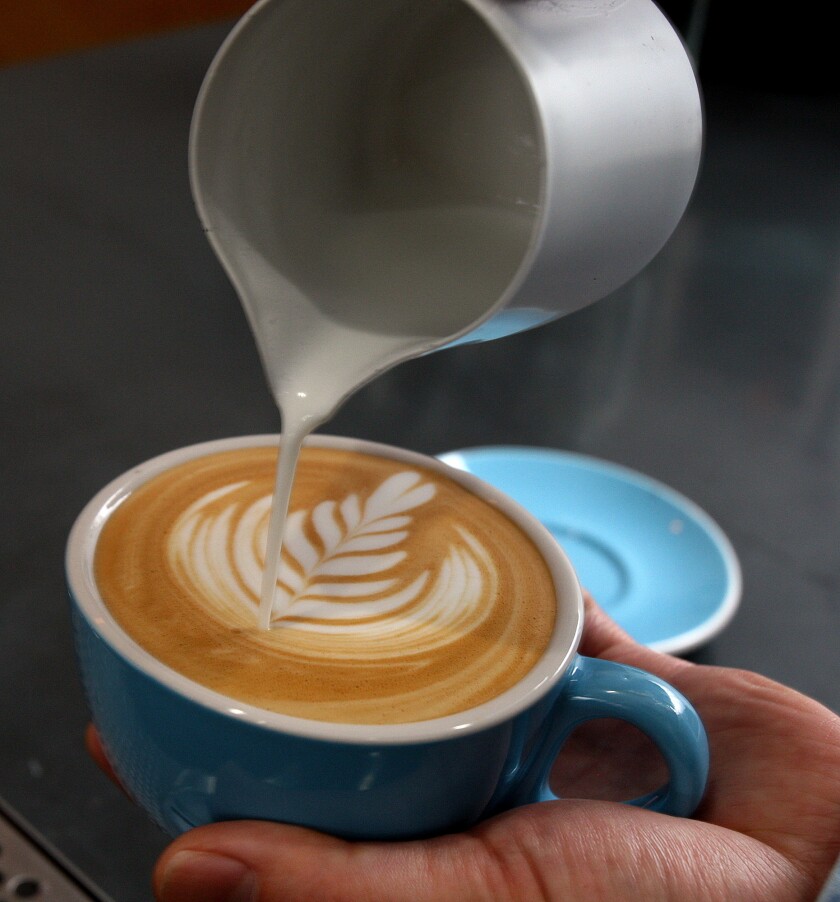 Today, confident using the espresso machine, Kim has no problem brewing a number of specialty offerings. Constellation serves up the standard macchiatos, cappuccinos and Americanos, in addition to cold brews and pour-over coffees, brewed to highlight a bean's individual flavor profile, as well as tempting snacks made by Los Angeles bakery Cake Monkey.
A recent visit found friend and specialty coffee expert Geli Espiritu hand-pouring a bright and fruity Costa Rican roast alongside a lavender Earl Grey tea. A former Found Coffee barista, Espiritu helped train a novice Kim, and said she's happy to see he's brought the same farm-to-table values and techniques to the La Cañada shop.
---------------------
FOR THE RECORD
3/3, 12:32 p.m.: A previous version of this story stated Geli Espiritu worked as a barista at Found Coffee. She was temporarily helping out at that business while working as a barista and manager at other coffee houses.
---------------------
"A lot of people think coffee is just coffee," she said. "I consider this more of an art form."
Kim hopes Constellation will be a place where people can come and dream, connect with others and do creative things. Logos and quotes almost hidden throughout the shop support that ambition.
"Everyone has their own cluster of stars. Everyone has their own niche or community," he said, explaining the name Constellation, created just for the La Cañada location. "But everyone is also connected."
--
Sara Cardine, sara.cardine@latimes.com
Twitter: @SaraCardine
---