Nervous insurers step back from fire risk of La Cañada hillside homes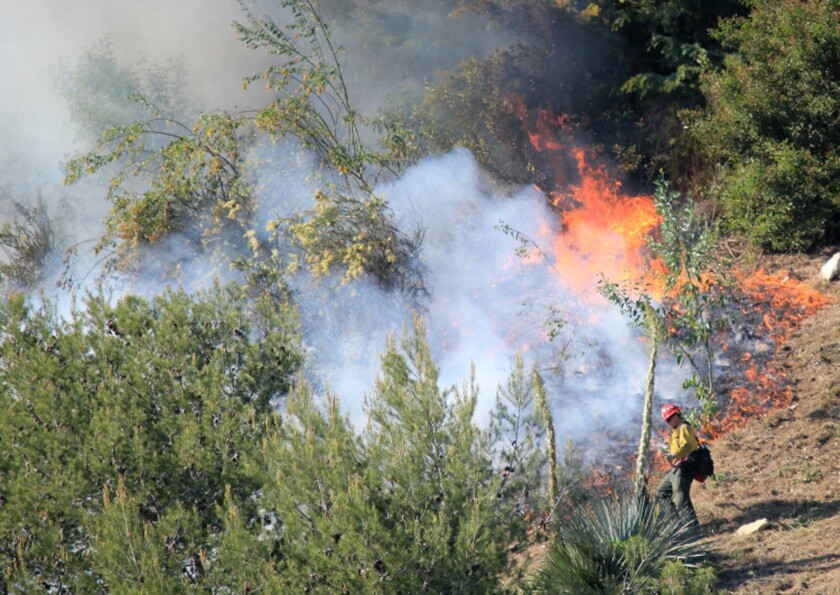 Most La Cañada homeowners are aware of the risk they assume when they purchase a hillside home near wildland brush areas. But some have recently discovered insurance companies are not so willing to take on that risk themselves.
With an earlier-than-usual fire season wreaking havoc in other communities interfacing with the San Gabriel Mountains, some local residents are finding it difficult to obtain or renew fire insurance coverage through big-name companies due to the proximity of their houses to brush zones, where the risk of fire damage is greater than average.
Some large insurers have put a hold on writing new policies to manage their growth and exposure to risk in certain areas, while others might reject applicants whose homes fall within a prescribed distance of brush zones.
"We're not writing any new business in La Cañada, La Crescenta, Altadena and Tujunga," said Barbara Marshall, a La Cañada resident and State Farm agent who's been working in the industry for 27 years. "We already insure so many homes in this area, we really want to be able to keep our promises were anything to happen."
Marshall said the policy has been in place for about a year, and is part of a broader post-2009 Station fire reality that's got companies thinking strategically about how many and what types of homes they can cover.
Bill Stewart, a Farmers Insurance agent based in La Cañada for 19 years, said his company offers fire coverage on a case-by-case basis. Satellite mapping technology now lets agents zero in on factors such as topography, climate conditions and wind patterns of a particular neighborhood to assess risk on an individualized basis. Anyone denied by Farmers is referred to affiliate companies that will insure — but at a cost, he said.
"The Station fire was a catalyst for almost all the action you're seeing now with insurance companies," Stewart said. "It's about how much risk companies are willing to take."
Homeowners unable to obtain fire coverage in the voluntary market are typically referred to the California FAIR Plan, a statewide association that ensures basic property coverage as a last resort.
Created by state legislation in 1968, after the Watts riots and a series of brush fires left many property owners unable to secure insurance, the association covers older urban dwellings and homes in expensive but risky areas such as La Cañada, Malibu, Bel Aire and Topanga Canyon, according to President Anneliese Jivan.
"If you have a mortgage you need insurance," she said. "What we don't want to have happen is a marketplace for a property where it can't be bought or sold because it can't be insured."
The FAIR plan currently covers 328 properties in La Cañada, records indicate. Coverage specifically includes fire but is not comprehensive and has a $1.5-million payout limit, so homeowners are encouraged to seek wraparound coverage at an added cost for other losses.
Jeff Chang, longtime insurance broker and owner of A.I.A. Insurance Agents, said insurance companies are reluctant to write policies for homes located near flammable brush zones because of the high costs fires incur.
"If you have a home and it's insured for half a million dollars, the loss is closer to 1.5 million," he said, adding that beyond fire damage, insurers can find themselves on the hook for losses related to smoke, evacuation and temporary housing.
Still, in his three decades of experience, Chang has found people who want to live in high-risk areas are usually willing to pay for the privilege of doing so.
"I don't see insurance as a stopping factor for people who want to buy a house in La Cañada," Chang said. "You'll probably have a terrific view, but you'll also have to pay."
La Cañadan Kristen Brakeman — who lives near the La Cañada Flintridge Country Club in a house abutting the Angeles National Forest — is not so certain. Her home was covered by Lloyd's of London until the company canceled the policy after the 2009 Station fire.
The Brakemans turned to the California FAIR Plan and obtained supplemental coverage through Mercury Insurance. But when they were informed last year Mercury was stopping that service, they had to look for another option. This time, Lloyd's was willing but the cost was steep.
"It's one of those things you don't necessarily think about when you're buying a house — but you should," she said.
---