La Cañada teachers remain hopeful as district office administrators receive 4% salary bump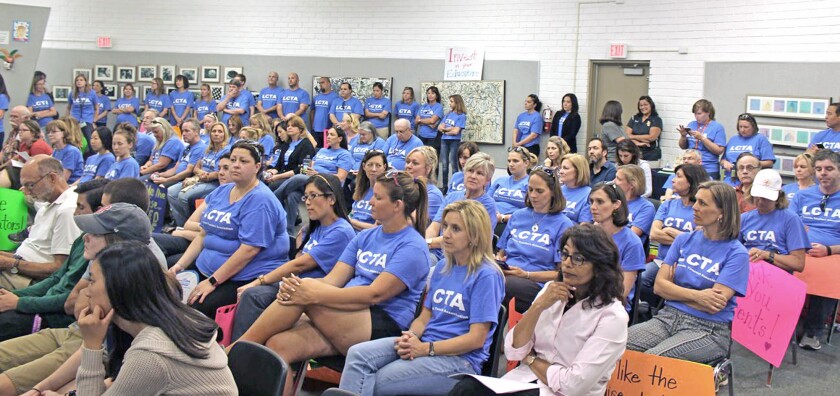 Members of La Cañada Unified School District's Confidential, Managerial, Supervisory, and Administrative Assn. — the union representing school and district office administrators — will receive a 4% salary increase, school board President David Sagal announced Tuesday night.
The increase, the result of recent negotiations between the employee group and the district, will be retroactive to July 1, 2015, Sagal said, reporting the results from a closed session meeting held prior to the evening's regular meeting.
NEWSLETTER: Stay up to date with what's going on in the 818 >>
That news came as LCUSD continues talks with members of the La Cañada Teachers Assn. over a possible increase for the more than 200 teachers employed by the district. Roughly 150 union members, wearing trademark blue shirts and carrying poster board signs, turned out for Tuesday's meeting.
Numerous teachers, parents and even students urged the district in an hourlong public comment session to consider the raises as a critical step in ensuring instruction within LCUSD schools remain top notch.
Sonya Kalara, a La Cañada High School junior and member of the campus' speech and debate team, expressed gratitude for all the extra hours team adviser and LCHS English teacher Susan Moore has dedicated to helping her and fellow debate team members excel in regional and state competitions.
"There are 52 weekends in a year. For 20 of those weekends, Mrs. Moore could have been spending time with her family. But instead, she chose to spend time with me," said Kalara, who pulled off a second-place win for impromptu speech at a state meet in Santa Clara that weekend. "When you pay a teacher, you aren't paying them for their obligation. You are paying them because every single opportunity they have, they supersede that obligation."
Tracey Calhoun, a member of the LCTA bargaining unit, assured those in the audience Tuesday both parties were still engaged in interest-based bargaining and said she was optimistic the process would ultimately be a success.
"We're really proud of the work that we have done. We think that we've made some great strides, and I think we are close in identifying a mutually agreeable option," she said.
Board members were unable by law to reply to the 20 or more people who made comments because the topic was not on their agenda, but later expressed their appreciation for teachers by officially declaring May 9 through 13 "Week of the Teacher."
In other news, board members eased back slightly on class reductions that had earlier been deemed necessary in the high school's ceramic and culinary arts programs.
At a March 8 board meeting, LCUSD Supt. Wendy Sinnette explained the trimming of four periods of ceramic arts and one period of culinary arts was the result of too low enrollment and could be adjusted if interest changed.
Small increases in student enrollment in both programs since then mean there will be no cuts to culinary arts classes next year, according to Assistant Supt. of Human Resources Jeff Davis. The ceramics classes will still be cut back, by three periods only.
--
Sara Cardine, sara.cardine@latimes.com
Twitter: @SaraCardine
--
ALSO:
End of the game for Sport Chalet
Southern California Edison liaison vows to address issues
Concept design for Hill Street Café gets greenlight from city commission
---