The quick success and slow decline of a local icon
On the first day of April in 1959, Norbert Olberz wrote a $2,500 check to Milo Svoboda, the original owner of Sport Chalet whose La Cañada store had only been open for four months. The total purchase price for the small ski and tennis shop on Foothill Boulevard had been set at $4,000, but Olberz negotiated with Svoboda to do some work for him to pay off the balance, he told the Valley Sun in a 2002 interview.
The transaction took place just over a month after Norbert and Irene Olberz had exchanged wedding vows in Oregon, following a whirlwind courtship between the two German immigrants. Their honeymoon had consisted of visiting places in Idaho and along the West Coast in search of the perfect business opportunity before they found what they were looking for in La Cañada.
NEWSLETTER: Get the latest 818 headlines straight to your inbox >>
"At this same time, Irene got a job at the local Bank of America," Norbert Olberz said. "We went and bought a couple of rollaway beds and moved into the back of the store, which was the ski repair shop. And we had one little table and one chair. If we both wanted to sit down at the same time, we went outside and sat in the car. When we wanted to take a shower, we'd go outside when it was dark and take a cold shower with the garden hose."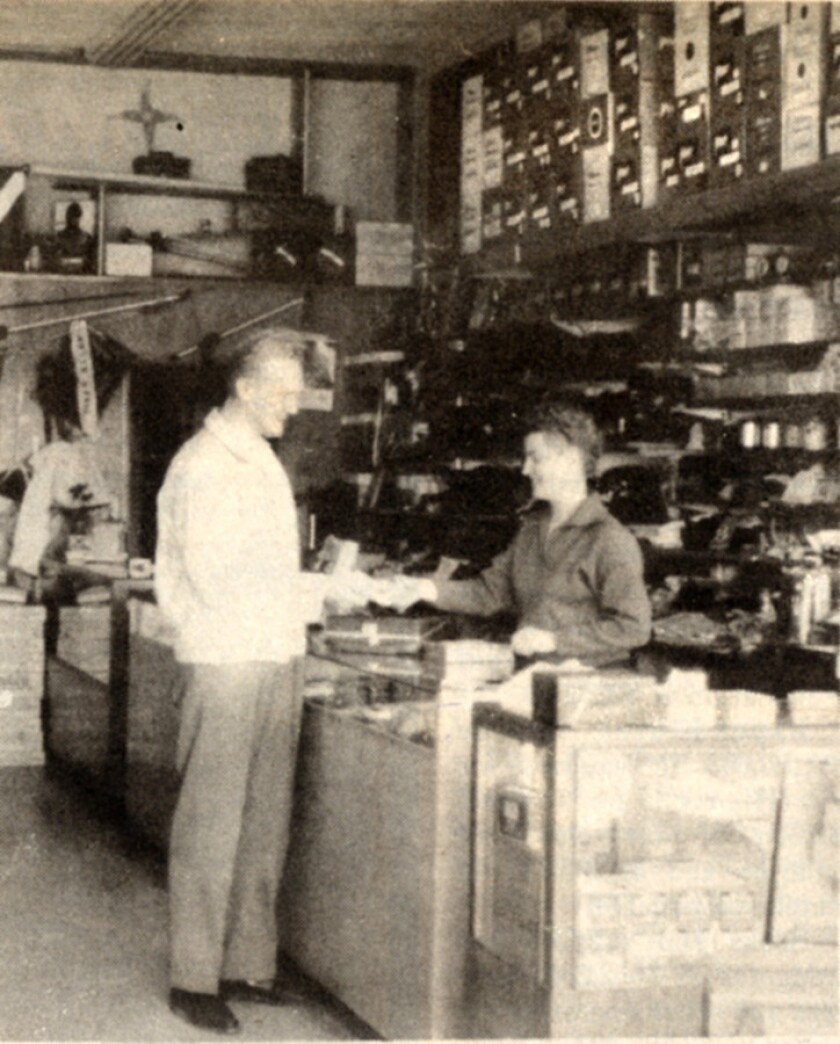 A former baker, Olberz said he learned the sporting goods business by listening to customers, skiers, friends and suppliers. "They taught me all about the business," he said.
During the first six months of their ownership, Sport Chalet took in $800 per month, netting about 40% profit. Irene was bringing home $96 every two weeks; her income covered the store rent and utilities. The 1960 Olympics in Squaw Valley brought more skiing enthusiasts into the local shop and the couple realized there was a need for more space. That's when they purchased a block of five stores from their landlord and expanded toward the corner of Foothill Boulevard and Marvin Street, a location that long remained known in town as the ski shop.
In 1974, Olberz purchased the building that previously housed the Shopping Bag grocery store, and that's how Sport Chalet came to be located on both sides of Foothill, offering a wide variety of merchandise covering the needs of sports teams, Scouting troops and individuals under the "Sportland" umbrella. In 1981, Olberz opened a Sport Chalet in Huntington Beach and the chain began to grow. Along the way, Olberz also got involved in operating a motel in Mammoth and Sportours, based in La Cañada, among other endeavors.
In 1992, the company went public to help fund expansion. Craig Levra was hired to be the firm's chief executive officer. Nine years later, the chain's first out-of-state store — in Nevada — opened. In late 2005, Sport Chalet expanded into Arizona.
Through the decades, Olberz purchased residential properties near the existing La Cañada stores in hopes of developing them into a shopping center with Sport Chalet as its anchor store and a corporate headquarters building. There were a few iterations of the development before one finally gained the approval of residents and city officials alike. The headquarters building was opened in the early 2000s, and ribbon-cutting ceremonies were held in August 2008 for the flagship Sport Chalet in the then-new La Cañada Town Center. Norbert Olberz passed away in 2011 at the age of 86; his wife Irene and their son Eric survive him.
Sport Chalet struggled in its final decade. In 2014 it was sold for $17 million to Vestis Retail Group, which absorbed $50 million in debts. Last Saturday, Vestis announced it was closing all of the existing 47 Sport Chalet locations.
It's unclear what's become of the motivational signs that once hung near Norbert Olberz' desk: "The greatest risk is not taking one" and "Quit talking about a problem that can't be fixed by talking."
--
Carol Cormaci, carol.cormaci@latimes.com
Twitter: @CarolCormaci
---