La Cañada High competes in ocean-sciences Surf Bowl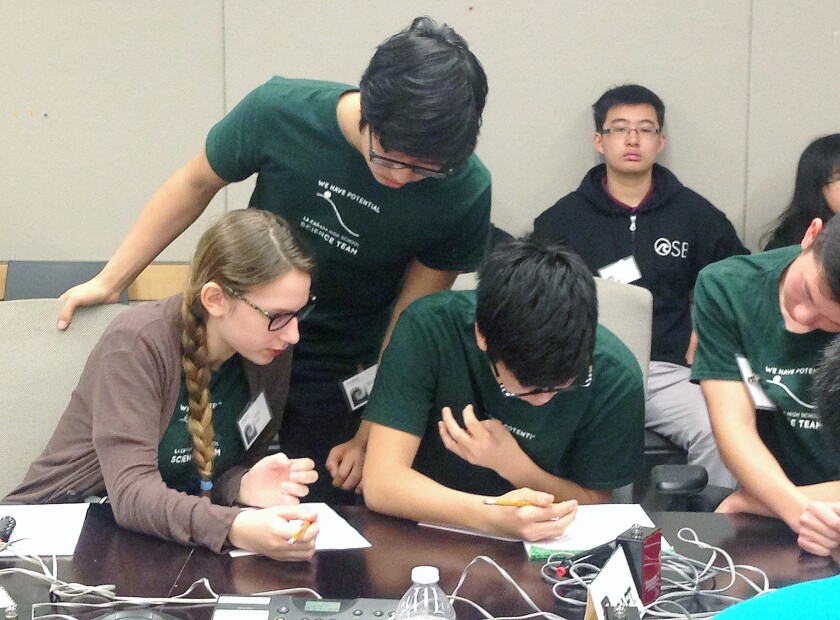 La Cañada High School students competed against 11 teams from around the region on ocean-sciences knowledge in the 17th annual Los Angeles Surf Bowl at NASA's Jet Propulsion Laboratory on Saturday.
After early wins in the morning Round Robin tournament, La Cañada's team — comprising Daniel Oh, Mile Yun, Arjun Aron, Veronica Muller and Myles Chang — was eliminated during the afternoon double elimination rounds. It was La Cañada's first year participating, says team coach and physics teacher Nate Fulmer.
NEWSLETTER: Stay up to date with what's going on in the 818 >>
From questions about sea level rise to specific metals under the ocean floor, and from species of crab to altitudes of coral reef development, sea star die-off and design types of ship hulls, the competition had three elements: a Round Robin competition, critical-thinking-based team-challenge questions, and a double-elimination competition. Student teams compete nationwide, answering questions about biology, chemistry, geology and physics of the oceans, as well as navigation, geography and related history and literature.
"We've been off to a shaky start," said Oh, the LCHS team captain, when La Cañada was facing Mark Keppel High School. "We're getting some questions wrong, but we're also getting used to it."
La Cañada defeated Mark Keppel 77-41. However, they immediately struggled to get things started against Temple City High School and lost 29-82.
According to Fulmer, the students had been preparing all school year for the bowl, and they decided among themselves who would compete.
"They quizzed each other," Fulmer said. "We had our own set of buzzers."
In Saturday's competition, Santa Monica High School took first place, followed by University High School in second place and Woodbridge High School in third. The winner travels to Morehead City, North Carolina for the National Ocean Sciences Bowl in April.
--
Matt Sanderson is a contributing writer.
--
ALSO:
Crime Report: After exchange with panhandler, woman's tire slashed
Creation of career-field pathways marks a major shift in curriculum at LCHS
Palm Crest Elementary students take a trip to space with JPL scientists
---