The La Cañada Junior Women's Club recently held a fundraising party at Montrose Bowling Alley on Honolulu Avenue that brought out about 100 party-goers. The eight-lane bowling alley was built in 1936 and is a flashback to another age.
As promised by co-chairs Kelly Chamberlain and Carolyn Baron, the club's members, spouses and guests did party to the max. It was awesome!
NEWSLETTER: Stay up to date with what's going on in your community >>
The guests were encouraged to wear their best duds from the '80s. It was a colorful bunch of people that were rocking and bowling.
Some of the dance moves, encouraged by the band Past Action Heroes, were over the top. The lead singer was sporting a Superman-type cape and he almost flew from chair to chair to beckon dancers to join their music action.
"In my opinion, it was one of the best dance parties that the club has ever had," Chamberlain said.
There was ample pizza and other Italian delights to feed the crowd, catered by Giuseppe's Pizzeria in Montrose. Extra candies, as well as some '80s treats such as Ding Dongs and Twinkies, were plentiful.
Brenda Gant, president of the Juniors, was wearing a Madonna costume accented with lace and a plethora of jewels that jingled and jangled. Her husband, Jeff Hughes, was looking rebellious and slightly dangerous in his camouflage suit with a bandanna of the same fabric tied around his curly black wig. Furthering that image was the band of faux bullets he wore across his enhanced chest — I think he must have misplaced the toy gun somewhere.
It was a raucous and fun night with monies raised going toward the club's many philanthropies.
--
An excited buzz filled the air where a crowd gathered in front of the beautiful and historic Pantages Theatre for the opening of the Tony-Award winning musical, "Kinky Boots."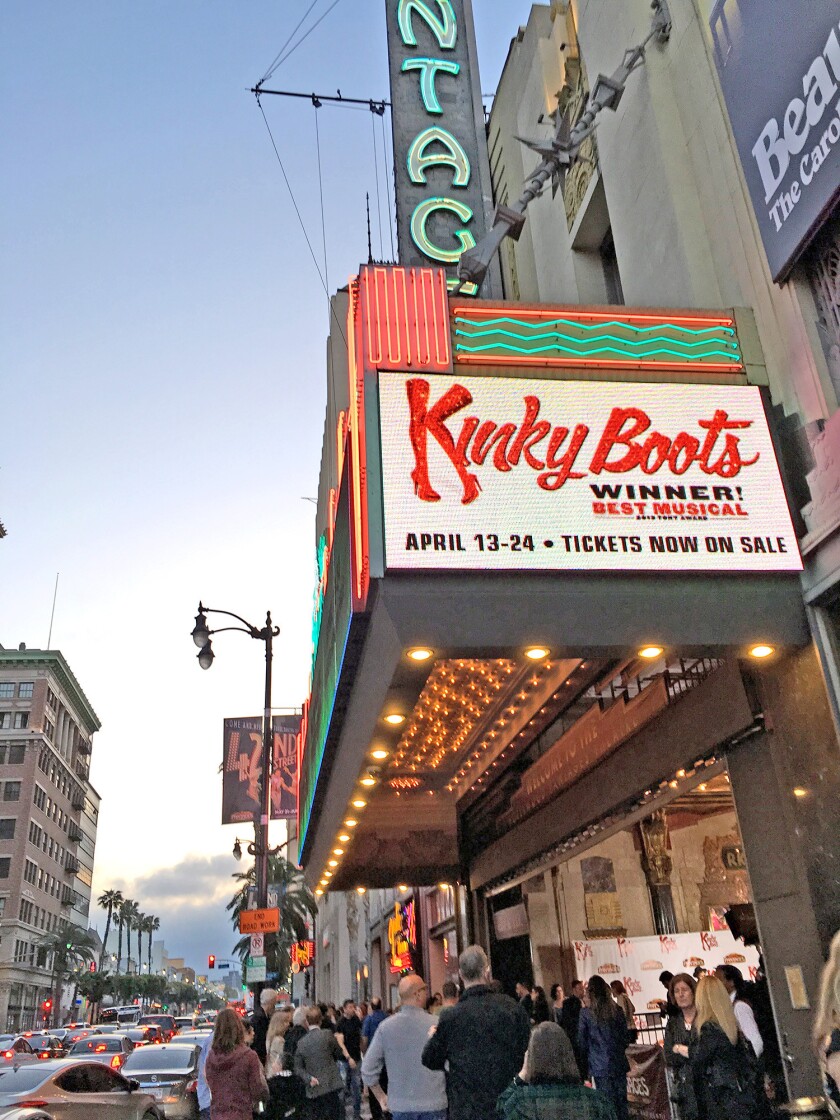 Leslie Salazar, my neighbor and devoted musical theater fan, convinced me that we should go together to the opening of the play. In the crowd I immediately saw La Crescenta resident Alison Corrigan who was waiting for her husband, John, to pick up their tickets. Alison is a physician's assistant for Dr. John Osterkamp. Since it has been a while since I have had any broken bones, I haven't seen her lately, thank goodness. We had a great time catching up on community news and what our kids are up to.
I also saw Jill Weinlein and her 12-year-old daughter, Kate. Jill was looking fashionable in her black boots, however they weren't the colorful kinky kind we saw on stage in this energetic and fun production.
--
JANE NAPIER NEELY covers the La Cañada Flintridge social scene. Email her at jnvalleysun@aol.com with news of your special event.
---