Bal Blanc de Noel presents Les Fleurettes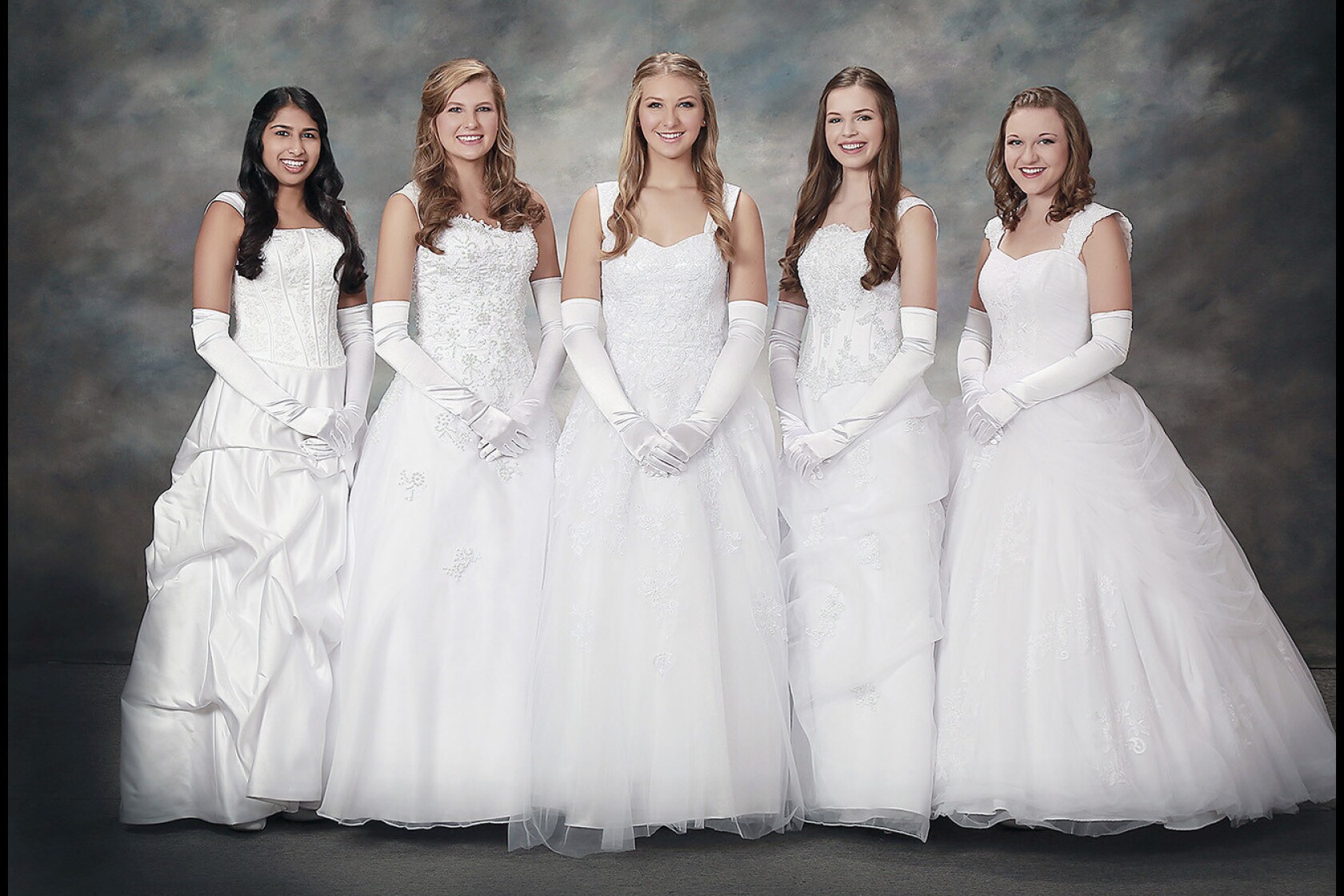 Rashi Shah, from left, Ashley Lawrence, Erika Winter, Alaina Kalb and Ashley Morrison were among the nine La Canada Thursday Club Les Fleurettes provisionals who were presented at the Bal Blanc de Noel, held Dec. 27 at the Omni Hotel in Los Angeles. (Courtesy of Bronson Photography)
(Hand In / La Canada Valley Sun)
Simone Puglia, from left, Ella Gmelich, Alexandra Tutwiler and Savannah Mackey were among nine young women presented to society on Dec. 27 at the annual Bal Blanc de Noel sponsored by the La Canada Thursday Club and held at the Omni Hotel in Los Angeles. (Courtesy of Bronson Photography)
(Hand In / La Canada Valley Sun)
Carter Tutwiler has a portrait taken with his daughter, debutante Alexandra Tutwiler, prior to the Bal Blanc de Noel held Dec. 27 at the Omni Hotel. Alexandra Tutwiler attends Flintridge Prep, where she's active in the school's dramatic arts and sports program. She is considering a major related to biological sciences when she attends college next year. (Courtesy of the La Canada Thursday Club)
(Hand In / La Canada Valley Sun)
Les Fleurettes debutantes Ashley Lawrence, from left, Rashi Shah and Ashley Morrison prepare to take their bows during the Bal Blanc de Noel on Dec. 27 at the Omni Hotel. (Courtesy of Bronson Photography)
(Hand In / La Canada Valley Sun)
Bouquets of ivory roses were carried by the debs during the Bal Blanc de Noel. From left, Alaina Kalb, Ashley Lawrence, Savannah Mackey, Simone Puglia, Ella Gmelich, Alexandra Tutwiler, Ashley Morrison and Rashi Shah. (Courtesy of Bronson Photography)
(Hand In / La Canada Valley Sun)
After taking her bow, Erika Winter enjoys the first dance with her father, Tim Winter. Her presentation song was "Winter Wonderland." (Courtesy of Bronson Photography)
(Hand In / La Canada Valley Sun)
Debs and their fathers line up for the presentation ceremony at the Bal Blanc de Noel. In the foreground are Thomas Gmelich and his daughter, Ella. (Courtesy of Bronson Photography)
(Hand In / La Canada Valley Sun)
Tables ring the dance floor at the La Canada Thursday Club's Bal Blanc de Noel, held Dec. 27 at the Omni Hotel in downtown Los Angeles. (Courtesy of Bronson Photography)
(Hand In / La Canada Valley Sun)
Carter Tutwiler and his daughter, Alexandra, followed by Shashin Shah and his daughter, Rashi, promenade during the Bal Blanc de Noel. (Courtesy of Bronson Photography)
(Hand In / La Canada Valley Sun)
Clark Lee, Tyler Seto and Kyle Okazaki enjoy the Bal Blanc de Noel, held Dec. 27 at the Omni Hotel in Los Angeles. (Courtesy of the La Canada Thursday Club)
(Hand In / La Canada Valley Sun)
Shelby Lawrence and Sara Davis perhaps look ahead to their future as Les Fleurettes debutantes during the Thursday Club's gala presentation and dinner event. (Courtesy of the La Canada Thursday Club)
(Hand In / La Canada Valley Sun)
Suzy Lawrence hugs her daughter Ashley Lawrence during the Bal Blanc de Noel. Ashley Lawrence is an honor student at La Canada High School and an avid member of its pep squad. She has an interest in studying international business when she attends university. (Courtesy of the La Canada Thursday Club)
(Hand In / La Canada Valley Sun)
Taking in the Les Fleurettes' Bal Blanc de Noel Sunday night are, front row from left, Debbi Meyer, Nicole McNevin, Ali McNevin, debutante Ashley Lawrence and her mother, Suzy Lawrence. Back row, from left, are John Warda and Tre Lawrence, Ashley's father. (Courtesy of the La Canada Thursday Club)
(Hand In / La Canada Valley Sun)
Les Fleurettes debutante Ella Gmelich, seated at center with her escort Mac MacVaugh, is shown with friends Aprylle Salvador, Ali McCollum, Kylie Yates, Maddie Dulcich, Bree Ryan, Stephanie Beyer, Caitlyn Sigler, Maddie Dawn and Kate Bianco at the Bal Blanc de Noel. Gmelich is a student at Flintridge Sacred Heart Academy where she is a member of its track and field team. She plans to attend a university and study communications with a focus in media arts, visual culture and graphic design. (Courtesy of the La Canada Thursday Club)
(Hand In / La Canada Valley Sun)
Flintridge Prep students showing support for their fellow student, debutante Erika Winter, are, from left, Cole Pilar, Kelsey Fedde, Laura Mittelberg, Winter, Jack Van Scoter, Alexandra Beverlin and Arthur Young. Winter served as president of the Les Fleurettes provisional class for the past 18 months. A trained dancer who has participated in Prep's school musicals, she is also on the Student Senate and mentors seventh graders as a peer counselor. (Courtesy of the La Canada Thursday Club).
(Hand In / La Canada Valley Sun)
Flintridge Prep student and 2016 Rose Queen Erika Winter, third from right, is shown with her father, Tim Winter, and members of the Pasadena Tournament of Roses Royal Court during the Bal Blanc de Noel on Dec. 27. From left are Rose Princesses Sarah Shaklan, Rachelle Liu, Bryce Bakewell, Regina Pullens and Natalie Hernandez-Barber. Not present was Rose Princess Donaly Marquez. (Courtesy of the La Canada Thursday Club)
(Hand In / La Canada Valley Sun)
Debutante Alaina Kalb is surrounded by family her family at the Bal Blanc de Noel. From left, they are Patrick Kalb, mother Kristina Kalb and father Stephen Kalb. Alaina Kalb is a senior at La Canada High School, where she is an honor student and a member of the theater department. She hopes to attend a small university to study marketing and business. (Courtesy of the La Canada Thursday Club)
(Hand In / La Canada Valley Sun)
Patrick Kalb, left and Kristina Kalb pause near the Christmas tree set up in the Omni Hotel on Dec. 27 with Marsha Kettle Boal, a member of the 1965 Les Fleurettes class, and her husband, Randy Boal. Kristina Kalb's daughter, Alaina, was one of this year's debutantes. (Courtesy of the La Canada Thursday Club)
(Hand In / La Canada Valley Sun)
Debutante Simone Puglia shares a moment with ball guests, from left, Rachel Lee, Cameron Littell, Nancy Lim and Connie Park. (Courtesy of the La Canada Thursday Club)
(Hand In / La Canada Valley Sun)
As the Ball Blanc de Noel winds down on the evening of Dec. 27, the Puglia daughters share an embrace with their mother. From left, Simone, Sabine and Kaitzer Puglia. (Courtesy of the La Canada Thursday Club)
(Hand In / La Canada Valley Sun)
In a tradition reaching back to the early 1950s, the La Cañada Thursday Club on Sunday evening presented its Bal Blanc de Noel to present this year's nine-member Les Fleurettes debutante class. The black-tie gala was held at the Omni Hotel in Los Angeles.
Andrew Blumenfeld, who himself once served as a debutante's escort to the annual affair, took to the podium as the evening's presenter this weekend. A teacher and the co-founder of Students for Education Reform, Blumenfeld recently stepped down from the La Cañada Unified School District Governing Board, for which he served a term as president.
Taking their bows to society were La Cañada High School students Alaina Anna Kalb, Ashley Suzette Lawrence, Savannah Lynn Mackey, Ashley Rose Morrison, Gareen Simone Puglia and Rashi Shashin Shah; Flintridge Sacred Heart Academy senior Ella Elizabeth Gmelich and Flintridge Preparatory School students Alexandra Aliah Tutwiler and Erika Karen Winter.
After each was introduced, Thursday Club President Jeanie Kay presented her with a camellia charm as a memento of the occasion and of the 16 months they prepared for it by participating in social and community service, cultural education, personal development and etiquette lessons.
Kay was chairman of the Bal Blanc de Noel. Thursday Club members Jody Platisa and Patti Wickersham co-chair the debutante program and Rosanne Morrison is the group's provisional chair.
--
A reigning Winter
This social season has been a particular whirl for Flintridge Preparatory School senior Erika Winter, who was nearing completion of her 16-month Les Fleurettes debutante class this fall when she learned she would reign over the New Year's Day 2016 Tournament of Roses wearing the coveted Rose Queen crown. So, in addition to her duties as president of the Les Fleurettes, she has been engaged in a host of activities related to her royal title.
The daughter of Pasadena residents Kristine and Tim Winter, Erika is an assistant teacher for dance classes at Lineage Performing Arts Center. She enjoys spending time with friends and family; she and her father share a love of watching L.A. Kings games. As to her future, she plans to study marketing and communications in college, followed by a possible career in the fashion industry.
--
Carol Cormaci, carol.cormaci@latimes.com
Twitter: @CarolCormaci
---