LCHS event spotlights students' accomplishments in science and beyond
Spartans of all stripes took the stage, literally and proverbially, in an after-school event held Thursday to showcase their passions and talents in science-related fields and beyond.
What's traditionally an annual showcase of student accomplishments in astronomy and science studies at La Cañada High School was expanded this year to include those whose interests range from the digital arts to culinary arts and from fashion to prose, according to organizer and retired biology teacher Patty Compeau.
NEWSLETTER: Stay up to date with what's going on in the 818 >>
"It's typically a science event, but this time we involved art and technology," Compeau said. "The kids said, 'We want to be important, too,' and it just grew."
Members of the campus Associated Student Body broadened the event beyond the Information Resource Center by hosting a brief talent show in the school's auditorium. In the courtyard between the two venues, students in Steve Zimmerman's Engineering Club battled hand-crafted robots for sport.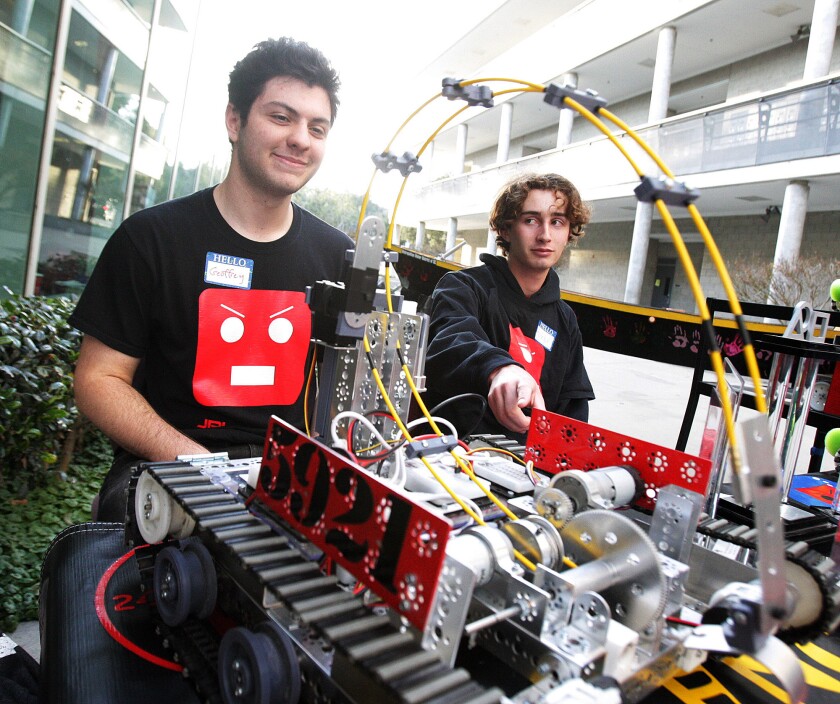 The atmosphere inside the IRC was similarly abuzz as students delivered presentations on independent study projects and spoke to younger students about the spectrum of clubs and activities available to them.
"It's supposed to show what our school's about and what we do," explained freshman Claire Papac, who manned a table highlighting the school's equestrian team alongside twin sister Paris Papac.
As if on cue, a group of middle school girls approached, assignment sheets in hand, seeking more information from the sisters, who happily provided details in different equestrian riding styles and events.
Two tables away, a group of students who competed in a Science Bowl at JPL on Jan. 30—and will return there Feb. 27 to participate in the Los Angeles "Surf Bowl" ocean sciences contest—practiced trivia questions, à la buzzer.
"What property of a sound wave is most associated with loudness?" a female student posed.
"Wavelength?" a male student incorrectly guessed, only to be buzzed.
"Amplitude?" a female compatriot wagered. Correct.
Senior Jordan Cutler-Tietjen represented both the Spartan campus newspaper and "The Ink and the Iris," an annual literary magazine of student art, poetry and prose. He explained how the editorial staff was soliciting submissions and contemplating whether or not opening the book to ad space might bring a reliable source of funding.
Nearby was a group of students who've paired with MIT graduate-level aeronautic students to submit a design in NASA's Cube Quest Challenge, a call for teams willing to help design, build and deliver flight-qualified, small satellites capable of advanced operations near and beyond the moon.
Should it reach the qualifying rounds of the national competition, the team would have to raise $4 million by 2018 to build its model, explained programmer and sophomore Andre Der Sarkissian.
Fellow sophomore Patrick Witteman explained the benefits of such a venture.
"The point of this mission is to prove space travel can be done on a more affordable scale," he said.
Meanwhile, upstairs in the school's Mac Lab, artist senior Yiwei Meng waited for visitors to interact with his photos and digitally created art work. Unafraid to deal with controversial themes — such as police brutality and the international refugee crisis — Meng explained he's formed an artists collective in his home and hopes to someday emulate urban artists like Banksy and Keith Haring. The drought of interested visitors Thursday failed to daunt Meng.
"I'm ready for this," he said. "I want to be an artist, so I already expect it."
Gayle Nicholls-Ali, a career technical education teacher for photography and graphic design, said the diversity of talents displayed at this year's student showcase seemed to be a big draw.
"It's growing every year," she said. "I think it's because our kids are getting more expansive and are involving the community more."
--
Sara Cardine, sara.cardine@latimes.com
Twitter: @SaraCardine
---