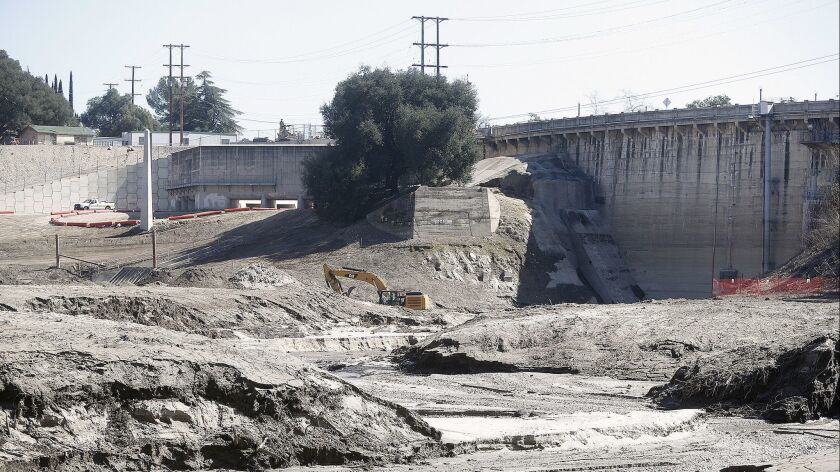 Though the Los Angeles County Public Works Department continues to move forward with its multiyear Devil's Gate Dam sediment removal project, its April 15 start has been pushed back to May 7, due to weather-related delays.
In a March 28 meeting of the Joint Use Committee, which considers properties and holdings shared by La Cañada Unified School District and the city of La Cañada Flintridge, LCUSD Supt. Wendy Sinnette said county officials confirmed the delay at a March 27 meeting in Pasadena.
Engineers have estimated that during the project's four years, the area could see as many as 425 round-trip daily truck trips on Oak Grove Drive, Berkshire Avenue and Altadena's Windsor Avenue as haulers access the Foothill (210) Freeway.
READ MORE: County crews clear recent debris from Devil's Gate, assure 'Big Dig' still on track for April »
La Cañada Public Works Director Pat DeChellis told Joint Use Committee members the county and city of Pasadena plan to install a protected left turn light at Oak Grove and Berkshire to accommodate northbound trucks.
"That will have an impact on the southbound traffic, but the impact has been determined to be less than if they didn't [install anything]," he said, describing haulers competing with southbound traffic turning right onto Berkshire.
The signal's installation could take from six months to one year to complete. In the meantime, the Los Angeles Sheriff's Department plans to send deputies to the intersection one hour every afternoon during peak traffic times.
READ MORE: LCUSD, parents vow to combat impact of Devil's Gate sediment removal with citizen science »
Sinnette asked city officials if they might also discuss adding a crossing guard to assist pedestrians on Oak Grove attempting to cross Berkshire.
The superintendent said the district aims to improve air filtration systems at La Cañada High School during the project and is collaborating with neighbors to create an air quality monitoring plan. Officials and parents are also requesting truck emissions be measured.
"We don't want to stop the project, we know that it has to be done," she said. "But we really feel like a concrete monitoring plan is essential."
For more, visit dpw.lacounty.gov/swe/devilsgate or call (626) 458-2507.
Twitter: @SaraCardine
---