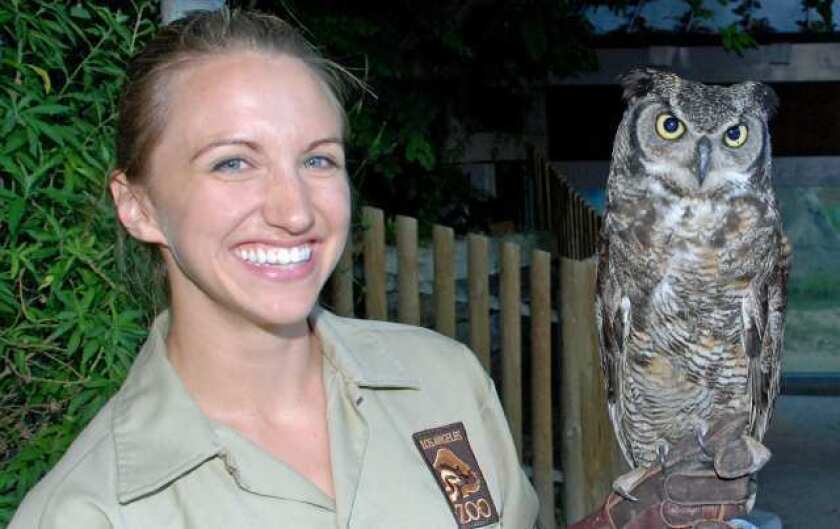 As it has for the past 42 years, the Greater Los Angeles Zoo Association (GLAZA) gave more than 800 guests a wild evening they won't soon forget as the organization staged its annual Beastly Ball fundraiser this past Saturday.
Guests, dressed in safari attire, strolled the zoo's grounds, stopping to sample the offerings of local restaurants, observe the facility's inhabitants, engage in up-close-and-personal meetings with animals and their handlers, bid on unique silent-auction items, visit the new LAIR (Living Amphibians, Invertebrates and Reptiles) habitat, and enjoy the music, ranging from jazz to African to rumba, that blended from one area of the zoo to another.
The formal portion of the evening, hosted by comedian Jimmy Pardo with music by the Makoto Taiko drummers, paid tribute to former Los Angeles Mayor Richard Riordan for his commitment to ensuring the zoo has been an international leader in the preservation of endangered species and a conservation center for the care and study of wildlife.
"He maintains a long-term belief that a trip to the Los Angeles Zoo and Botanical Gardens is a rare find within a vast city that provides a beautiful physical respite, as well as a magical and educational journey to other worlds, particularly for children living in urban neighborhoods with few opportunities for exposure to the natural world," said GLAZA President Connie Morgan.
The evening also saw actress Sarah Michelle Gellar receive GLAZA's Tom Mankiewicz Leadership Award, which recognizes members of the entertainment community who have excelled in establishing meaningful and lasting programs that contribute to the welfare of the world's natural and civic environment. It was established in memory of former GLAZA Chairman Tom Mankiewicz, who passed away in 2010.
Among the special guests in attendance were event co-chairs Betty White and Richard Lichtenstein; Karen Winnick, who serves as the president of the Los Angeles Zoo Commission; the zoo's director, John Lewis; former L.A. Mayor James Hahn, actress Pauley Perette, and Joan McCarthy, of the Walt Disney Company.
Locals from the Burbank and Toluca Lake area who enjoyed the evening included Evan and Claire Bartels, Walter Moore, Annet Peairs, Max Andrews, Mardi and Sarah Rustam and Thomas and Margaret Simms.
The Beastly Ball is presented by GLAZA, a private, nonprofit organization founded in 1963. The organization has funded exhibits, plant and animal species conservation, capital projects, and education and community outreach programs at the Los Angeles Zoo. GLAZA also builds and invests endowment funds and operates five essential departments on behalf of the zoo, including development, publications, membership, volunteers, and oversight of the zoo's food and retail concessions. According to zoo spokeswoman Laura Stegman, last week's event raised more than $1 million.
DAVID LAURELL can be reached by email dlaurell@aol.com or (818) 563-1007.
---