DVD review: An action-packed 'Raid'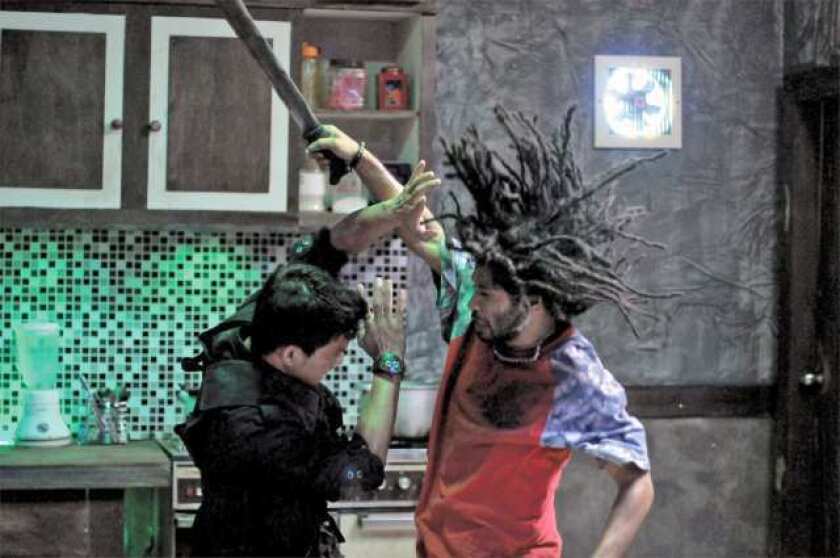 It's safe to say that Gareth Huw Evans is the greatest Welsh director of Indonesian action films. Sony Classics picked up his second feature, "The Raid: Redemption," to the cheers of Asian-action fans. The story is about a SWAT team sent on a suicide mission to grab a crime boss (Ray Sahetaphy) out of the 15-story urban apartment building that serves as his headquarters. When the squad's leader is killed, a rookie (Iko Uwais, who also served as fight choreographer) has to rise to the occasion and lead his guys through 14 video-monitored floors filled with murderous thugs. Story is hardly the point here, however. The film is almost entirely one action scene after another, starting with automatic weapons and then, as circumstances dictate, axes and knives, then improvised weapons, and finally hand-to-hand combat.
The layout of the video release has had more care than usual. You can choose the original Indonesian score or the American score by Mike Shinoda of Linkin Park and Joe Trapanese. You can then choose from among several spoken languages, and further among several subtitle options. I think this can all be done in any combination. The soft-spoken Evans provides a detailed commentary track (which also has optional subtitles) that explains how he came to direct Indonesian movies.
The 11/2 hours of supplemental material (all subtitled in English when necessary) includes "Behind the Scenes Video Blogs" — 40 minutes of on-the-set material, divided into six sections. Also, there is a 40-minute Q&A with Evans, Shinoda and Trapanese, shot after a screening at L.A.'s own Cinefamily at the Silent Movie, with Hadrian Belove ably moderating; four short interviews; the trailer; "Claycat's The Raid," a two-minute clay animation condensation of the entire film; and, strangest of all, "The Raid TV Show Ad (circa 1994)," which pretends to be a commercial of a nonexistent anime show that might have inspired Evans to make the film, had the show ever existed.
"The Raid: Redemption" (Sony, Blu-ray, $35.99; DVD, $30.99)
ANDY KLEIN is the film critic for Marquee. He can also be heard on "FilmWeek" on KPCC-FM (89.3).

---