Community: First responders receive a tasty thank you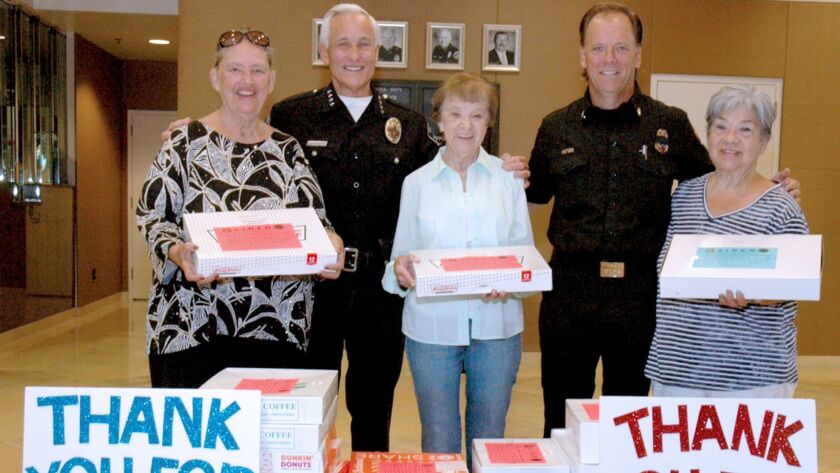 Seven local doughnut shops recently made the day a little sweeter for Burbank first responders.
Members of the Golden Girls Cookie Brigade collected 30 dozen doughnuts from local businesses and dropped them off at the local police and fire headquarters.
Boxes were distributed to the departments, located at the headquarters, and a fire department employee delivered the rest of the boxes to each of the six fire stations.
Businesses donating to the project were Donut Prince on Irving Drive, Dad's Donuts & Bakery, Krispy Kreme Doughnuts, Martino's Bakery, Dunkin' Donuts, Family Donuts and Donut Hut.
The cookie brigade was founded by Sally Peterson and Doris Owings, members of St. Robert Bellarmine Church.
Once a month, volunteers make four dozen cookies that are delivered to the Burbank police and fire headquarters and the six fire stations.
There are now 38 women who take turns baking the cookies.
For the project's one-year anniversary, brigade members decided that instead of baking cookies, they would solicit donations from doughnut shops around town, Peterson said.
"We love our police and fire departments, and we are so proud of them," she said.
The gesture is a way to show gratitude for all the positive things they do in the community, she added.
Rosemary Ennis, another volunteer, echoed that sentiment.
"I feel so safe in my city of Burbank," she said. "A cookie a month is a small way to say thank you for your service and thank you for putting your lives on the line for all of us, because we appreciate it."
Owings said she enjoys participating in the project because of the satisfaction she receives giving the firefighters and police officers a boost.
Burbank Police Chief Scott LaChasse said he is grateful for such a supportive community.
"This community is big on providing us with support, and this is just another manifestation of the kind of support that we get," he said. "The cookie brigade comes monthly. This is an anomaly. They generally bring cookies, but they brought doughnuts this month. They'll go to good use."
Fire department Battalion Chief Mark Hatch said the project is "wonderful."
"Everybody likes a little pat on the back and a little appreciation and all the organizations in this community reach out constantly," Hatch said. "This gesture brings a smile to everyone's face and makes your day brighter for sure."
The Golden Girls Cookie Brigade is a branch of the church's SIREN ministry, which was created to boost morale of Burbank first responders. SIREN is an acronym for Supplication, Intercession, Rosaries, Encouragement and Needs.
Peace poster contestant wins third place
The Burbank Noon Lions' sent four winners of its annual Peace Poster contest to the district level, and Luther Burbank Middle School student Lillian Raesler received third place.
The district includes more than 40 clubs in Southern California.
Lillian received a commendation and a $25 check.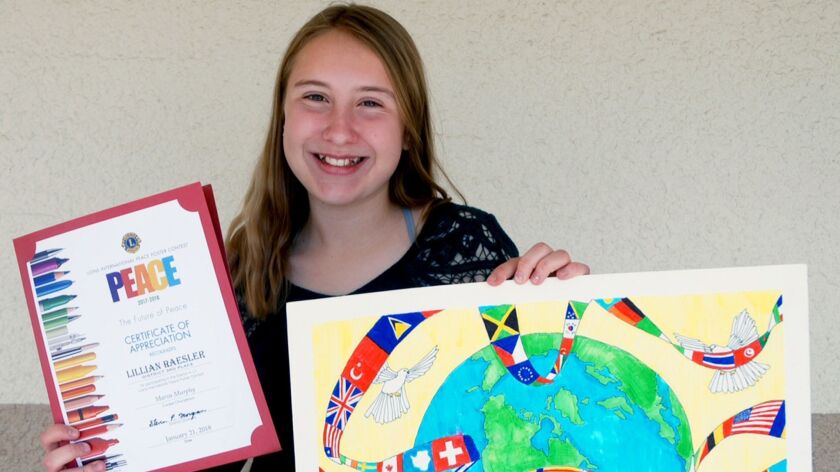 JOYCE RUDOLPH can be reached at rudolphjoyce10@gmail.com.
---