To cap off the final full month of summer, the Burbank Assn. of Realtors rose to an edict put out by the California Assn. of Realtors, or CAR, which proclaimed August to be a "month of giving."
Local Realtors and affiliate members, continuing their longstanding history of supporting and giving back to the community, took the state organization's challenge to heart by staging a daylong Donation Fair at their Magnolia Boulevard headquarters this past Thursday.
At the event, co-chaired by Leah Archer, a Realtor with VonKeith Properties, and Christine Hatch, owner of the Mortgage Group, local association members donated items to benefit six local organizations: the Burbank Animal Shelter, Elizabeth House, Dress for Success, Clothes the Deal, the Kids' Community Dental Clinic, and the Boys and Girls Club of Burbank and the Greater East Valley.
"This challenge by the CAR, to give back to the community, plays into what our association does through our foundation on a regular basis," said Courtney Korb, president of the Burbank Assn. of Realtors.
"Going even further than we have in the past, one of my goals as president was that we expanded our commitment and dedication to Burbank," Korb said.
"That is why, this year, we broadened the scope of our Donation Fair by adding three new organizations, Clothes the Deal, Dress for Success, and Elizabeth House. Working with Leah and Christine, I wanted to try to include a diversity of groups that would give everyone a reason to come out and be supportive in their giving," she added.
Dress for Success repurposes preowned business attire for women who don't have the means to purchase the appropriate clothing for job interviews, and Clothes the Deal does the same for men in need of suits, dress shirts, shoes and ties.
Elizabeth House, which works toward ending the cycle of homelessness and abuse of women and children, requested donations of personal, household and cleaning items.
Rising to the occasion to help Clothes the Deal, Natalie Worsham, a loan officer with Logix Real Estate, was joined by Dilbeck Realtor Marion Goodman in making sure the group's coffers were filled with an array of ties.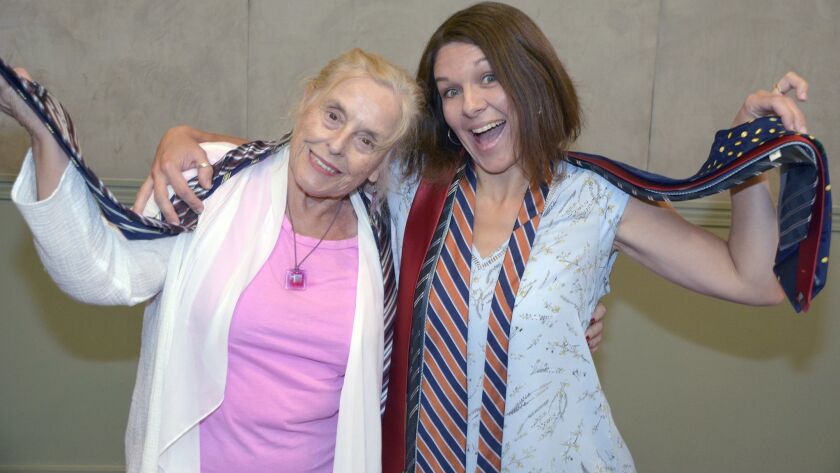 Throughout the day, other local Realtors and affiliate members stopped by with donations ranging from food and towels for the animal shelter, oral-hygiene items for the dental clinic, and school, art and sports equipment and supplies for the Boys and Girls Club.
The Burbank Assn. of Realtors is a professional trade organization representing members engaged in the local real estate business.
Established in 1922, the organization promotes best business practices, competency, integrity and ethics, along with developing, providing and promoting programs and services that will improve the community.
DAVID LAURELL may be reached by email at dlaurell@aol.com or (818) 563-1007.
---