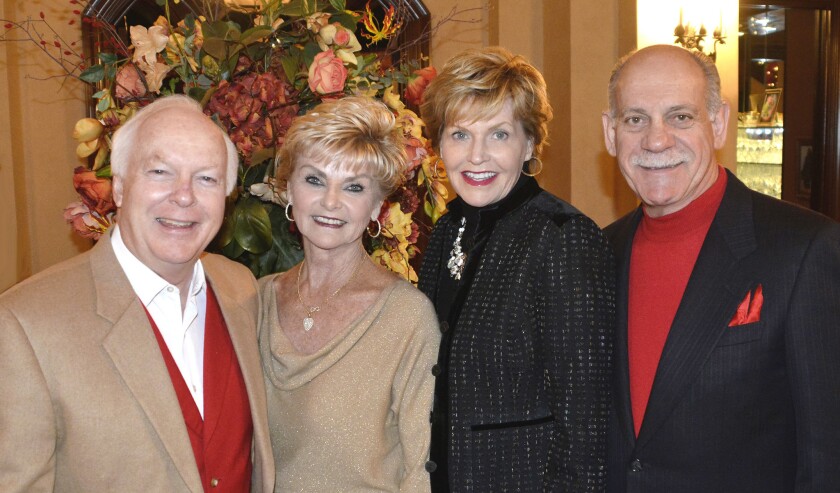 There are a handful of names people think of when they hear the city of Burbank mentioned.
While some may think of David Burbank, a dentist for whom the city is named, others who come to mind include Dan Rowan, Dick Martin and Gary Owens of "Laugh-In" fame, the latter who coined and perpetuated the phrase, "Beautiful Downtown Burbank."
For others, the mention of Burbank conjures up the names of Johnny Carson and Jay Leno who both domiciled their versions of "The Tonight Show" here in the Media City.
Another name included in that list is Cusumano. As in the Cusumano Real Estate Group, which hosted its annual holiday soiree this past week.
The festive assemblage, which included family members, friends, former and current business associates, and employees, were welcomed by hosts Chuck and Tracy Cusumano to their beautiful and magnificently decorated home.
Upon arriving, guests were invited to meet with a very special guest who was holding court in the Cusumanos' living room: Santa Claus, who accepted attendees' last-minute gift list add-ons and explanations for any 2018 naughtiness that may curtail the fulfillment of those requests.
Among those who enjoyed the evening of holiday cheer, mixing, mingling, catching up, entertainment and dining were former Burbank Mayor Bob Bowne and his wife, Dianne, and former Police Chief Tim Stehr, who was joined by his wife, Barbara.
Other locals in attendance included Vic and Sue Georgino, Julie McArdle, Maxine "Max" Andrews, longtime Cusumano employee Barbara Bartman, and company principals Roger, Michael and Charlie Cusumano, accompanied by their respective wives, Evelyn, Caroline and Bettina.
The sons of a Sicilian immigrant, Chuck and Roger founded the Cusumano Real Estate Group by making property investments, developing and maintaining projects and being committed to their community.
Since 1959, the company and the family behind it have become renowned for their substantial involvement with Burbank civic groups and their philanthropic commitment to the betterment of the city.
That long list includes substantial donations to build the Hycy and Howard Hill Neuroscience Institute at Providence St. Joseph Medical Center and renovate Memorial Field at John Burroughs High School.
One of the largest privately held property owners in the Glendale-Burbank area, the Cusumanos are now looking forward to cutting the ribbon on their latest project, Talaria, which is connected with Whole Foods in the Media District.
While Whole Foods has already opened, the rest of the project, which will include 241 residential units, is slated to open next month.
David Laurell may be reached by email at dlaurell@aol.com or (818) 563-1007.
---