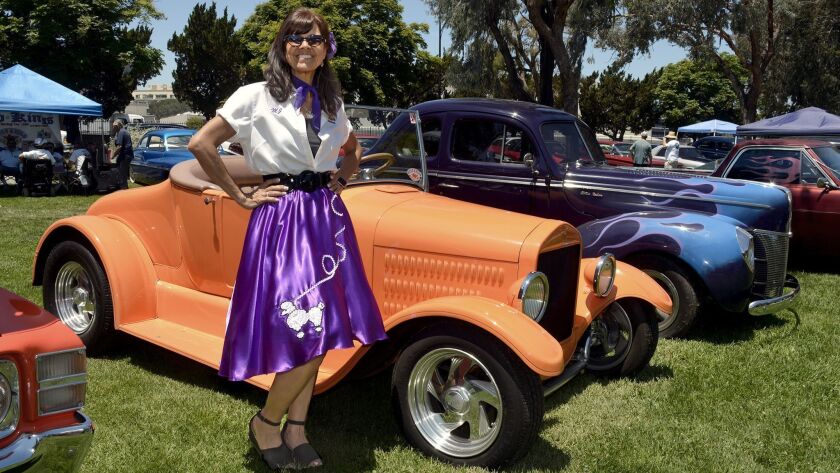 Although summer doesn't officially start until next week, it roared into Burbank with just about everything that makes summer, summer: heat, grilled hamburgers and hot dogs, ice cream, and the chance for locals to get an up-close view of 250 classic cars, as members of the Road Kings of Burbank presented their 30th annual charity car show this past Sunday.
Presiding over the bumper-to-bumper extravaganza that stretched from one end of Johnny Carson Park to the other was the car club's president, Ray Astamendi, and the event's co-chairs, Chuck Hanson and Dave Maher.
"This year's show is bigger than ever," Astamendi said.
"We have been very pleased with the increased level of participation by car owners, and that is going to be of a great help to us as we continue to provide funding for our regular charities and take on some new ones including Children's Hospital Los Angeles," he said. "This year, we plan on making charitable donations of $20,000, which is the highest amount we have ever given in a single year."
Among the thousands of Road Kings members and supporters, show participants, vendors and classic car lovers who enjoyed this year's show were new members Carrie and Peter Di Orio, who were showcasing their 1971 Corvette Stingray.
"We've only been members for two years," said Carrie Di Orio. "However, I'm part of a tradition with the Road Kings in that my uncle was one of the founding members."
Carrie's uncle, Ron Rayburn, who owned and raced a modified "A" gas coupe known as "a gasser," was one of a handful of car enthusiasts who established the Road Kings back in 1952.
Initially formed as a racing club, with a few hot rod owners mixed in, the club's founder and first president, Ralph Marshall, presided over their first meeting with 17 members in attendance.
Many of those founding members were renowned professional or semi-professional drag racers including "TV Tommy" Ivo, Don Prudhomme, Roy Fjastad, Ryan and Don Cedarquist, Don "The Beach Comber" Johnson and Bob Muravez.
While membership in the Road Kings waned during the 1970s and early 1980s, in 1985, John Key, "Fast Eddie" Salvatore, Bob Money and Mike Walsh reorganized the Road Kings as a charitable organization that has since put on two car shows each year — one at Johnny Carson Park in the spring and the other at Santa Anita Race Track in October.
Since those early shows in the mid-1980s, Road Kings members have held an annual dinner for the groups they support and, to date, have donated approximately $200,000 to local charities, nonprofits and schools.
Along with benefiting the auto shop programs at Burroughs and Burbank high schools, the group has also supported the Burbank Police and Fire Museum, Boy Scouts of America's Verdugo Hills Council, the Boys & Girls Club of Burbank and Greater East Valley, Burbank Temporary Aid Center, Tierra del Sol, Relay for Life and the Burbank Coordinating Council's holiday basket program.
For more information about the Road Kings of Burbank and upcoming events, visit roadkings.net.
David Laurell may be reached by email at dlaurell@aol.com or (818) 563-1007.
---