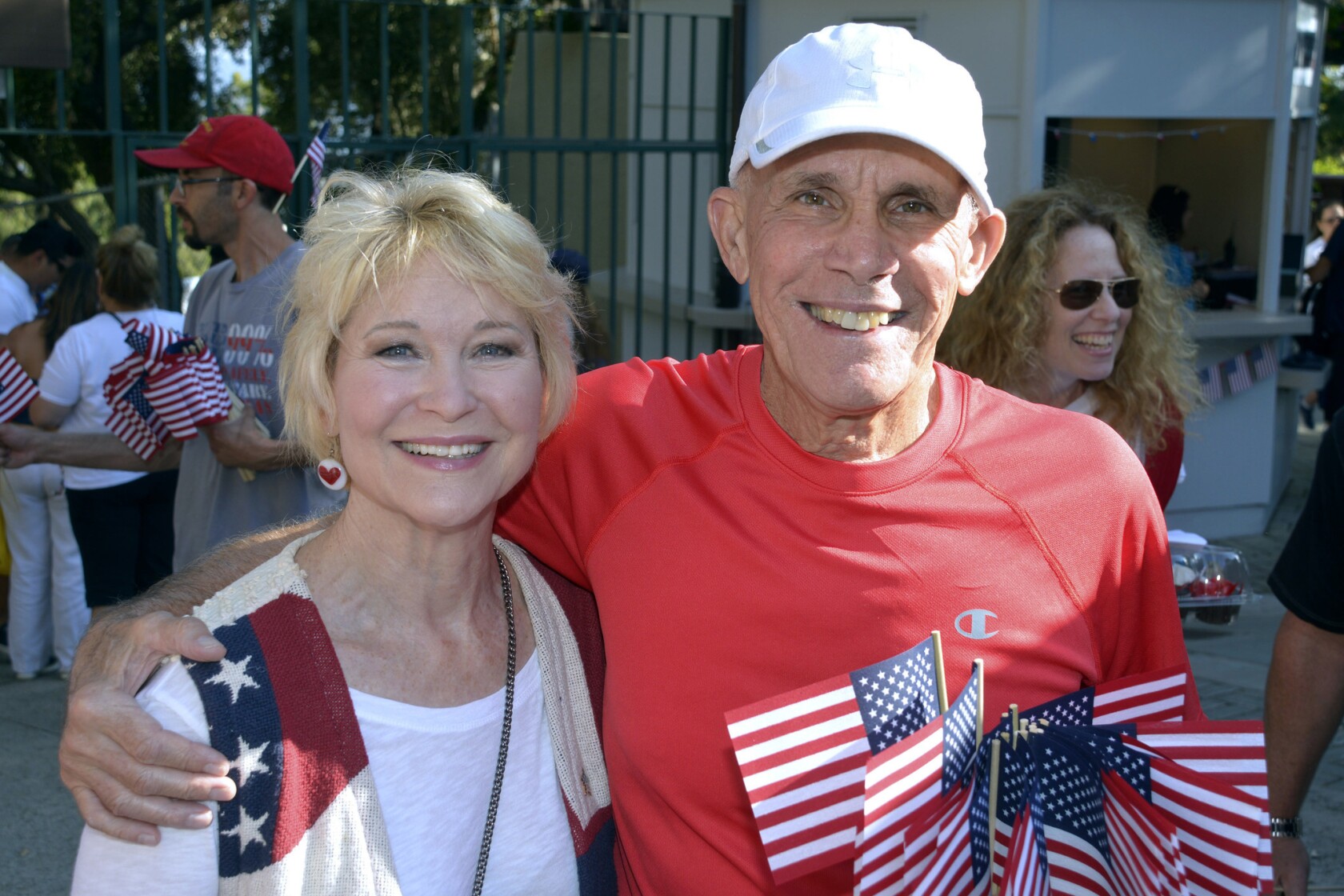 Actress Dee Wallace-Stone was welcomed to the Starlight Bowl on the Fourth of July by Mickey DePalo of the Burbank Veteran's Committee.
(David Laurell)
Among the special guest at last week's Starlight Bowl kick-off were the evening's U.S. Marine Corp. color guard composed of LCpl Andrew Bardales, from left, Sgt. Eladio Vega, Sgt. Michael Delgado, and PFC Giuseppe Modenesi.
(David Laurell)
Former Burbank Mayor Michael and his wife Kathy, left, arriving at the Starlight Bowl with Nat and Alma Rubenfeld.
(David Laurell)
Representing the evening's sponsors, Providence Saint Joseph Medical Center, were Sarah Skolnik, left, and Angela Khurdajian of the hospital's foundation.
(David Laurell)
Ready for an evening of patriotic partying was Lily Raesler, who will be beginning her freshman year at John Burroughs High School in Sept.
(David Laurell)
Among those who made last week Fourth of July celebration a success were Brianna Johnson and Artur Noramiryan of the city parks department.
(David Laurell)
Eric Foster of Gain Federal Credit Union, a corporate sponsor of the 2019 Starlight Bowl Summer Concert Series, ready to ring in America's 243rd birthday with his wife Kimberly.
(David Laurell)
Having become a tradition in Burbank, the Starlight Bowl's summer concert series started off with a bang on the Fourth of July.
Filling the hillside amphitheater, the sold-out crowd enjoyed the rock 'n' roll, blues, rockabilly and jazz-inspired sounds of the Rumble Kings, who warmed-up the otherwise seasonally cool evening for the night's headliners, Big Bad Voodoo Daddy.
A Southern California-based band, members of Big Bad Voodoo Daddy have become Starlight Bowl favorites with their unique fusion of the classic American sounds of jazz, swing and Dixieland, presented with the energy and spirit of contemporary culture.
Among the many notables in the crowd at last week's celebration were Armond Aghakhanian, vice president of the Burbank Unified school board, and former Burbank Mayors Jef Vander Borght and Michael Hastings, with the latter providing the audience with updates on a campaign to build a new emergency department at Providence St.Joseph Medical Center, which sponsored the evening.
Other familiar faces included Mickey DePalo, who is on the Burbank Veteran's Committee, which handed out small American flags to everyone as he welcomed them to the venue. Actress Dee Wallace also attended.
Culminating with a patriotic pyrotechnic presentation, the evening at the bowl kicked off a series of concerts that will run through the end of August.
"We're really excited about this season because of the addition of our special engagements," said Kris Smith, assistant director of the city's parks and recreation department.
"We hope that these added events will bring in people from beyond our borders who have never been here before or didn't even know the Starlight Bowl existed," Smith said.
While next Saturday will continue the regular season with Selena tribute artist Karla Perez, followed by what has become an annual appearance by the Fab Four, performing the music of the Beatles on July 20, the special-event concerts will begin this Friday, featuring Grammy and American Music Award-winner Kenny G.
Among the other special performances that the bowl will present this summer will be Tower of Power and the Average White Band on Aug. 11, Air Supply on Aug. 16 and Kris Kristofferson on Aug. 24.
For more information about the bowl's season or to purchase tickets, visit starlightbowl.com.
David Laurell may be reached by email at dlaurell@aol.com or (818) 563-1007.
---