Hollywood Burbank Airport, along with other airports in Southern California, set to reduce emissions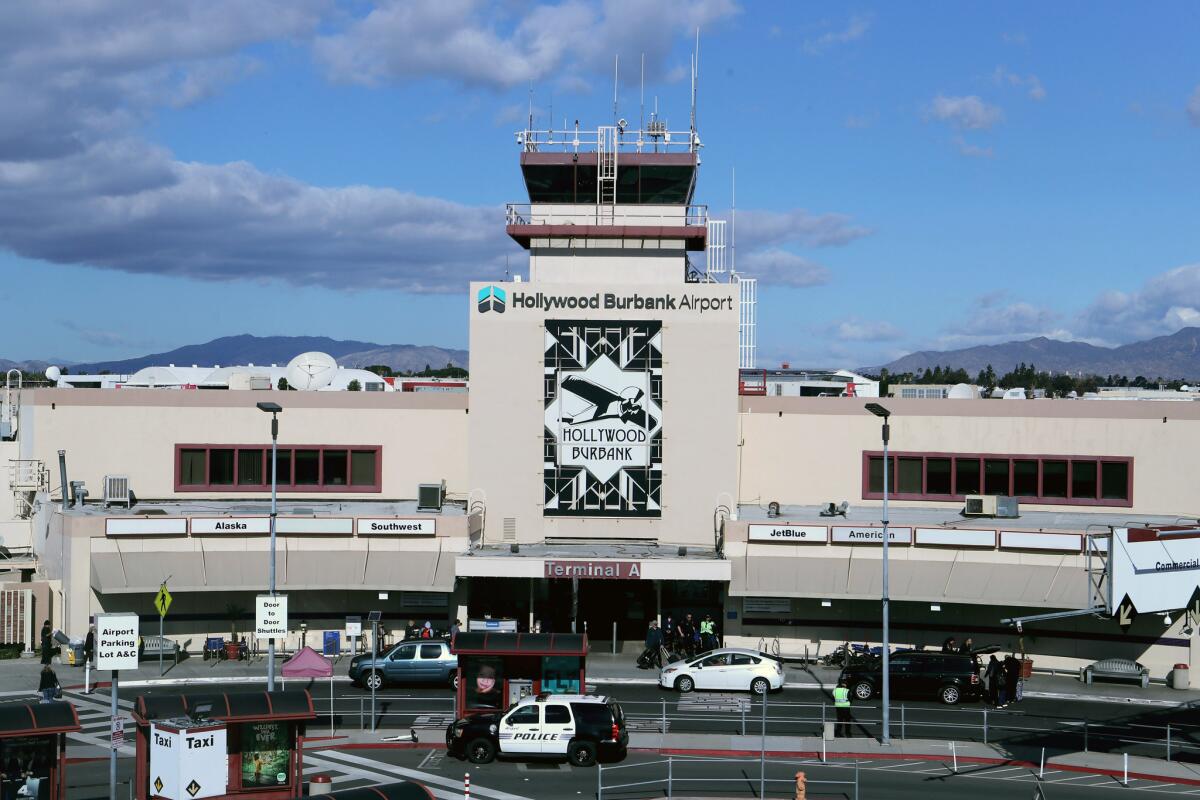 Hollywood Burbank Airport, along with other major airports in the region, are planning to work together to reduce emissions around their respective airfields to make the air in the region cleaner.
The Burbank-Glendale-Pasadena Airport Authority unanimously voted on Monday to enter into a voluntary memorandum of understanding with the South Coast Air Quality Management District, or AQMD, and create an air-quality management plan to reduce emissions around the local airport.
Lisa Trifiletti, a consultant hired by Hollywood Burbank to work on the project, said most of the emissions from an airport come from aircraft operations, but federal law prevents airports from regulating aircraft.
Instead, Trifiletti said Hollywood Burbank's plan will reduce emissions on several fronts, the first of which is requiring that ground-support equipment used by airlines — such as the push-back tugs that move airplanes and the belt loaders that load and unload luggage from a plane's fuselage — create fewer emissions.
Southwest Airlines officials said in September that the airline has been converting its ground-support equipment fleet from diesel- and gasoline-powered to those that run on electricity.
Additionally, Hollywood Burbank's air-quality management plan will require that contractors follow sustainable construction practices, which include using low-emission vehicles, recycling construction waste and minimizing trips to and from a work site.
Trifiletti said the airport will also do its part by switching out its fleet of buses to those that run on cleaner fuel or are electric powered when it is time for them to be replaced.
Another factor in the plan is for Hollywood Burbank to become a member of the Burbank Transportation Management Organization to get more airport employees to use alternative modes of transportation to and from work, such as bicycling, carpooling or using public transit.
The air-quality management plan also looks at the airport's future. Trifiletti said the plan calls for a new replacement terminal slated to be built at the airport will meet at least a LEED Silver certification, which is the minimum for new developments in Burbank.
LEED, or Leadership in Energy and Environmental Design, is a green-rating system developed by the U.S. Green Building Council as a framework for sustainable buildings, according to the organization's website.
Trifiletti said other airports in the region — Los Angeles International Airport, Long Beach Airport, Ontario International Airport and John Wayne Airport — are considering entering into a memorandum of understanding with the AQMD this month and adopting similar air-quality management plans to clean up the air in the region.
Once all of the participating airports submit their memorandums of understanding to the AQMD, the regional air-quality authority will review each airport's plan and decide in December whether or not to give its approval.
If the AQMD approves the plans, each airport will implement its air-quality management plan at the beginning of next year.