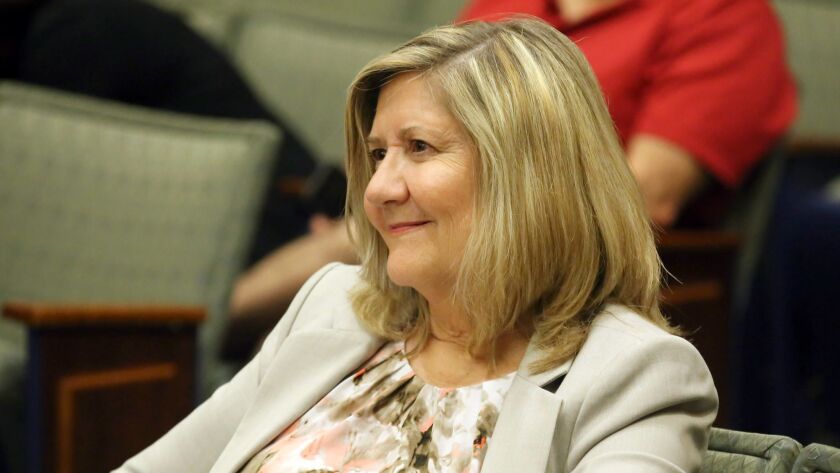 This is the first of a two-part series evaluating a financial report from Debbie Kukta, Burbank Unified's assistant superintendent of administrative services.
Rising vacation accruals and overseeing overtime, primarily from Burbank Unified School District classified staff, were listed as "areas to watch" on a financial report compiled by Debbie Kukta, the district's new assistant superintendent of administrative services.
Kukta, the former Burbank city treasurer hired to take over for David Jaynes on Aug. 1, presented her findings, called the "First 100 Days" report, to the board during its last meeting in November.
The 27-page document included several items, such as student funding rates, educational trends, financial monitoring ideas, staffing ratios and "areas to watch."
"It just seems to have flown by, but it's amazing all that I've been able to absorb during this time," Kukta said of her first 100 days.
"It was agreed that when I started that I would evaluate the first 100 [days]," she added.
One series of financial slides in Kukta's PowerPoint presentation was an audit from the 2017-18 school year that showed the district owed a little over $1.5 million in compensation for accrued vacation for its classified employees, such as janitors and office staff.
That figure rose 34% during four years, up from $1.25 million for the 2013-14 school year.
"Some of that is OK because you're always going to have accrued vacation on your books," Kukta said. "It's the amount in excess of the cap that's troubling."
A district classified staff member, represented by the California School Employees Assn., with 10 years of experience should accrue 19 vacation days per year, for instance, and should be cashed out for any excess time.
Yet, Kukta said she thinks "quite a few" classified employees are over their caps.
Kukta said about $272,028 of that $1.5 million figure came from employees exceeding their maximums with the money owed still on the district's books.
"Some departments are not enforcing their caps," said Kukta, a former Burbank Unified board member who served from 2005 to 2012, in a follow-up phone interview.
"Some departments are better at enforcing than others and, when I was on the board, it was way out of control and people had 800 hours of vacation on the books," she added.
Burbank Unified Supt. Matt Hill said the district plans to pay off those increasing debts.
"Once the district's financial position improves, the district will pay out the earned vacation and will implement a process to pay out the appropriate accrued vacation each year, according to the CSEA (classified employee) contract," Hill said in an email.
Kukta said the district's fiscal services department is still completing an audit during the current school year but said she thinks the vacation accrual dollar amount owed dipped for the last school year.
Because the district's financial services department had not completed its audit, Kukta said she was uncomfortable giving out a figure in terms of district overtime.
However, in her presentation, she noted "a large volume of overtime" being paid out by the district, primarily in janitorial services, and suggested the need for a review of overtime assignments, job responsibilities and use of facilities permits.
"I brought up overtime because it's an area I'd like to look more into," Kukta said. "I'm approving these blocks of overtime and mainly they're tied to use of facilities permits."
When an outside company wants to use district facilities for events such as a play or filming, they are required to apply for facilities permits.
Burbank Unified, for instance, charges $2,500 for basic filming rights for up to 15 hours.
Often district custodians work overtime to clean up after events, and the district charges film companies a rate of $55 per hour for facilities use on Saturdays, Sundays, holidays, before 6:30 a.m. or after 5 p.m.
While the district bills film companies these fees, Kukta said she wanted to make sure Burbank Unified isn't losing money.
"It's mainly looking at the process to make sure that these amounts are supposed to be billed to the people who are applying for these facilities permits," Kukta said. "We're just making sure we're covering our costs."
---