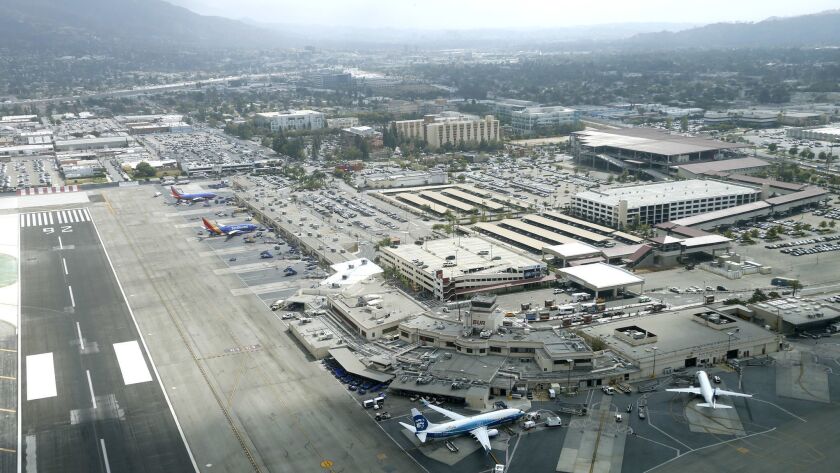 The most recent passenger numbers at Hollywood Burbank Airport showed a 9.5% growth during this past November.
There were 525,279 passengers at the airfield, an increase of 45,560 compared to the same month in 2018, according to Nerissa Sugars, the airport's director of marketing communications and air service, during a meeting of the Burbank-Glendale-Pasadena Airport Authority on Tuesday.
American Airlines' service to Dallas/Fort Worth International Airport continues to boost its numbers, as the company reported 32,021 passengers in November — 21,251 more than in 2018.
Delta Airlines had 26,499 passengers during that month, a hike of 10,805 over the same month in 2018.
United Airlines saw an increase of 10,189 compared to the prior year, with 33,093 passengers in November.
Southwest Airlines, the largest carrier operating at Hollywood Burbank, had 360,137 passengers, a moderate boost of 3,465 compared to November 2018.
JetBlue Airways had 20,886 passengers, or 1,703 more than the previous year.
Alaska Airlines saw its numbers take an expected dive in November, reporting 41,684 passengers, — 12,812 fewer than in 2018. Sugars said the decline was due to the carrier ceasing its flights from Burbank to San Jose International Airport.
Spirit Airlines, which started service at Hollywood Burbank last June, had 10,959 passengers.
Revenue generated by the airport's parking services continues to rise along with the passenger count.
The Burbank airport generated about $1.9 million in November, about $120,000 more than in 2018.
Hollywood Burbank also received an additional $430,406 from ride-sharing companies for drop-offs and pick-ups. That was $124,838 more than in 2018.
---