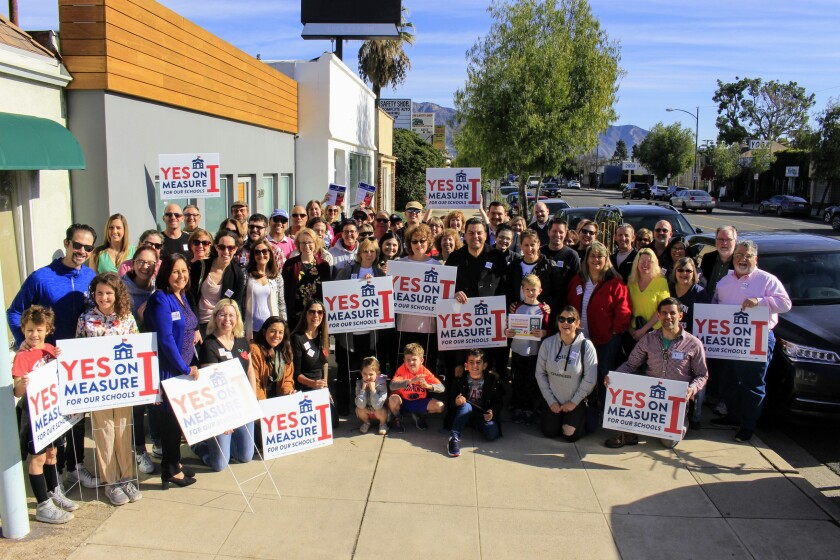 The "Yes on Measure I" campaign steering committee has built a physical presence in Burbank, with the opening of a new office.
Measure I is a proposed parcel tax with a 10-cents-per-square-foot annual fee for property owners to generate $9.1 million for the district on an annual basis for 12 years. The new measure comes after a similar proposed parcel tax, called Measure QS, failed to pass by 938 votes last year.
Amy Kamm, vice president of the Burbank Council PTA, is volunteering on the campaign committee and was involved in backing Measure QS.
"I think that everyone was a little bit in shock that QS didn't pass. There was a lot of momentum behind it," she said. "We had a very short turnaround from the time that the school board announced the desire to place Measure QS on the ballot and when it was actually on the ballot. So it was really tight. It took a ton of volunteers to even get as far as we did and it still just wasn't enough."
This year, Kamm said the campaign has more time and is able to plan better outreach in the community.
"We've had a wonderful response from the community. We literally are running out of lawn signs, getting donations daily. It's been a totally different feel," Kamm said.
Measure I gained early support from the Burbank Council Parent-Teacher Assn. and the Burbank Teachers Assn. after the board of education agreed to place a new measure on the March 3 ballot.
The office's opening drew community members, parents, teachers, school administrators and institutional support from elected officials like Burbank Mayor Sharon Springer, Vice Mayor Bob Frutos, state Sen. Anthony Portantino, teachers association president Diana Abasta, Supt. Matt Hill and the entire Burbank Unified school board.
Springer spoke during the public-comment portion of a Burbank Unified meeting on Jan. 16 to endorse Measure I.
"World-class cities deserve, should have, must have world-class schools," she said. "And Measure I will have dedicated funding for that."
Springer said that for a Los Angeles Unified teacher to come work in Burbank, it would require a 30% pay cut.
Joel Schlossman, a speaker holding a sign reading "no parcel tax" at the meeting, said the cost of living is high and wages are low in general. He described the parcel tax as "a kick in the groin" and teachers as having many job perks.
In response to public comments, Hill said Measure I is important for Burbank Unified and there needs to be a healthy conversation about it.
Hill clarified details about some of the job perks Schlossman mentioned. While Schlossman said about 90% of the parcel tax money would go to teachers' pay raises, Hill said about "42% to 47% of Measure I will go to recruiting and training employees."
Burbank Unified town hall meetings about the school district's budget and Measure I are scheduled for Jan. 27 and Feb. 13 at 7 p.m. in the cafeteria at Jordan Middle School, 420 S. Mariposa St., Burbank.
The campaign office, located in the Burbank Teachers Assn.'s headquarters at 3021 W. Burbank Blvd., will be open every weekend through election day on March 3.
---