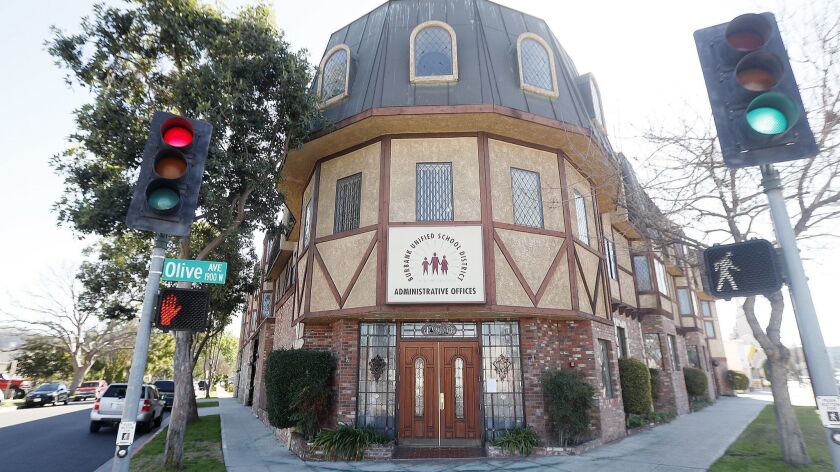 With primary-election campaigning underway, Measure I is at the forefront of nearly every education-related event in Burbank.
It was the focus of a roughly two-hour discussion during a standing-room-only Burbank Unified school board meeting Thursday night.
Nearly 20 students, alumni, teachers, administrators and parents took turns at the podium to express why they endorse the school-funding measure.
Measure I, the proposed parcel tax on the March 3 ballot, would collect a 10-cents-per-square-foot annual fee from property owners to generate $9.1 million for the Burbank school district annually for 12 years.
The funding would be used to attract and retain quality teachers and staff, keep low class sizes, as well as invest in courses and programs in art, music and science and student safety and wellness support, according to school officials.
An independent oversight committee would make sure funds are used as expected.
The measure would need a two-thirds supermajority vote to pass and be implemented starting July 1.
In 2018, a similar proposed parcel tax, called Measure QS, failed to pass and the school district made $3.5 million in budget cuts for the next school year.
Through board and town hall meetings during the past two months, Burbank Unified Supt. Matt Hill and the board of education presented their plans to cut teaching jobs and programs.
Alyson Edge, a Burbank resident and director of the NAF Academy, said she wanted the community to know about the special programs in the city at risk of being eliminated if the measure doesn't pass.
The NAF Academy creates business, engineering and medical learning communities for high school students.
"I'm happy to pay my portion of the parcel tax to ensure our students get the chance to partake in special programs from elementary to high school," Edge said.
A group of alumni from NAF's business academy spoke about the program's mock interviews and required internships that helped them launch into their careers.
Administrators and a librarian coordinator read testimonial letters from alumni who could not attend the meeting. A student in NAF's medical academy told the board about how she's built her resume and cover letter, volunteered at Cedars Sinai and gained a perspective on the medical field.
Fifth-grade Walt Disney Elementary teacher Bridget Highfill recalled when she started teaching at Burbank in the 1990s. Since there weren't any music or physical-education teachers at the elementary level, she had to put together lesson plans herself regarding those subjects.
Classrooms didn't have air conditioning and she often taught in a room that was over 90 degrees.
"If Measure I doesn't pass, we are back to the bare-bones education that I came to as a new teacher," she said.
A parent held back tears as she spoke about how teachers took her children home and cared for them when she was going through an emotionally hard time. She called for the community to support teachers and students.
"In 13 years on the board and I've sat through a lot of meetings with a lot of emotional public comment. I don't think I have been so emotionally worn out as I have been this evening with the power of all the speakers," said board member Roberta Reynolds.
Joel Schlossman was the lone speaker at the meeting who opposed the measure and said it would not only affect property owners, but anyone who spends money in Burbank because businesses could raise prices.
"You're spread too thin. You want to be everything to everybody and there isn't enough to go around. You go to the backs of the taxpayers to ask for help. Enough is enough," Schlossman told the board.
During the meeting, he critiqued a flier supporting the measure and said it was funded by the Burbank Teachers Assn. Diana Abasta, president of the teachers association, responded later that the group did not fund the flier.
"I don't mind dissent, but lying is destructive," Abasta said.
Hill said, "Yes, taxes will go up if the measure passes, but you're making an investment in a community. If it fails, taxes won't go up, but we'll be cutting [some school] services."
Polling centers are open through March 3. The ballot also features another education-related initiative Proposition 13, which affects construction of school facilities throughout the state for K-12 schools, community colleges and universities.
---