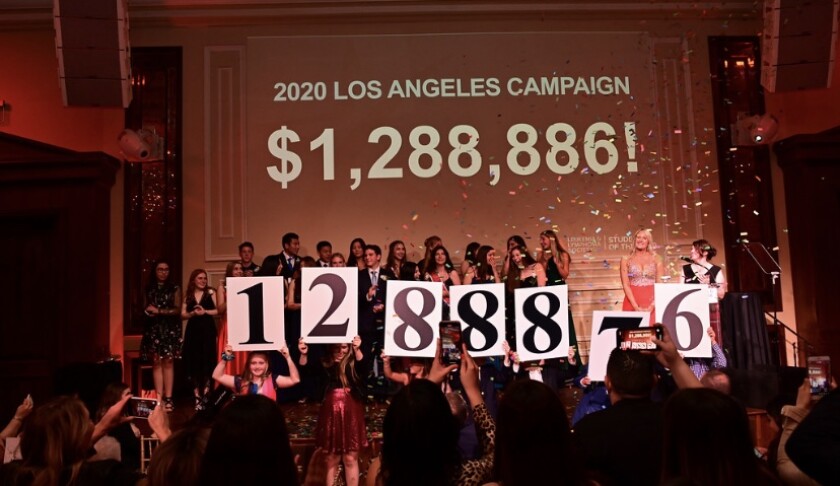 Within seven weeks, high school students across Los Angeles County raised more than $1.2 million for the nonprofit Leukemia & Lymphoma Society through its Students of the Year program.
For two Burbank High School students, the fundraising effort was personal.
Seniors Emily Darbinyan and Natalie Ter-Abramyan, who won first place in the campaign, have siblings who were diagnosed with cancer at a young age. They competed as a team called Sisters of Survivors.
Together, they raised $229,953, and took home the title of Students of the Year, competing against 16 high school candidates. They won a trip to New York City, a $2,500 scholarship and the opportunity to have their names linked to a cancer research portfolio.
Two additional Burbank High students also raised money, marking the first year three teams from one school were selected to participate in the program. Junior Carmen Blanchard and sophomore Sierra Brogmus raised $68,335 and $23,556, respectively.
Students can either apply for the program themselves or be nominated by someone else.
This year's fundraising is a considerable markup compared to 2019, when students racked up about $600,000. Profits are slated to go toward cancer research, clinical trials and helping patients afford treatments at a variety of hospitals.
"Raising money for blood cancer research is crucial for a number of reasons, the first being that acute lymphoblastic leukemia, a type of blood cancer, is the most common form of cancer in children," said Madeleine Hamingson, senior manager of the Students of the Year program.
"The current treatments for children, while effective, are unfortunately not good enough. Eighty percent of children who go through treatment have long-term and chronic health impacts," she added.
In the beginning the fundraising journey for Darbinyan and Ter-Abramyan, David Khechumyan, a former Burbank High student and Hodgkin's lymphoma survivor, nominated Darbinyan.
They met while Khechumyan and Darbinyan's 6-year-old brother were undergoing cancer treatments at Children's Hospital L.A.
To help her, Darbinyan reached out to Ter-Abramyan, whose sister was diagnosed with a rare type of lymphoma at 8 years old.
"Being the sister of a cancer survivor and witnessing firsthand how it can affect a family is what motivated me throughout the campaign," Ter-Abramyan said.
"The Leukemia & Lymphoma Society gave me the opportunity to give back and help families who are going through the same battle my family and I went through," she added.
Although the campaign lasted from Jan. 16 through March 6, the preparation took about six months. Students were trained in marketing, financial planning, public speaking and project management. They also became knowledgeable about cancer treatments and toured hospitals.
Wendy Miller, who's taught at Burbank High for more than 20 years, is co-chairman of the Students of the Year campaign and acted as a mentor to all 16 high school candidates.
She initially became involved with the nonprofit in 1999 through its Pennies for Patients program.
"I knew that, as a teacher, I had a great platform to involve my students and our student body in giving back in a way that was altruistic and to bring a philanthropy to Burbank High, where we were lacking in a community effort on our campus," Miller said.
Darbinyan and Ter-Abramyan now qualify to compete for the National Students of the Year title awarded to the candidates across the United States who raised the most money during their campaigns.
The title is usually announced in May, but the coronavirus pandemic delayed some campaigns. Hamingson said she expects to announce the winners, who will be featured in an advertisement in Forbes magazine, in July at the earliest.
In the meantime, the two seniors are preparing to graduate. Darbinyan plans to become a biomedical engineer and focus on cancer research, and Ter-Abramyan plans to focus on business entertainment.
"It's just great to know there are people, like Emily and Natalie, wanting to make a difference. It's one thing I think about in times like these when people are worried about getting sick," Khechumyan said.
---