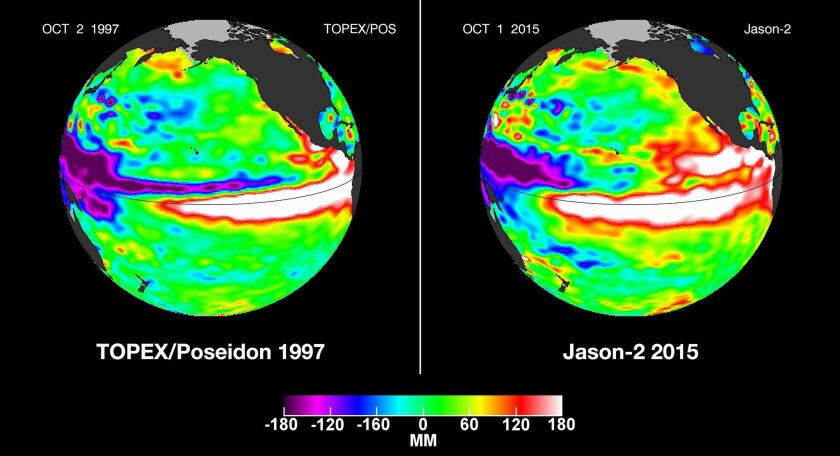 Expecting an El Niño that's been described in some news reports as Godzilla-like to bring "wetter-than-average conditions," Burbank's public works department has been preparing for winter rains and is urging residents to put flood-control measures in place earlier than usual.
"If residents start early, there will be ample time to plan and install sandbags properly," according to a city staff report. "Once large drainage flows and/or flood flows have begun, sandbags will be difficult, if not impossible, to install."
The report, which was submitted by Public Works Director Bonnie Teaford to City Manager Mark Scott in September, outlines other measures the city is taking, such as getting emergency permits to allow mid-winter clean-outs of its hillside debris basins, which are designed to capture storm-water flows, mud and debris.
After a fire in 2005, the city's hillside area was placed on Los Angeles County's mudflow alert system, but the area has recovered, and the city is not considered "particularly vulnerable to debris or mudflows," the report said.
Field crews are also checking the city's four pump stations monthly and prior to predicted rains. They also clean the stations' wet wells before the rainy season begins. And catch basins, designed to gather leaves, pine needles and other material at the points where street gutters feed into storm sewers, are being cleaned as part of weekly street-sweeping efforts.
The report also notes that residents should be clearing their slope drains or drainage benches, gutters and roof drains. They should also be checking sump pumps and drain lines to underground parking areas before storms hit.
Mayor Bob Frutos asked for the report on Sept. 15, a day when Burbank received 1.02 inches of rain as tropical storm Linda swept through the area, according to the National Weather Service.
Frutos said he wanted to "reassure the members of the public that our public works is being proactive and they've got a plan ... to kind of give us the confidence that when the El Niño comes that we've done everything we can to prepare."
Scott told Frutos the city had "an interesting morning" that day and a few places in the city "got backed up and got cleaned out very quickly."
However, Scott said, city staff members were not only preparing the report, but would be getting the word out to residents to be ready for winter storms, "so that people can try to prepare their own yards for what could hopefully be some good rain this winter."
The city will provide up to 25 sandbags to residents. They can be picked up at the Field Services Administration Office, 124 S. Lake St., on weekdays between 7 a.m. and 4 p.m. Proof of residency must be provided.
Additionally, Los Angeles County provides a guide for flood, debris and erosion control that includes tips on sandbag placement and other inexpensive measures meant to prevent costly repairs resulting from flood damage. The guide is available online at dpw.lacounty.gov/wmd/homeowners/enter.cfm.
---