Burbank says no to beer and wine at a local Starbucks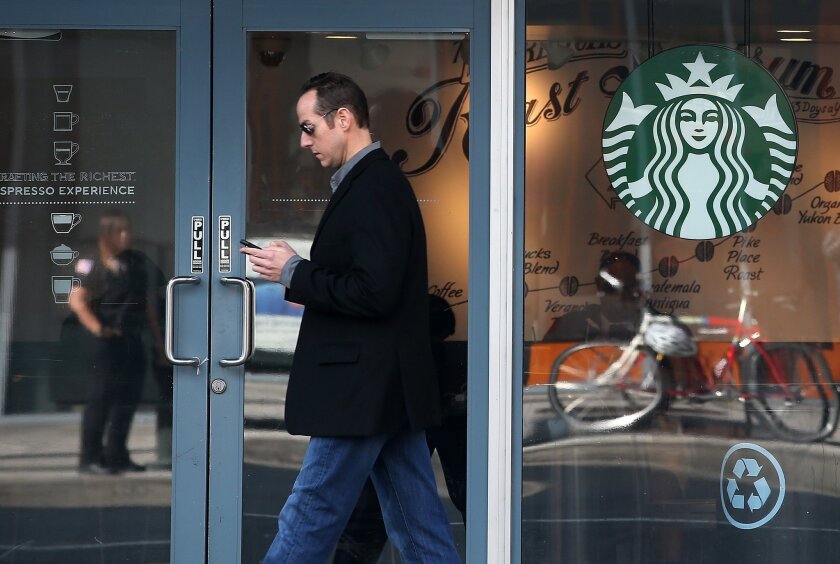 In addition to that grande iced sugar-free vanilla latte with soy milk or the triple venti half-sweet nonfat caramel macchiato or just the simple tall coffee, at several Starbucks locations in the Los Angeles area customers can grab a pinot noir, a Malbec or a "curated" craft beer as part of a program called "Starbucks Evenings."
That's true at the Starbucks at Colorado Boulevard and De Lacey Avenue in Pasadena and the one at Sunset Boulevard and Vine Street in Los Angeles, but it won't be true at Olive and Verdugo avenues in Burbank after the city's Planning Board Monday denied a request to serve beer and wine.
After hearing from one resident, Linda Cozakos, who lives a few doors down from the store, the board decided that the sale of alcohol would be incompatible with the current business and would be detrimental to existing uses in the commercial zone where it's located. They also questioned the intended hours of the alcohol sales and the store's business case.
"I'd like to see a Starbucks like this in Burbank, but just not here," said board member Undine Petrulis, a sentiment echoed by her colleagues, who cited concerns about parking issues, litter and the proximity of the establishment to John Burroughs High School.
The company announced in December that by the end of 2019, 20% to 25% of Starbucks stores in the U.S. will offer craft beer and wine selections, as well as an expanded menu of small-plate entrees, like a cheese plate, bacon-wrapped dates and truffle mac and cheese. It's expected to add about $1 billion in revenue.
According to a Burbank staff report recommending the board approve the company's permit application, the Pasadena location sells about 40 alcoholic drinks a night. It said Starbucks reported that at stores with the Evenings programs, alcohol sales make up less than 1% of sales.
Board member Apraham Atteukenian questioned why, if it makes up such a small share of sales, Starbucks would even consider selling alcohol.
Beer and wine would have been available from noon to close — 10 p.m. weekdays and 9:30 p.m. on weekends. The plans were not intended to make the site a bar or lounge, but to offer customers additional drink options, especially later in the day when coffee might not be as appealing, said Spencer Regnery, a representative of Starbucks.
Starbucks said in a release last month that 70% of its customers drink wine, compared to 30% of the general U.S. public.
As part of the permit application, representatives of Starbucks had worked with the city and agreed to conditions of approval that would have required the store to try to alleviate the issue of customers parking along Sparks Street, some apparently to pick up takeout orders, by designating nine of the 21 spots in the store's lot as 20-minute-only parking.
Some board members expressed skepticism that the move would resolve the parking issue and questioned how it would be enforced.
Cozakos and the board also raised concerns that students might be able to sneak a drink when patrons leave unfinished drinks on their tables or by obtaining alcoholic beverages from other customers and pouring them from the glasses they're served into paper coffee cups.
Regnery said customers would be carded at the point of sale and employees would be trained according to the state's requirements. He said Starbucks takes the issue very seriously and would not want underage drinking on their property. The proposed resolution approving the permit also required store employees to monitor the outdoor patio at all times.
However, board members were skeptical that four employees at the counter would be able to keep watch over up to 60 patrons inside the store and roughly 30 on the patio outside, as well as ensuring customers weren't monopolizing short-term parking outside.
Atteukenian asked whether Starbucks had conducted a survey to see how many high school students visit the store, but Regnery said the company had not.
Petrulis said many students go to the restaurant after school, "like going to 7-Eleven for a Slurpee." The 7-Eleven one block closer to Burroughs does carry beer and wine.
The board didn't raise similar concerns in January, when it approved a permit to allow North End Pizzeria to sell wine and beer at its location at 2206 W. Magnolia Blvd., about a block from John Burroughs High School.
Two public comments opposing a permit to allow Dog Haus, 3817 Olive Ave., to sell alcohol, citing parking and litter issues, failed to persuade the board in October 2014, even though Stan Gelfer presented photos on his iPad showing the trash he sees on the street while walking his dog daily.
It's not clear whether Starbucks will consider requesting permission to sell beer and wine at one of its other Burbank locations where parking and proximity to schools are less of a concern.
"We've decided not to expand the menu for the Evenings program [at the Burbank location] at this time," Holly Hart Shafer, a company spokeswoman, said via email, but shared no other details.
_______________
FOR THE RECORD
Oct. 8, 2015, 3:13 p.m.: An earlier version of this story incorrectly stated the location of a store offering the Starbucks Evenings menu, which features beer and wine. The menu is offered at the Starbucks on Sunset Boulevard and Vine Street in Los Angeles.
_______________
---