First-ever 'Rock-a-Hula' party makes a splash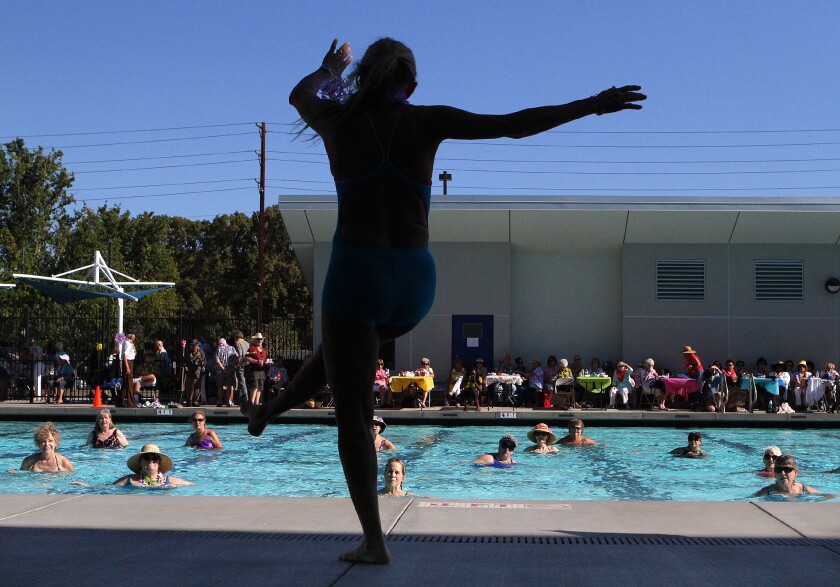 The city's first-ever "Rock-a-Hula" pool party for older adults drew dozens of residents donning colorful leis to the Verdugo Pool Thursday to dance to 1950s rock-and-roll and take a dip in the water.
A group of dancers, all of whom take a hula-dancing class at the Joslyn Center, performed to "Blue Hawaii," while dozens of older adults did water Zumba in the pool in front of the band Joe Finkle and the 7/10 Splits.
PHOTOS: Burbank's first-ever "Rock-a-Hula" party
"Everything that rocks, I'm there," said 82-year-old Bernice Nivison, who was wearing a purple lei and snapping her fingers to "Jailhouse Rock."
Just then, the band started playing "My Girl."
"I better go dancing," Nivison said, and shuffled off to join friends on the dance floor.
Councilman Bob Frutos suggested hosting the event, the theme of which was based on an Elvis Presley song, during a recent City Council meeting. On Thursday, he was shaking maracas while dancing with the attendees.
"They're happy," Frutos said. "This is the first of many unique events for our seniors."
Burbank resident Maria Nelson, 85, was returning from a doctor's appointment in West Los Angeles Thursday afternoon when her neighbors were boarding the bus heading to the pool.
She didn't have time to run to her apartment to pick up her new bathing suit, which she bought especially for the Rock-a-Hula after losing some weight, she said while breaking into squats.
So Nelson boarded the bus with just her backpack.
"I wasn't going to miss this for nothing in the world," she said. "There's always a next time."
Meanwhile, Lawrence Radulski, 80, was dancing with his girlfriend, Linette Prutz, who he met in November teaching a ballroom dancing class at the Joslyn Center.
"One of these every year would be nice," Prutz said of the event.
Across the pool, Patty Russo, 68, sat with her feet in the water watching the band.
"I have the best seats in the house," she said. "The entertainment was good, the food was good, the people were lovely."
For Bill Thomas and Louise Frank, anything reminiscent of Hawaii — where they've visited nine times in the last two years — they love.
"I just miss it so much," Frank said. "I just think this is pretty awesome."
---