Kindertransport survivors share their stories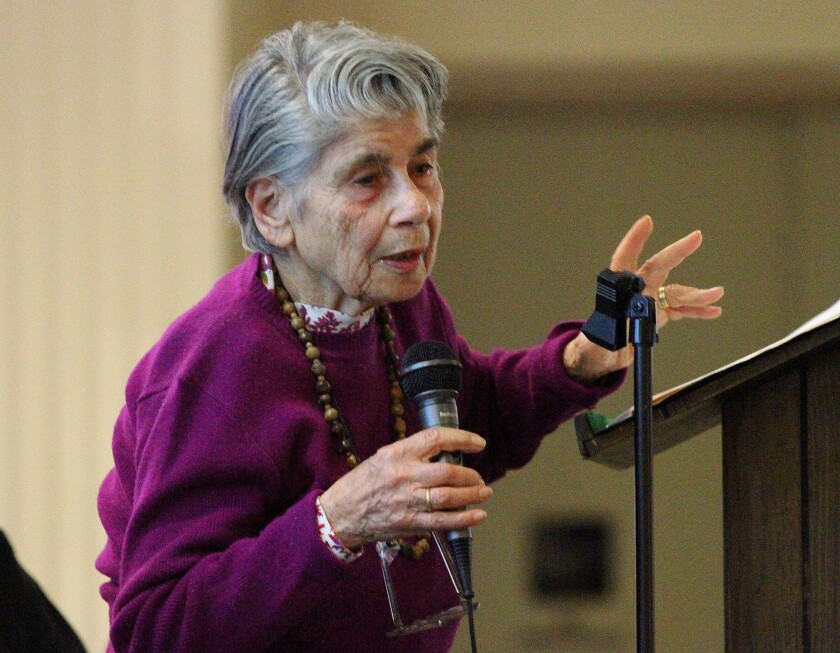 Ruth Moll and Hilda Fogelson remember packing their life's belongings into a single suitcase, the tearful goodbyes, not knowing when they would see family again — if ever — and the language barrier when they arrived in a new country.
Moll and Fogelson were among the 10,000 children, most of them Jewish, who escaped from the Nazis in Germany, Austria, Czechoslovakia and what is now Poland during the nine months leading up to World War II, thanks to the Kindertransport rescue mission.
The Los Angeles area residents shared their stories Tuesday night at the Burbank Town Center in commemoration of the mission's 76th anniversary. Last year, Burbank became the first city in the United States to proclaim Dec. 2 World Kindertransport Day.
PHOTOS: Survivors share stories for World Kindertransport Day at Burbank Town Center
The anniversary marks the day in 1938 when the first rescued children arrived in England, a few weeks after the Kristallnacht pogrom, or the "Night of Broken Glass," when Nazis smashed windows of Jewish homes, businesses and synagogues. Moll and Fogelson remember Kristallnacht, too.
"I went to school that morning" after Kristallnacht, Fogelson said. "I didn't know what happened... but I saw my synagogue burning."
Moll's father was in hiding from the Nazis who were rounding up Jewish men to send them to concentration camps in the wake of the pogrom. The Gestapo came to her home searching for him, telling her mother that if he did not turn himself in, they would come back for her.
Her father surrendered, but was released a few weeks later. That's when things became hectic. Moll and her sisters were told they'd be leaving for England.
"Everything was rush, rush, rush," Moll said.
Fogelson said she had never been away from home when she left Germany at the age of 13.
"There was a lot of crying," Fogelson said. "My father said, 'Don't worry, we're going to see you again.'"
Both Fogelson and Moll were later reunited with their parents, but that was not the typical story. Fogelson said very few of the children — "kinder" in German — ever saw their parents again after leaving on the transports.
Granada Hills resident Judy Mason-Benedict's mother and uncle left on the Kindertransports in 1939, she said, hoping to see their parents in England soon after.
Her mother was 9 then and her uncle was 12, Mason-Benedict said. They stayed in touch with their parents by writing letters. One letter that reached her uncle carried his mother's engagement ring smuggled in a ball of yarn.
"When their letters stopped soon after, it was terrible," said Mason-Benedict, quoting her mother from an interview she gave before her death in 2009.
Mason-Benedict said her grandparents were later exterminated in concentration camps.
The local commemoration was hosted by the Burbank and Los Angeles chapter of the Kindertransport Assn., which strives to ensure stories of the transports are not forgotten by future generations, said chapter president David Meyerhof of Burbank.
Melissa Hacker, who was in Burbank from New York City for the event, is national president of the association. She said the stories are an important reminder.
"It shows that even in the worst of times there are things people can do," Hacker said.
---