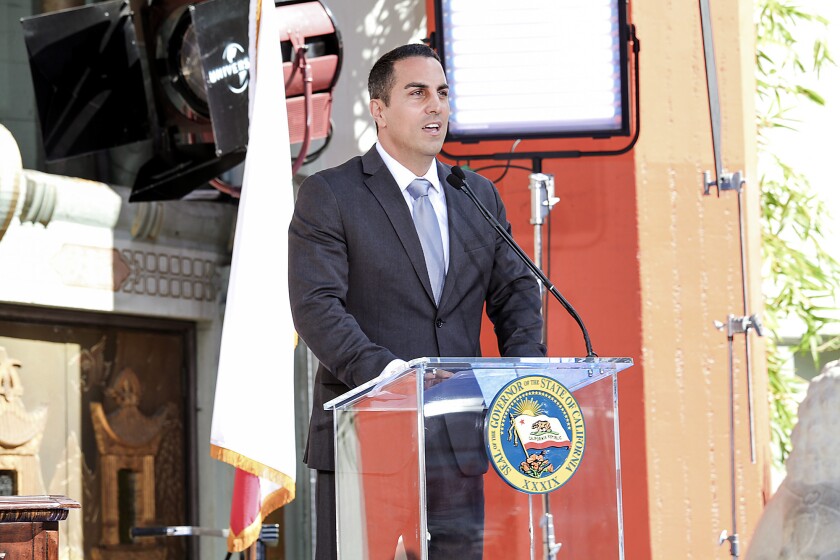 Bob Hope Airport officials are seriously considering adopting a new branding name to attract more passengers to the Burbank airfield. However, one state legislator is questioning the method by which the name is developed.
Assemblyman Mike Gatto (D-Glendale) said that he disagrees with the Burbank-Glendale-Pasadena Authority's decision to contract with South Pasadena branding firm Anyone Collective to come up with a branding name to get the attention of travelers living east of the Colorado Rockies.
NEWSLETTER: Stay up to date with what's going on in the 818 >>
Airport officials signed off on a $73,950 contract with the company to come up with a new branding name for the airfield and develop a marketing campaign for it, airport spokeswoman Lucy Burghdorf said.
In addition to the new name and upcoming marketing efforts, officials from Anyone Collective have told the authority that they have sifted through extensive online search-engine data, contacted representatives from other airports and interviewed community leaders in the city of Burbank, said Michael Fiore, co-founder of Anyone Collective.
"We've done above and beyond what we've been expected to do," he said. "We're very happy to do it. We're very passionate about putting forth the right information. We want to collect the right data and give viable information so that the … airport authority can make a very educated decision."
The authority initially approved a $50,000 contract with Anyone Collective to conduct research and come up with a brand name. However, airport officials were not satisfied with the findings presented to them last summer and asked the firm to conduct additional studies, Burghdorf said.
Anyone Collective has currently received $37,500 from the airport, she added.
"I would have done it for free," Gatto said. "Elected and appointed officials are here to do a job and part of our job duties includes doing anything possible to make our area thrive, but I'm not sure that it was necessary to hire an outside firm to do something like this."
The company suggested four names to airport officials — Burbank Hollywood Airport, Hollywood Burbank Airport, Burbank Los Angeles Airport and Los Angeles Burbank Airport — explaining that those options had the best chance of attracting airline passengers via online searches to fly into the Burbank airfield.
The operations and development committee of the authority voted Monday to recommend to the full board that Hollywood Burbank Airport should be the branding name. The airfield's legal name — Bob Hope Airport — will not change.
Gatto said he questions the need to hire a firm to come up with "rather common-sense names."
"In my opinion, that is a waste of taxpayer money," he said.
Fiore argued that though it might seem like his company may be adding Burbank, Hollywood or Los Angeles to the airfield's name, "there's purpose behind every one of those options that we set forth. It's our job to collect data, put sources for that data, conduct focus groups and try to quantify every bit of data that we've collected," he said.
California Rep. Adam Schiff (D-Burbank) opted not to comment on the proposed brand name, while Sen. Carol Liu (D-La Cañada Flintridge) said the branding of the airport should be done by the community.
Newly appointed Glendale Mayor Paula Devine said there is a lot of work that goes into developing a contract with a private company, and she understands the time and effort that a business like Anyone Collective goes through when trying to accomplish a project.
Devine said she supports the airport in its efforts to make itself better known with passengers outside of Southern California.
"We need to be at the forefront of the marketing and have something that's going to attract passengers," she said.
Burbank Mayor Bob Frutos said at a previous authority meeting that he is for a new brand name for the airport, as long as it does not have "Los Angeles" in it.
--
Anthony Clark Carpio, anthonyclark.carpio@latimes.com
Twitter: @acocarpio
---