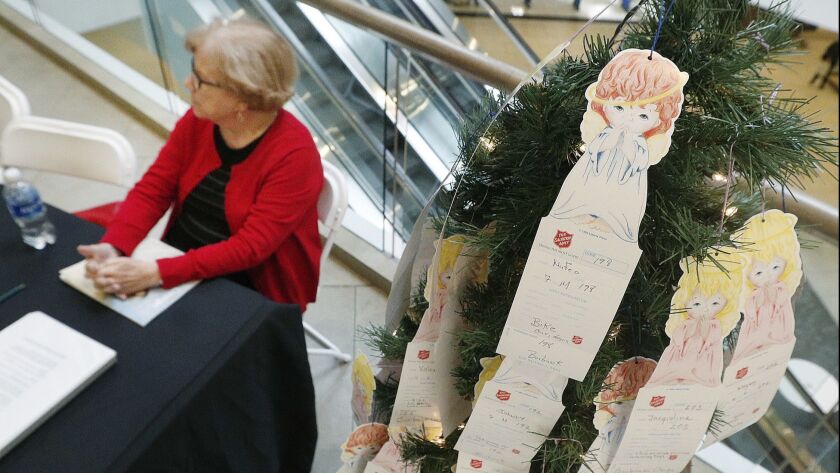 The holiday season is in full swing and, while many people are out and about shopping for their family members and friends, the Burbank Salvation Army is asking folks to also think about those members of the community who are less fortunate.
The Burbank Corps launched its annual Angel Tree program on Monday, with its first tree located just outside the Burlington Coat Factory on the third floor of the Burbank Town Center, 201 E. Magnolia Blvd.
Several other Angel Trees will be placed throughout the community, including at Burbank Water and Power and the Burbank Police Department.
Hung on the trees are dozens of cardboard angels, each with the name of a child and a toy they would like for Christmas.
Those who want to participate can choose an angel on one of the trees. Burbank Corps Lt. Kelly Berggren asks that the toys donated be unwrapped and returned to the tree by Dec. 19.
He added that the gift can be something other than what the child asked for, so long as it is age-appropriate for the child and not a fake weapon.
Berggren, who recently joined the Burbank Corps with his wife, Natalia, after a stint with the Salvation Army in Clovis, N.M., said the local organization has signed up about 250 families for the Angel Tree program, equating to about 600 children.
Understanding there are numerous children in need every holiday season, Berggren said this is the time when the community has an opportunity to give back.
"We can't do it ourselves, so that's why the Angel Tree program has been a part of the Salvation Army nationwide for many years," he said.
Elaine Paonessa, a lifetime member of the Burbank Salvation Army, said the program has been a part of the community for the last 18 years, and residents have stepped up and brought smiles to thousands of children every year.
"It's the one thing that we can do," she said. "It's just a really great project."
Berggren said it is the community that is making a difference and not just the organization.
In addition to the Angel Tree program, the Burbank Salvation Army is asking for donations to help pay for Christmas baskets that will be distributed to each of the families who signed up for the Angel Tree.
Instead of giving cans of donated food to the families, Berggren said he wanted to do something more special for them.
Each basket will include a ham and all the trimmings for a Christmas meal.
"Everyone will be receiving a Christmas dinner," Berggren said.
anthonyclark.carpio@latimes.com
Twitter: @acocarpio
---