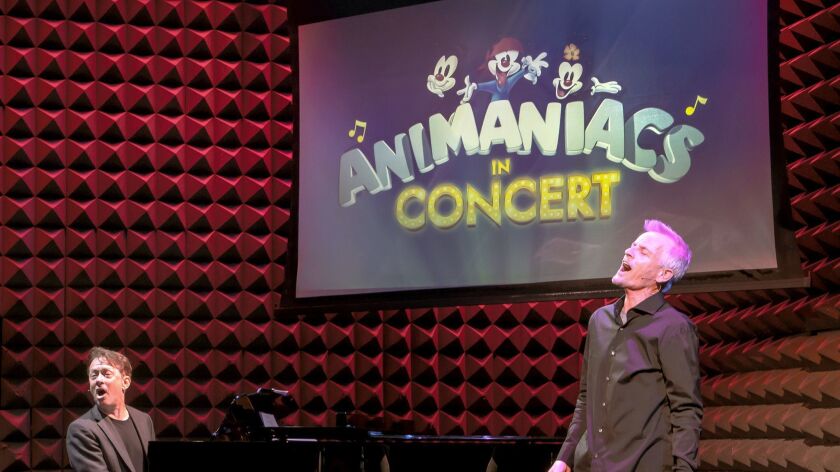 A concert that has toured from New York City to Seattle will soon enjoy a homecoming, of sorts.
Acclaimed voice actor Rob Paulsen and composer Randy Rogel will host a charity event called "Animaniacs in Concert!" Saturday at Luther Burbank Middle School.
"Luther Burbank was kind enough to essentially offer us a chance to help out," Paulsen said. "Randy Rogal, who wrote all this incredible music, and I, who have been lucky enough sing it … This show started as a labor of love."
Paulsen added, "We love to help kids who want to do what we do, which is being in show business. Plus, it's a privilege to be in a position to help over and above just writing a check."
Paulsen, an Agoura resident, has voiced many hit roles, including as "Yakko" in the 1990s cartoon "Animaniacs," "Pinky" in "Pinky and the Brain," along with "Raphael" and "Donatello" in various versions of the "Teenage Mutant Ninja Turtles" franchise.
"Animaniacs" was a variety cartoon show that aired on Fox and the Warner Bros. Television Network and included several characters and skits.
The show's main characters — Warner siblings Yakko, Wakko and Dot — lived in the famed Warner Bros. water tower on the studio campus located in Burbank and would escape to take part in adventures.
In real life, Paulsen did make trips to Warner Bros. to work on the series.
"Of course, Burbank is where 'Animaniacs' is located, both historically and in the fantasy realm, and so it's a natural fit, this opportunity to help the performing arts folks at Luther Burbank Middle School," Paulsen said. "It's 'Animaniacs,' it's Burbank, and for God's sake, the school is even called Burbank."
The show — part prepared, part impromptu — will feature about 20 songs from the cartoon variety shows "Animaniacs" and "Histeria!," along with some selections that never aired. There will also be a question-and-answer session.
"Money earned the night of the 'Animaniacs' concert will directly alleviate the costs associated with running top-notch programs here at Luther," Luther Burbank principal Oscar Macias said. "Instruments, sheet music, computers, [and] art supplies are examples of items that are in need every year. The Luther Burbank Middle School auditorium is also in need of upgrades to lighting and sound."
Luther Burbank has been recognized annually for its visual and performing arts programs, including in 2017 when the school received an Exemplary Arts Education Program Award from Tom Torlakson, then state superintendent of public instruction.
The school is located at 3700 W. Jeffries Ave., and the event will begin at 7 p.m.
Ticket prices are $15 for students, $35 to $45 for general admission, $55 for VIP tickets, along with an additional $50 meet-and-greet pass.
Tickets can be purchased at itsmyseat.com/events/592625.html.
---