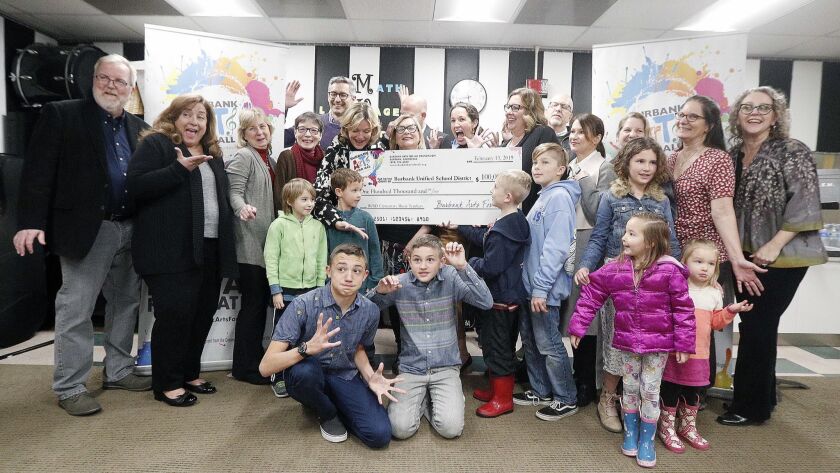 In a tiny, lively music room at Roosevelt Elementary with ukuleles lining the walls and various other instruments strewn about, the value of music education could not be understated.
In that room on Wednesday, the Burbank Arts for All Foundation reaffirmed its commitment to Burbank Unified's students by handing over a large check — literally and symbolically — for $100,000 to help save elementary music instruction in the district.
"We're here today because [Burbank] Supt. [Matt] Hill has made a bigger ask of us," said Jill Vander Borght, co-chair of the foundation's board of directors. "He has asked the foundation to support our elementary music teachers."
Vander Borght added, "As a mom of elementary school students in BUSD and a proud representative of the foundation's board of directors, I am so excited to present the largest grant in the foundation's history."
The donation comes at a financially trying time for the district because school officials are considering layoffs in the music department and cuts all around.
During a special board meeting on Jan. 24, Hill delivered a series of proposals on what cuts the district might make as it tries to close a $3.5-million structural deficit.
Three elementary school music instructors were included among seven positions that may be eliminated.
Those cuts would trim the department to two music teachers, leaving them solely responsible for instruction in the 11 elementary schools in Burbank Unified.
The savings for the district from those cuts were estimated to be $275,000 per year.
"We put a lot of thought into trying to figure out what would be the most meaningful gift that we could give and this is what we came out with," said Trena Pitchford, the foundation's executive director. "All of us are concerned in earnest. We want to get [the district] at least a third of the way. We know we can't get [it] the whole way, but a third of the way helps."
Hill said he's grateful for the foundation's generosity.
"It's significant for us to receive a $100,000 check, and it's a testament to the Burbank Arts for All Foundation's donors who see the importance of music instruction," he said.
Hill added the donation "guarantees" the district will keep one instructor, while "closing the gap on a second one."
Though the Burbank Arts for All Foundation has given away 298 grants totaling $659,000 since it formed a partnership with the district in 2006, the organization has never come close to such a large donation.
Its previous largest single grant was $10,000 in 2017 for the district's Music is Instrumental campaign, while the foundation's previous best total fundraising effort for any project was $62,000 for that same campaign.
"We looked at our reserves; we looked at what we're planning on giving away this year and we looked at a lot of different things," said Pitchford, when asked how the foundation raised the money. "We had very generous gifts at the end of last year, so all of that sort of combined with the commitment from the board."
---