Low enrollment prompts Bell-Jeff High School to close as archdiocese officials hope for 2019 reopening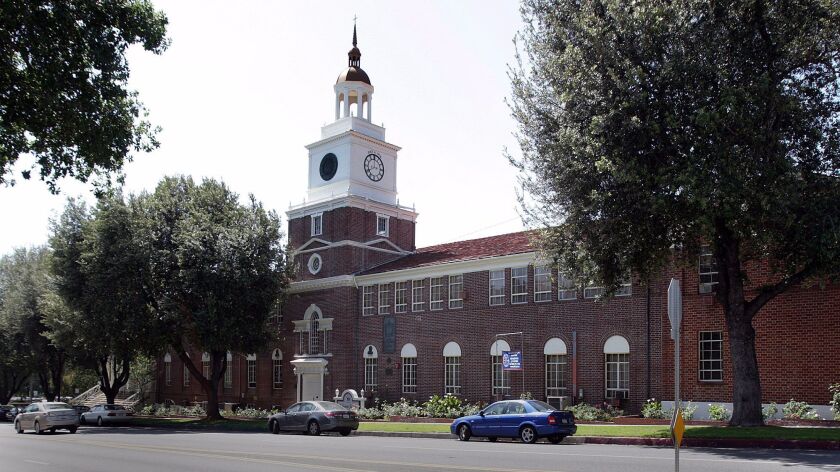 Bellarmine-Jefferson High School in Burbank will close temporarily at the end of the school year so officials can analyze how to solve a decadelong decline in enrollment.
The Archdiocese of Los Angeles announced Wednesday that the Catholic school at 465 E. Olive Ave. will stop operating at the end of the 2017-18 school year not only due to low student registration but because of rising operating costs, according to a statement from the archdiocese.
Bell-Jeff, a four-year, college-preparatory high school, was founded in 1944 by Monsignor Martin Cody Keating. It became an archdiocesan-administered school in 1980.
Although Bell-Jeff will close in the spring, archdiocese officials said they plan to reopen the campus for the 2019-20 school year.
While the school and archdiocese have tried to increase enrollment over the past 10 years, Bell-Jeff's student population has dropped from 295 students to 98 currently, according to the statement.
"The school will be undergoing a complete analysis and structuring process to build on the strong academic foundation of Bell-Jeff and provide the infrastructure needed to become a successful and viable school," said Kevin Baxter, senior director and superintendent of schools for the Archdiocese of Los Angeles, in the statement. "Our hope is to complete the restructure initiative for the 2019-20 school year and offer an innovative Catholic education program that best meets the needs of the community we serve."
This is a decision to land the plane and do that work that's needed on the site so that we can take off and soar moving forward.
Dr. Kevin Baxter, senior director and superintendent of schools for the Archdiocese of Los Angeles
Baxter said on Thursday that archdiocese officials will be looking at various types of information, such as census data, trends in birth rates and economic data, to determine if Burbank is still a suitable site for a Catholic high school.
After analyzing that information, the goal is to develop a school model that will be most successful for the archdiocese and the community.
"We wouldn't want to just simply replicate the same model that Bell-Jeff is operating because we recognize that that became something that was unsustainable," Baxter said.
He added that officials will also be looking into whether Bell-Jeff should be a school with an emphasis on entrepreneurship, technology or the arts.
"Bell-Jeff was flying like an airplane, and we tried to do work on the engine while it was flying — shift programs and try to make the school a little more attractive to prospective parents," Baxter said. "This is a decision to land the plane and do that work that's needed on the site so that we can take off and soar moving forward."
School officials are currently working with parents whose children are enrolled at Bell-Jeff to help transfer them to other nearby archdiocese Catholic high schools for the 2018-19 school year. Administrators are also helping find new positions for faculty and staff.
"We have excellent teachers and students at Bell-Jeff, and our utmost priority is to assist them in finding other Catholic high schools in the area in which to teach and learn," Baxter said in Wednesday's statement. "Students will be given priority status in enrolling at local Catholic high schools, as well as transitional tuition assistance and reimbursement for new uniforms."
Officials at Providence High School, an independent Catholic high school in Burbank, said they were saddened to hear the news about the upcoming closure of Bell-Jeff, and they are ready to work with parents should they choose to transfer their children to Providence.
"We are optimally enrolled right now, but that doesn't mean that we couldn't make some room for a few kids, if it was the right fit," said Joe Sciuto, the head of school at Providence. "We are the other Catholic high school in Burbank and, for a lot of their families, we would be an obvious choice. Even if the archdiocese does not subsidize those families, we certainly will look at all the applications and consider them strongly."
Bell-Jeff alumni have already started a Change.org petition asking the archdiocese to keep the school's doors open.
Andrew McCratic, a 2008 alumnus, said it would be devastating to the community if Bell-Jeff were to close its doors — even temporarily. Though the archdiocese said that it would be aiming to reopen the school for the 2019-20 school year, McCratic said he has concerns about whether his alma mater will remain the same after the reopening.
"There's rumors that it might become a new high school, and other rumors that it could become part of the [St. Robert Bellarmine] Elementary School," McCratic said. "Bell-Jeff gave me a lot of the tools to be where I am today. Bell-Jeff has a close-knit family, and they instill a lot values to lead a successful life once you leave high school."
anthonyclark.carpio@latimes.com
Twitter: @acocarpio
---