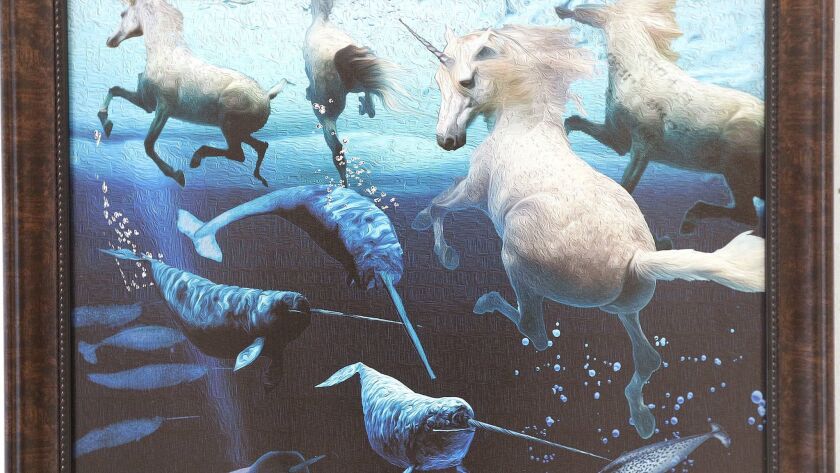 An art exhibit by members of the California Art League showcases their versatility with one color — blue.
Through Feb. 24, the Betsy Lueke Creative Arts Center in Burbank will host the group's exhibit titled "Blue," which is a collection of paintings, photographs, sculptures and digitally created images that utilize the color.
Ken Ronney, the league's president, said he was excited when the center invited his organization to curate an art exhibit at the Burbank facility, which is something Ronney has wanted to do for several years.
"We have a lot of talented and imaginative artists," he said. "It's always a surprise to see what shows up on the walls of the exhibit, and everybody is happy with it."
Equally excited about the exhibit was Virginia Causton-Keene, director of the creative arts center. She said she was immediately impressed with the level of talent displayed by league members, adding that each artist had a creative way of using blue in their piece.
Causton-Keene said she was entranced by a digital art piece by Michael John Pittas titled "Related Species," in which a herd of unicorns is swimming with a pod of narwhals.
She said she was also fascinated by a painting titled "Moon Over Tranquil Waters" by William Winbrush, in which the artist paints the sky in three different phases — night, day and dawn — over a shallow creek bed.
"It's like looking into a prism," Causton-Keene said. "It's just so mesmerizing to me."
While blue often conveys a sad or somber tone, Causton-Keene said to her the color invokes brightness and clarity.
"For me, it's a really happy color because it reminds me of the sky on a clear day, sunshine and being outdoors," she said.
The gallery, located at 1100 W. Clark Ave., is free to the public. The "Blue" exhibit will be on display from 9 a.m. to 9 p.m. on Monday through Thursday, 9 a.m. to 7 p.m. on Friday and from 9 a.m. to 1 p.m. on Saturday. The art center is closed on Sunday.
For more information, call (818) 238-5397.
anthonyclark.carpio@latimes.com
Twitter: @acocarpio
---