Burbank Arts for All delivers boost to district, schools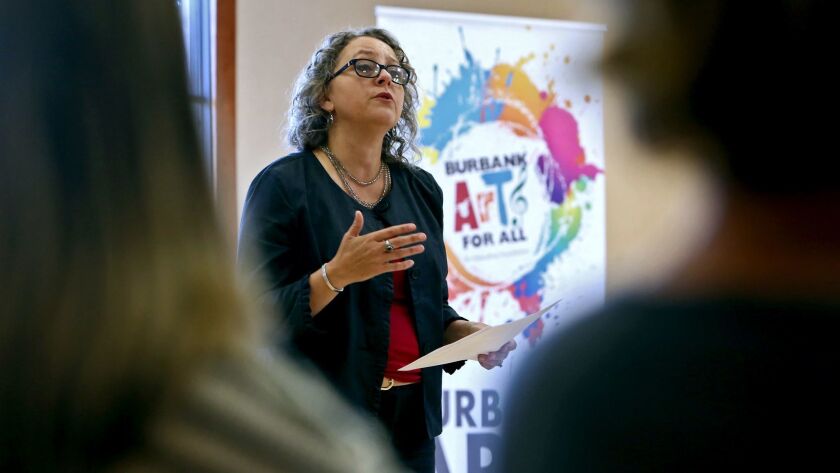 In a week in which voters rejected a Burbank Unified proposed parcel tax, the Burbank Arts for All Foundation gave the district a shot in the arm by announcing approval of grants totaling $14,156.
Roosevelt and Edison elementary schools, Luther Burbank Middle School and Burbank and Burroughs highs all received at least one scholarship this semester with funds having already been disbursed.
The foundation received eight grant applications, totaling $29,043.99, in September. All but one of those requests was fully or partially funded, foundation executive director Trena Pitchford said during a school board meeting Thursday.
"We continue to stand by our mission to ensure every student in Burbank Unified receives a quality arts education as part of their core curriculum," Pitchford said. "We… will continue working in partnership with [Burbank Unified] and the community to fund raise and advocate for arts education, as we have always done."
Pitchford estimated that the grants would impact 1,760 students districtwide.
Burbank High was awarded two grants, one for a Science, Technology, Engineering, Arts and Mathematics, or STEAM, marine biology and engineering project, and the other to rent the Colony Theatre in Burbank for an upcoming production.
Roosevelt used grant funding to complete lighting in the school's auditorium, while Edison's funding went toward installment of a fine-arts wheel.
Edison students enjoyed a fine-arts wheel last year involving six-, eight- or 10-week rotations in which a curriculum specialist, along with parent and artistic volunteers, introduced students to a specific artistic discipline with each rotation.
Last year, Edison students took part in a woodworking wheel, while this year's rotation will be dedicated to dance.
Luther Burbank received funding for one-to-one instrumental coaching for students "of all abilities," said Pitchford, while Burroughs' money will be utilized for world music and dance workshops with artists teaching them.
The seven grants now push the foundation's total amount of giving to $559,049.97 since 2006.
"I encourage all of our community members to continue to give to your program," board member Armond Aghakhanian said to Pitchford. "I want to commend you for all you do."
The news offered a brief respite from the realization the district will likely have to make cuts to trim a growing structural deficit in the wake of the failure of Measure QS, a proposed $9 million-per-year parcel tax, which came up short in receiving a mandatory two-thirds vote of support in the recent election.
"Thank you again for your efforts," board member Steve Frintner said to Pitchford. "With what we've got in front of us we're certainly going to have challenges, and we will need all the support that our schools can get."
---