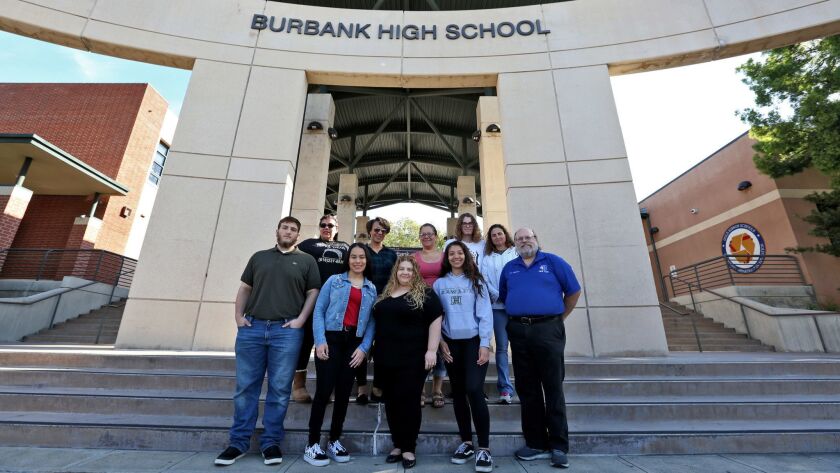 Burbank High School seniors will likely enjoy an additional homecoming this spring.
That's because after a little more than two months of fundraising, a parent group dedicated to keeping Burbank High's graduation on campus is claiming victory.
Chief fundraiser Ani Pakhanyan said parents and students appear to have hit a $36,000 fundraising goal necessary to avoid moving this year's graduation ceremony for the 111-year-old institution to Memorial Field at Burroughs High.
"We reached our goal, and we're happy," Pakhanyan said. "The school hasn't made an official announcement yet because we're still waiting for some checks to arrive from the fundraisers."
Pakhanyan added, "Once I get all the funds together, we'll hand over a check [to Burbank High principal Michael Bertram] and make this official."
Fundraising began shortly after Bertram informed parents during a meeting in January that district officials were proposing to move the graduation because of cost concerns.
He also said in a general email on Jan. 29 that the cost for parents to host an on-campus graduation would be $36,000, which is the expected deficit after ticket sales and school funding.
The money would cover various items such as bleachers, chairs, a stage and sound rentals.
The need for additional funding was made public on Dec. 20 when Burbank Unified staff presented a report that highlighted the price differences for a graduation ceremony at Burbank High compared to Burroughs High.
Since Burbank High moved its graduations on campus from the Starlight Bowl two years ago, the past two graduations have cost $57,265 in 2017 and $60,416 last year.
Meanwhile, the graduation ceremony at Burroughs was $34,179 cheaper last year compared to the same event at Burbank High.
In his Jan. 29 email, Bertram estimated the cost for this year's graduation would be $68,000 at Burbank High and $20,000 at Memorial Field.
The difference centered around rentals, such as a stage, chairs and a podium, which cost $14,310 more at Burbank than Burroughs, along with security and police protection.
Some cost benefits are built into Memorial Field, where a stage doesn't need to be constructed because of its high, angled seats, unlike Burbank High, where chairs will need to be rented.
Perhaps more difficult than raising $36,000 was the time constraint because Bertram said funds needed to be collected by March 15.
Despite the obstacles, some Burbank seniors were resolute in keeping an on-campus graduation.
Student-body president Aleko Brice held an informal poll in January and reported to Burbank Unified school board members that 105 of 125 graduating seniors said they were "strongly opposed" or "very strongly opposed" to moving their graduation to Memorial Field.
"I thought there would be a lot more neutral people or people who didn't care where the graduation was," Brice said on Thursday. "I was surprised about the large amount of people who voted not to have it at Burroughs, and I tried to do what I could to help."
Brice said having the graduation at Burbank High was important to seniors.
"It has to do because we share everything with Burroughs already, including the football field," he said. "This isn't about the rivalry, but about having pride in our school."
Shortly after Jan. 22, a group of parents, led by Pakhanyan, set up a PayPal account, called paypal.me/2019bhsgraduation, for donations and began fundraising.
The group held fundraisers at Blaze Pizza, set up partnerships with businesses such as Kokoroll Café and Club Pilates in North Hollywood, hosted on-campus taco sales and received a financial boost from the school's inaugural car show.
The efforts raised $22,400 by March 15, which convinced Bertram to grant a two-week extension.
What may have put Burbank over the top, however, was the sale of ad space in the graduation programs that Pakhanyan said accounted for $3,000.
"When my kids were at middle school for John Muir, they were doing that for the eighth-grade promotion," Pakhanyan said. "I figured, 'Why not do it here?'"
If the fundraising goal is officially met, Burbank High's graduation is set for May 24 at the recently renamed Kemp-Kallem Field.
---