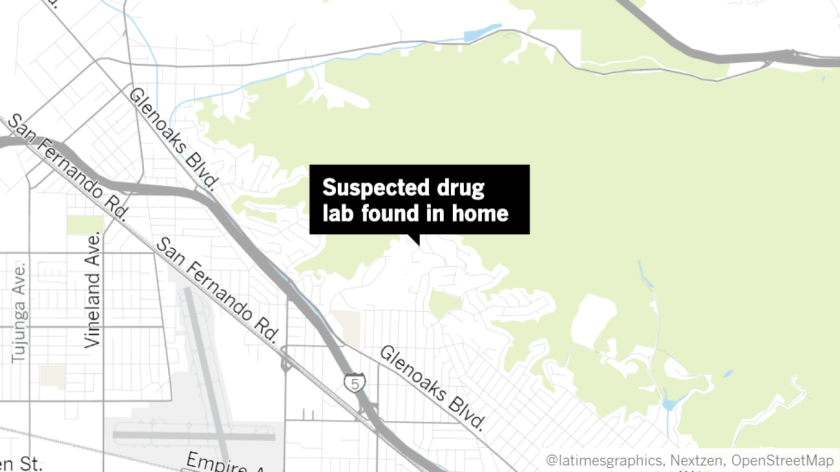 A sophisticated drug lab in a quiet Burbank hillside community was uncovered early Thursday morning after police said they responded to a report of suspicious activity at a home in the neighborhood.
The Burbank Police Department was called to check on a home in the 3400 block of Castleman Lane around 1:20 a.m. after witnesses reported seeing a dog coming from a residence with its front door open.
Sgt. Derek Green, a department spokesman, said officers saw the lights were still on inside the home when they arrived and several vehicles were parked in the driveway.
However, no one responded to the officers when they approached.
Fearing that "someone was inside the home, possibly in distress, in need of help or the victim of a crime," the officers entered the residence, Green said.
Inside police said they found drug manufacturing equipment in different parts of the home and the garage.
Strange odors throughout the residence led police to believe they were dealing with a secret drug lab used to extract hash oil from marijuana plants.
Green said officers secured the home, and personnel from the Burbank Fire Department and HazMat Response Team as well as investigators from the California Department of Justice were called in because of the "volatile and dangerous nature of drugs labs."
By midafternoon authorities had confiscated all the equipment and narcotics inside.
It's not immediately known how long the lab had been in the home or if the listed owner for the property is connected to the operation, Green said.
He said illegal labs typically garner calls from neighbors about suspicious activity because of a constant flow of traffic to and from the home.
One man who was described as a house guest at the residence was briefly detained by police but was eventually released. It wasn't known how he was connected to the investigation.
---