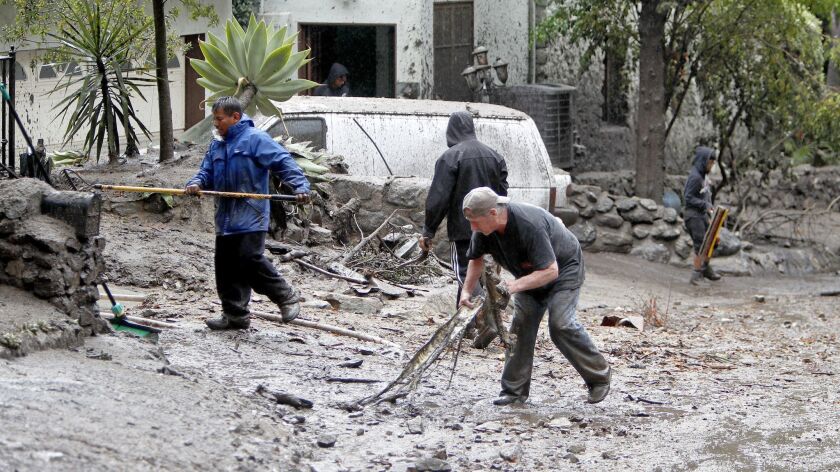 Residents living on hillsides in Burbank were given evacuation orders on Tuesday as the Southland buttresses itself against a week of rain.
A mandatory evacuation order was issued by Burbank city officials for residents on Country Club Drive above Via Montana after Los Angeles County public works officials upgraded the expected severity of Tuesday's rainstorm. The evacuation will last until further notice, according to city authorities.
L.A. County is expected to experience around 1.5 to 3 inches of rain, according to the National Weather Service. The storm on Monday saw 1.4 inches of rain fall in the city, breaking a 1993 record for the same day of 1.03 inches.
Voluntary evacuation orders have also been issued for residents living in the following areas:
All of Hamline Place
925 to 1030 Groton Drive
830 to 849 Stephen Road
907 to 936 Irving Drive
2906 and 2934 Olney Place
2934 Remy Place
2949 Mystic View Place
3430 to 3436 Brace Canyon Road
3301 to 3310 Brookshire Court
3318, 3321, 3322 and 3422 Wedgewood Lane
3514 to 3519 Folkstone Court
3529 to 3530 Castleman Lane
Officials warned of "potential mud and debris flows in these areas," according to a statement.
"Residents are advised that if they do not evacuate, public-safety services may not be able to reach them in an emergency due to impassable roads," the statement added.
McCambridge Recreation Center at 1515 N. Glenoaks Blvd. has been designated as an evacuation site.
The approaching storm has also led to the closures of the Stough Nature Center and the Wildwood Canyon area until further notice.
A rainstorm last January brought a torrent of debris rushing down Country Club Drive, battering several cars and caking homes in a thick layer of mud. The storm also upended a recreational vehicle, which ruptured a natural gas line.
Twitter: @Andy_Truc
---