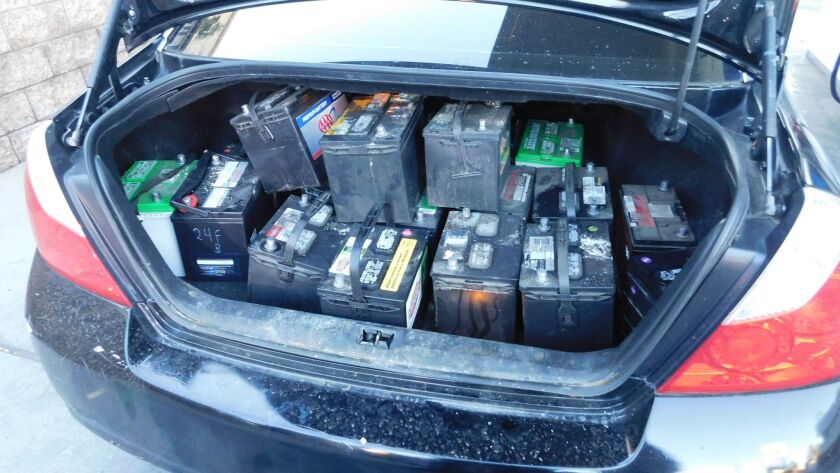 Authorities say a man and woman arrested early Friday morning stole 20 car batteries from vehicles belonging to residents at a pair of Burbank senior living facilities.
Devontie Banner, 28, and Julie Perez, 27, were arrested on suspicion of possessing stolen property. Officers with the Burbank Police Department stopped the two in a vehicle driven by Banner about 6:30 a.m. near Glenoaks Boulevard and Olive Avenue for allegedly not having a front license plate.
Sgt. Derek Green, a department spokesman, said Banner was driving on a suspended license, leading officers to impound the vehicle. During a catalog of the vehicle's contents, authorities came across 20 car batteries in the trunk.
The department soon received calls from residents of senior living facilities along East Harvard Road and North Glenoaks Boulevard regarding missing car batteries, according to Green. It was determined the batteries allegedly had been stolen within a 24-hour period.
The batteries all came from older-model Honda and Toyota vehicles, Green said.
"It's not clear what these two intended to do with the stolen batteries, but there is a bit of a black market for used batteries," he said.
The batteries were soon returned to their owners, and a Good Samaritan who happened to work for AAA reinstalled them free of charge, according to Green.
Banner is listed a Long Beach resident, while Perez is listed as a resident of Belize City, Belize.
The two are each being held in lieu of $20,000 bail and are scheduled to appear in court on Tuesday.
Twitter: @Andy_Truc
---