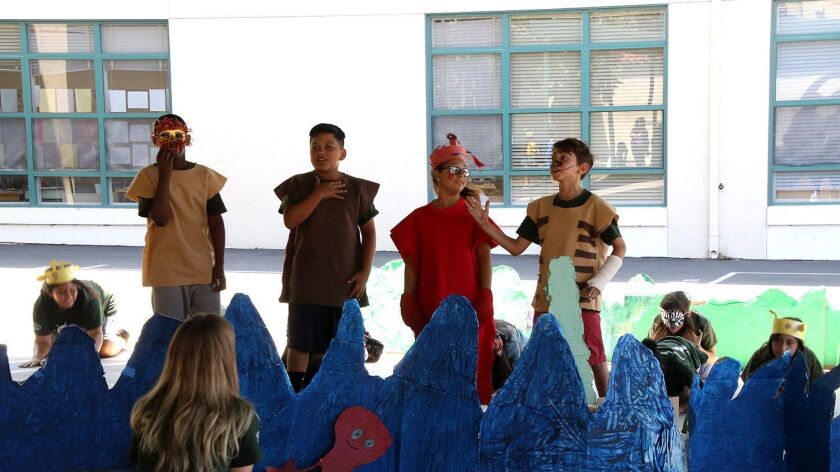 Two battles were playing out at the sixth annual Burbank Community YMCA Learn, Grow, Thrive summer camp at Emerson Elementary School.
The first front was obvious: enrichment for the kids.
The free six-week offering that ends Friday serves as part summer school, part folksy camp, and is dedicated to helping Burbank Unified students avoid summer learning loss, while also gaining confidence.
About 160 first- through fifth-grade students, at risk of falling behind academically, took part. Students brushed up on English and math fundamentals, laughed while playing games and reveled in delight during weekly field trips, all while forgetting they were in summer school. Some even swam at the YMCA.
"The goal is for the kids to at least maintain their skills so that they don't do that 'summer slide' kids typically do when they don't do any academic work over the summer," said first-grade instructor Lauren Wickhem, an Edison Elementary teacher during the regular school year.
"When they get back to school, they're far behind other students and they're always catching up," Wickhem said. "We want them to be at least on par with their peers when they start the next grade level."
A second, behind-the-scenes, struggle was also escalating over funding.
The conflict is hardly new, as Burbank Unified adopted a budget in June that closed a $3.5-million structural deficit by slashing programs and positions.
Bryan Snodgrass, chief operating officer for the Burbank YMCA, estimated the cost per student at roughly $1,700 for the no-charge camp, which serves primarily low-income youth. President and chief executive Mary Cutone put a pricetag for everything at $320,000.
That bill is paid by the cash-strapped district, a $100,000 donation from the Ventura-based Gwendolyn Sexton Foundation, contributions from community partners and from YMCA fundraising.
"To be honest, the Y is maxed out," Cutone told community members touring Emerson on Wednesday. "We need help. We need to fund this program. There's got to be a way with the economics of Burbank to fund this program."
Cutone isn't just a camp believer, she's an evangelizer. And she's not the only one.
"What I like about this program is that it's more than academics," said second-grade teacher Laura Kubler, a Miller Elementary instructor. "That's one reason I'm here. I've been working really hard on building [the student's] motivation and their self-esteem and helping them find the skills that they have."
Disney Elementary first-grader Jaiden Brisenio nearly wore out her blue No. 2 pencil eraser working on addition and subtraction.
After two incorrect answers and some head-scratching, the youngster beamed with delight upon figuring out her mathematical gaffe.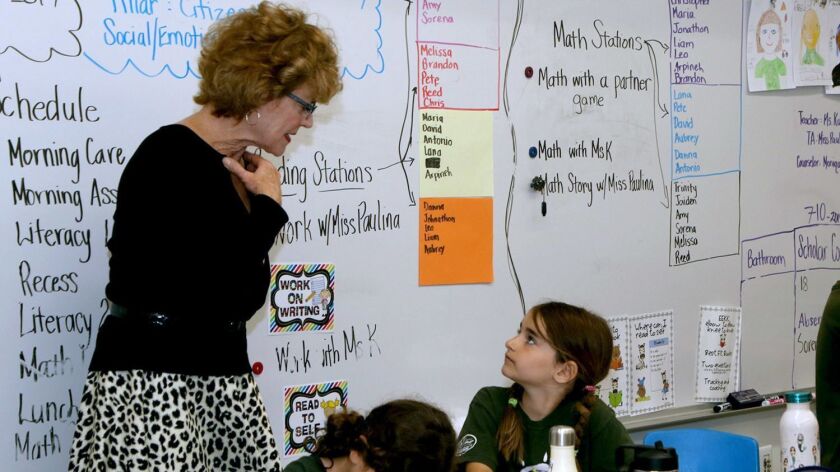 "It's hard because it's so confusing, but I know I can do it," Jaiden said. "And I have so many friends who are learning with me."
Down the hall, Disney second-grader Cecilia Orantes also labored through multiplication.
"Doing math is kind of hard, like times tables," she said.
Her motivation to push forward, however, springs from a scheduled field trip Thursday to watch "Toy Story 4" at Hollywood's iconic El Capitan Theatre.
All campers took part in field trips to locales such as the Los Angeles County Arboretum, the Columbia Memorial Space Center, Nickelodeon Studios and the Japanese American National Museum.
"I'll do math for the field trips," Cecilia said.
Continuing with outdoor learning, about 30 students performed a musical entitled, "LGT Broadway" in which youngsters sang and acted out portions from Disney films "The Little Mermaid," "The Lion King" and "Moana" on Wednesday.
The production was assembled in six days by counselors and aides Peyton Woolf, Oshae Rodgers, Di Bowen and Anthony Carter and included classes on singing, dancing, set design and even costume sewing.
"By making it so they were the ones who created the show — they wrote the script, they helped choreograph the dance moves, they helped us choose what songs to do — they were so invested in it, it made it easy for us to guide them," said Woolf, a 19-year-old Arizona State freshman.
The Burbank Community YMCA camp served 391 students from kindergarten through seventh grade and was held on two campuses when it opened in 2014.
Since then, three grades and one school were trimmed, while participants have more than halved due to a lack of funding.
"We hear from teachers, parents and community members that the need is there," Snodgrass said. "Our goal is to get back to that level, but the money just isn't there."
Following the musical, Cutone pointed to the excited students walking off the mini stage. Their enthusiasm provided validation.
"Some kids aren't good in school, but … they can sing, and if they can sing and have you applaud at them and they feel like somebody, then they can go learn and are a little more eager and a little more self-actualized," Cutone said. "That's the magic of this program."
---