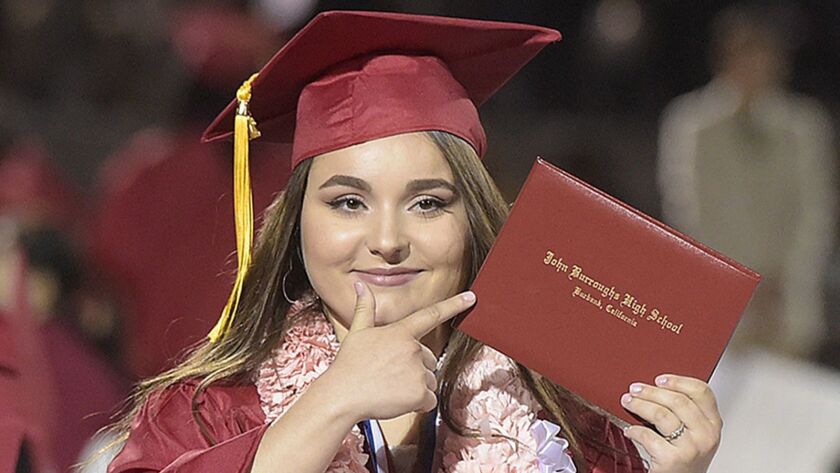 Score one victory for Burroughs High School in its cross-city rivalry with Burbank High.
Burroughs came in ahead of Burbank High in various academic standards, according to the U.S. News & World Report's annual rankings released earlier this week.
Burroughs was ranked No. 294 in California and 1,940 nationally, which means the school is listed in the top 11% to 12% in both categories.
Burbank High finished 382nd in the state and 2,508th in the country, good for between 14% and 16% in both categories.
"We're very proud to be ranked in that order because of all the hard work that our teachers and students put into their education," said Deborah Madrigal, Burroughs' principal. "It's nice to see that it showed in that ranking."
Overall, 2,494 public schools in the state were ranked, along with 17,245 schools in the United States. Private schools were excluded.
U.S. News & World Report laid out a six-factor methodology behind its rankings.
College readiness topped with a weight of 30%, followed by math and reading proficiency, at 20%, math and reading performance, also at 20%, underserved student performance, curriculum breadth and graduation rates, each at 10%.
Perhaps the city schools shined brightest in graduation rates, with Burroughs posting a 98% rating and Burbank right behind at 97%.
Those percentages topped higher-ranking regional schools such as Crescenta Valley and La Crescenta Clark Magnet highs, both with 96% graduation rates, and South Pasadena, which was at 93%.
Clark Magnet was ranked 84th in California, while South Pasadena placed 87th and Crescenta Valley was listed as 89th.
"We tried to focus on the strengths of our students and helping them use their strengths to build and be successful," Madrigal said. "We also focus on making sure our students have a plan on what they need to do to succeed."
Madrigal said she was also proud to announce that 122 of Burroughs High's 584 seniors, or 21%, finished with a 4.0 or better grade-point average.
Burroughs also finished with a 45.7 college readiness score, while Burbank posted a 39.5 score out of a total 100 points possible.
According to the publication, college readiness was measured as, "the proportions of 12th-graders who took and passed at least one [advancement placement] or [international baccalaureate] exam. Passing is worth three times more than just taking."
A total of 55% of Burroughs seniors attempted at least one exam, with 42% earning passing marks, while those numbers were 46% and 37%, respectively, at Burbank High.
South Carolina's Academic Magnet High School was named the country's top high school, while Cerritos Whitney High School finished No. 1 in California and No. 14 in the country.
Regionally, La Cañada High was the area's top school, ranking 26th in California and 218th in the United States.
---