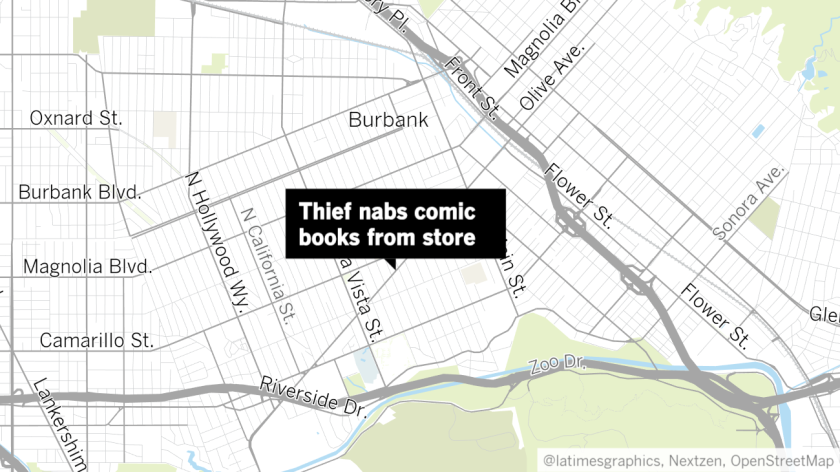 The Fantastic Four are missing.
An unknown thief reportedly made away with a stack of comic books from Burbank's House of Secrets on Saturday, including a vintage issue of Marvel's "Fantastic Four" valued at $500.
Paul Grimshaw, the store's owner, said a man came into the business sometime late Saturday afternoon and spent several hours wandering around inside.
"He spent about four hours or more … taking stuff out of the cabinets and just talking on his phone," he said.
According to Grimshaw, the man told employees he was trying to buy a gift for a relative with whom he was supposedly talking on the phone.
When an employee became distracted, the man grabbed a stack of comics and left the store. Grimshaw said he hasn't gone to the Burbank Police Department about the theft.
When asked why someone in the store for hours didn't arouse suspicion, Grimshaw said it's not unusual for customers to spend several hours at his business.
"We've had guys in here spend two to three hours, and they never robbed us," he said. "It's a comic book store. You got people browsing and look[ing] around."
In addition to the $500 comic, the thief also made away with back issues of "Fantastic Four" from the 1960s as well as an assortment of other titles, Grimshaw said. He said he doesn't know which specific comics the man stole because his business buys used books on a weekly basis.
The man was caught on the store's security camera and is described as someone possibly in his late teens with a bowl haircut.
House of Secrets is located at 1930 W. Olive St. and can be contacted at (818) 562-1900.
Twitter: @Andy_Truc
---