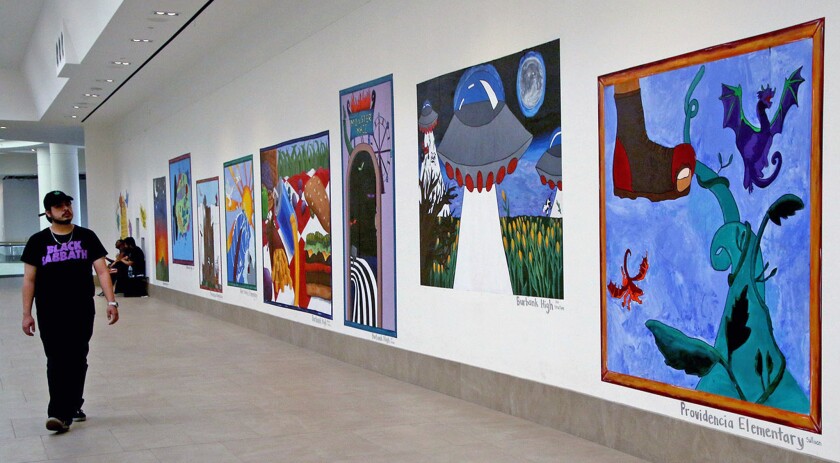 The annual Downtown Burbank Arts Festival has been a great way for the public to interact with local artists and animators, and, next week, organizers hope the event introduces attendees to crafts.
From 11 a.m. to 7 p.m. next Saturday and Sunday, San Fernando Boulevard between the Burbank Town Center and Holiday Inn will be the place for those who want to get their fill of all things related to arts and crafts.
As usual, the public can attend the free event to meet with animators and artists associated with the Creative Talent Network to see them illustrate pieces in person.
New to this year's event will be the addition of the Jackalope Indie Artisan Fair, which will feature about 100 vendors who are experts in hand-made crafts, said Mary Hamzoian, the city's economic development director.
"[Jackalope and the Creative Talent Network] are two different groups, and they bring different perspectives to the arts festival," Hamzoian said.
Additionally, the event will include several musicians playing acoustic instruments who will be roaming throughout the crowd and performing.
Hamzoian said the city's recent partnership with A&R Worldwide, which hosted its annual MUSEXPO music convention earlier this year, inspired her to also showcase local musical talent during the arts festival.
The Downtown Burbank Arts Festival is arguably the downtown area's anchor event. Though the annual car show and winter wine walks are popular, Hamzoian said the arts festival continues to attract thousands of people on a regular basis.
"Because it's a two-day event, it brings in a lot of people, and we're trying to make it more diverse so that more people come to support the local businesses," she said. "It's a great outdoor spring event, and it isn't compacted in a few hours."
For more information about the Downtown Burbank Arts Festival, visit dtnbur.com.
---