FAA to study proposed flight-path changes from Hollywood Burbank Airport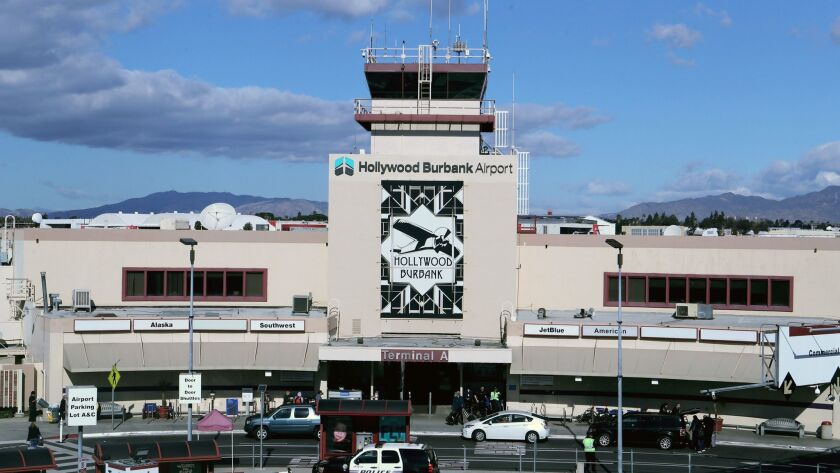 Proposed flight-path changes out of Hollywood Burbank Airport will undergo an environmental assessment, officials with the Federal Aviation Administration said on Monday.
The federal agency posted on its website that it would be evaluating two proposed departure changes from the local airport to see if either will have an impact on the environment and if there are any alternative routes.
FAA officials added that the decision was made in light of feedback received during two workshops the agency held in Burbank in November, at which residents from Studio City and Sherman Oaks pleaded with the FAA to conduct an environmental study on the proposed flight-path changes.
The proposed paths are designed to adjust where aircraft departing from Hollywood Burbank from the south make their turn toward the north.
However, some residents from Studio City and Sherman Oaks have voiced their disapproval of the proposed changes, which would have a waypoint located over Studio City.
That waypoint, called JAYTE, would be where a pilot would turn their plane to head north and on to the flight's destination.
Residents have argued that having that waypoint over Studio City would adversely impact their neighborhoods.
"Hundreds of residents have appeared at multiple public forums to oppose the current unacceptable level of aviation noise," Rep. Brad Sherman (D-Sherman Oaks) wrote in a statement on Monday. "Communities in the San Fernando Valley deserve to be heard and have their concerns completely addressed."
For many months, residents from the south side of the San Fernando Valley have raised concerns regarding departing flights from Hollywood Burbank flying over their neighborhoods more frequently than in the past and the increased noise associated with each passing plane.
Many people have said they think it is due to the FAA's implementation of its Next Generation Air Transportation System, known as NextGen, which has been installed in airports throughout Southern California.
In October, the consulting firm Landrum & Brown determined that departing flights from Hollywood Burbank have been steadily shifting farther south around Studio City. However, its study could not directly link the change in flight paths to the federal agency's new satellite-based navigation system.
As Studio City and Sherman Oaks residents continue to put pressure on the FAA, so, too, are members of the U.S. Congress.
Last Thursday, Sherman, Rep. Adam Schiff (D-Burbank), Sen. Dianne Feinstein and Sen. Kamala Harris signed a joint letter to Dan Elwell, acting administrator of the FAA, asking the federal agency to create a round table that would include residents, local officials, representatives from the Hollywood Burbank and Van Nuys airports, as well as other stakeholders to address noise and safety concerns.
"The FAA has the authority and precedent to make changes that will reduce the impacts of aviation over communities in Los Angeles County, while ensuring the safety of both communities and aircraft," the letter states. "It should do so."
anthonyclark.carpio@latimes.com
Twitter: @acocarpio
---