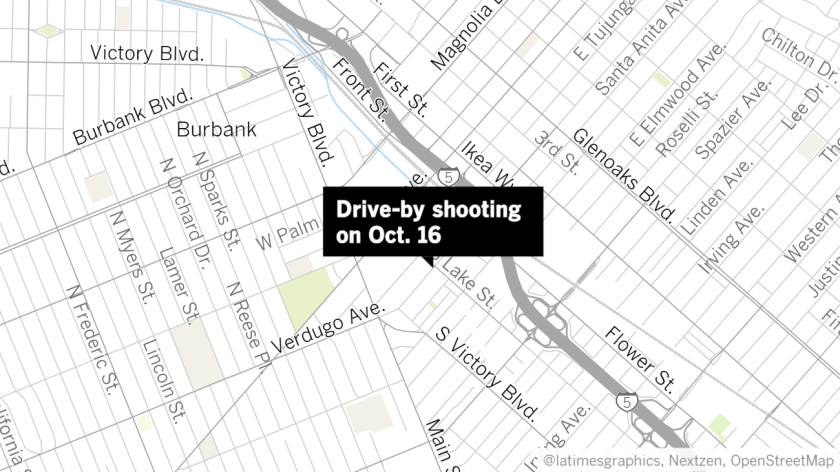 A reported gang member is in custody on $2.375-million bail after Burbank police say he tried to murder someone last month in a drive-by shooting.
Nicholas Disarro, a 22-year-old from Sun Valley, is charged with attempted murder, shooting from a moving vehicle and being a felon in possession of a firearm. He was taken into custody last Thursday for his suspected role in a shooting that took place in the 200 block of West Verdugo Avenue on Oct. 16.
A 24-year-old man was walking in the area around 12:20 a.m. when he was fired upon from a passing vehicle, according to Sgt. Derek Green, a spokesman for the Burbank Police Department.
He said the man was not seriously injured and suffered only a graze wound to his head.
Green added the victim was a reported member of the Elmwood Gang, and detectives believe he was targeted in the shooting. Disarro is reportedly a member with the Playboy Gang — a known rival.
"We haven't had any reported gang violence to this degree in some time, but there has always been conflict between these two particular gangs," Green said.
Officers unsuccessfully searched the area for the shooter. However, authorities were able to recover spent shell casings.
Based on several investigative leads, Green said officers contacted Disarro while he was out driving in the Sun Valley area and took him into custody without incident. A handgun that was believed to have been used in the shooting was recovered from the car.
It's unknown what motivated the shooting and if the two men knew each other. Green said the incident remains under investigation.
Disarro is scheduled to appear in court on Nov. 19.
Twitter: @Andy_Truc
---