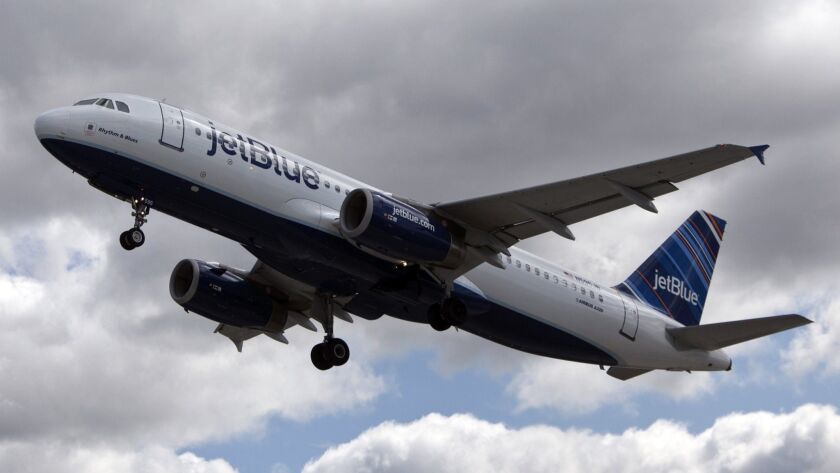 JetBlue Airways will expand its service in Burbank to offer new nonstop flights to the East Coast this fall.
With the economy on a steady rise, airline officials said during a press conference at Hollywood Burbank Airport on Thursday they think it's the right time to offer the additional flights.
Starting on Sept. 5, Hollywood Burbank will begin offering an evening flight once a day to Boston Logan International Airport and a daily daytime flight to John F. Kennedy International Airport in addition to an evening flight once a day to JFK, said Robin Hayes, president and chief executive of JetBlue.
"We've continued to build our coast-to-coast services between New York and Boston and California," Hayes said. "As the opportunity arose to add a second daily flight to New York from here, just in case you don't want to go on the red-eye, and then to start a service from here to Boston just [speaks] to the success of our brand and also the support that we've had from the community with our services."
JetBlue has been on a mission to grow its transcontinental offerings for travelers over the past years, adding flights to JFK and Boston from Los Angeles International Airport.
However, Hayes said customers value the ability to use other hubs, such as Hollywood Burbank, Ontario International and Long Beach airports for their traveling needs.
In addition to the new flights out of Burbank, JetBlue will be returning to its operations at Ontario after a 10-year hiatus, adding a daily flight to JFK starting in September.
The airline is also making changes in Long Beach as it adds a twice-a-week flight to Bozeman Yellowstone International Airport starting in December.
However, after the city of Long Beach decided last year to not allow the construction of a federal inspections facility at the airport, Hayes said JetBlue has started to focus its services at other regional airfields and will be reducing its services at Long Beach.
"We took the decision to reduce Long Beach's services down to where we were two years ago and invest our aircraft line time at airports like Hollywood Burbank and others that really appreciate the relationship," Hayes said.
"We wanted to build the [federal inspection facility] in Long Beach. It didn't happen, and we've moved on," he added.
While the new flights will possibly benefit Hollywood Burbank and JetBlue, the additional flights may cause a stir with Burbank residents who have been concerned about the noise emanating from the airport since the Federal Aviation Administration's NextGen system was implemented.
Pasadena Mayor Terry Tornek, president of the Burbank-Glendale-Pasadena Airport Authority, said the new flights will be an inconsequential change to procedures at Hollywood Burbank, adding that airlines adjust schedules regularly.
"We're still way below the service levels that existed in this airport not that many years ago, and the aircraft have gotten so much quieter than what we had before," he said.
However, Tornek added that although the noise impacts are less than what they have been in the past, local airport officials will conduct a noise analysis to determine whether NextGen has anything to do with residents' concerns.
anthonyclark.carpio@latimes.com
Twitter: @acocarpio
---