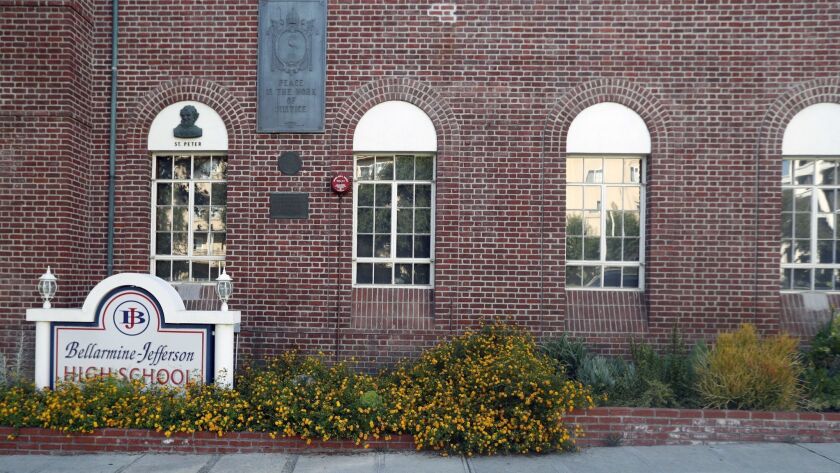 As the sun sets on Bellarmine-Jefferson High School after a 74-year run in Burbank, a new institution is rising to take its place, connecting with alumni and forging its own future.
Kevin Baxter, superintendent of the Roman Catholic Archdiocese of Los Angeles, laid out a framework on Tuesday for the new school — called St. John Paul II STEM Academy at Bellarmine-Jefferson — which included the hiring of founding director Jeff Hilger.
St. John Paul II STEM Academy is set to open in August 2019 on the former campus of Bellarime-Jefferson, located on 465 E. Olive Ave., which closed in June. The school is slated to have a co-educational policy, though the school is taking a unique position in splitting some classes by gender.
STEM refers to courses in science, technology, engineering and math.
"In those STEM subjects, we're going to create single-gender classrooms," Baxter said. "There's a lot of research on this, where single-gender instruction can be a more effective model of instruction, while also having a co-education school, which gives you all the benefits of socialization."
The selection of a STEM school was organic, said Baxter, who added that the archdiocese created a committee last fall that included Bell-Jeff alumni, parishioners of St. Robert Bellarmine Church, along with Father John Collins and regional principals.
"We really threw around a number of options and had some brainstorming sessions about what would possibly work and what we felt the community would like," Baxter said.
"We did some research, and we looked at some various databases about getting demographic information for the area. We did a lot of due diligence, and we came back to the fact that STEM, in general, is very much desired and needed within the community," he added.
As for the selection of the school's namesake, that choice came from a high office.
"The suggestion of St. John Paul II was from Archbishop [Jose] Gomez," Baxter said. "His approach was that he's a saint, a pope who visited Los Angeles (in 1987), he visited the United States multiple times and we don't have a school named after him yet [in the diocese]."
Baxter added, "One of the things we looked into is some of his work around science and STEM subjects, and we realized he had a great connection and a great passion for science."
In a way, St. John Paul II was also responsible for attracting its founding director.
"For about the past five years, I'd been seriously considering a move from the public-schools world to the Catholic-schools world," said Hilger, a charter school guru who spent 20 years in public education, in an email.
"When I learned about the opportunity to open up a brand-new STEM academy on the site of Bellarmine-Jefferson, I became highly intrigued. When I learned that the school would be named in honor of St. John Paul II, I knew I had to apply. I've always had a great devotion to the pope of my youth. I'm honored and humbled to be starting a school named in his honor," he added.
The archdiocese chose to keep a link to the past with the full name of the school being St. John Paul II STEM Academy at Bellarmine-Jefferson.
"I have met many fantastic and engaged alumni who are excited and engaged by the plans for St. John Paul II STEM Academy at Bell-Jeff," Hilger wrote. "We have already started creating an alumni room (adjacent to St. Eleanor Hall), where a collection of Bell-Jeff memories will be stored. It will be an inviting space for alumni to come and remember so much great history while discussing ways they can help and affect the future of the school."
Baxter said the school would also look to take advantage of its Media City location.
"We are in Burbank, so we're really going to be focusing on STEM subjects in the areas of media arts and the trade technologies," Baxter said. "So, the people we've been working with are alumni who have connections to various studios or other parts of the industry where we feel that we can educate students to have some great skills that could set them up for great jobs in the future."
As for refurbishments, Baxter said not much is needed.
"The good news is that the school is in pretty good shape, overall," Baxter said. "We've already done a couple of walk-throughs, and we're talking to some foundations to see if we can get some financial support. So, we're looking to do mainly some maintenance upgrades and upkeep, and some aesthetic touch-ups. But, overall, there isn't going to be anything too dramatic."
Hilger's wish list of priorities, in terms of upgrades, includes an engineering lab, media arts center, "reimagined" front office and keyboarding/music lab.
Baxter said he expects an inaugural freshman class of 60 students before the school adds a grade level annually until it fills out to between 400 and 500 students during the 2022-23 school year.
"We definitely believe there are students who will support this school, parents who can afford a Catholic education in this area," Baxter said. "We see it as being viable and believe it will thrive."
---