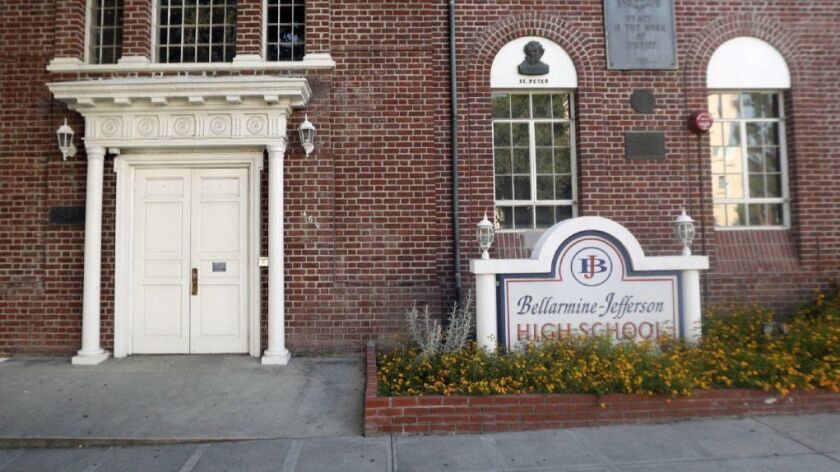 When Bellarmine-Jefferson High School closes its doors next Saturday the school will be not be revived under its current college-preparatory system.
Instead, the Roman Catholic Archdiocese of Los Angeles plans to change the name of the institution and open a science, technology, engineering and math, or STEM, school, christened after former Pope John Paul II.
St. John Paul II STEM Academy at Bellarmine-Jefferson is slated to reopen next summer. The campus site and address will remain the same, though upgrades to the facility will be made.
"The transition to the new school is in the very, very early stages," said Adrian Alarcon, the archdiocese's director of media and public relations, in a phone interview. "The school is supposed to reopen with just one freshman class in August of 2019."
On Oct. 18, the archdiocese announced Bell-Jeff would "pause operations at the end of the 2017-2018 academic year to undergo an analysis and restructuring process with plans to reopen for the 2019-20 school year."
The school's enrollment had dropped over a 10-year period from 295 students to 98, which led to the archdiocese's decision.
Bellarmine-Jefferson was founded by Monsignor Martin Cody Keating in 1944 and named for St. Robert Bellarmine, a counter-reformation theologian, and U.S. founding father Thomas Jefferson.
St. John Paul II was the second-longest serving pope in papal history, with his tenure extending from 1978 until his death in 2005. The Polish-born Karol Josef Wojtyla survived an assassination attempt in 1981 and is perhaps best known for his efforts to combat Communism.
Though the opening of the school is more than a year away, the position of founding director has been posted on job sites such as LinkedIn and Indeed.com.
St. John Paul II will be coeducational with STEM and media-arts courses, along with college- and career-preparatory programs.
"The only other Catholic high school in the archdiocese with a singular STEM focus built from the ground up is Don Bosco Technical Institute in Rosemead," Alarcon said in an email. "There are no other Catholic high schools like this in the San Fernando Valley."
Though there are other schools across the country named for St. John Paul II, this will be the first in the archdiocese to take the title.
Alarcon said the first year of the school's opening will have just a freshman class, and it will add a grade level each year until all four high school grade levels — freshman through senior — are filled.
---